Head coach Mike Nolan indicated that he planned to speak with the 49ers quarterbacks this afternoon and that he hoped to announce a decision on playing time for Friday night's game against Oakland following Wednesday's afternoon practice.
Nolan called it a three-man race between Shaun Hill, J.T. O'Sullivan and Alex Smith, saying also that he's "pleased with all three."
Asked if O'Sullivan has a step up since he was in Martz' offense a year ago, Nolan replied, "I don't know if it is because he knows the offense, but he has done some good things." Against Oakland, he stepped in and did some good things as well. Everything doesn't play out as you hope when you get to the line of scrimmage. There are reactions that go with every play. Sometimes a defense did something you didn't expect, maybe they even do what you expect, but they have a good player who overcomes something. I think he has handled that pretty well. He did a nice job of that the other day. I also thought the other guys did a pretty good job of that but that is one of the things I saw a few times where he improvised and made a couple of plays." 
*(stats are entirely unoffical)
*
Here's a look at how the three quarterbacks traded turns this morning.
In the first team period, quarterback Shaun Hill went first with the ones, connecting on 4 out of 5 of his passes. The only incomplete was a deep ball to Isaac Bruce.
Quarterback Alex Smith got the most total reps, taking two series with the two's and completing 5 of his 6 passes. His one incomplete was actually caught by Cam Colvin, but the rookie couldn't get his feet down in bounds along the sidelines.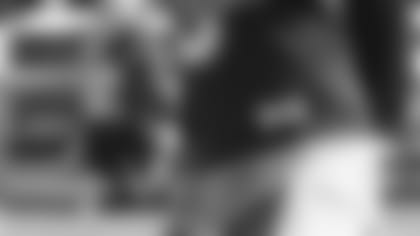 J.T. O'Sullivan worked with the ones and completed both of his two pass attempts, including a long ball to wide receiver Arnaz Battle.
Overall, all three quarterbacks appeared sharp.
"They've been competing and battling. All three have played pretty hard," said running back Frank Gore. "Whoever the coaches feel is ready for the game, I'm with it because all three have worked hard and they are going 110% and doing well."
The 49ers worked extensively in the red zone on Wednesday, dedicating the rest of its skelley and team sessions to snaps inside the 20.
During skelley, O'Sullivan worked first and enjoyed the bulk of the work with two periods, in comparison to one each for Hill and Smith. He finished skelley 8-of-10 including, five straight completions in the final period, capped off by a touchdown throw to tight end Delanie Walker.
Smith finished 4-of-5, missing his last one on an overthrow on a 5-yard pass to tight end Billy Bajema in the back of the end zone.
Hill hit on 3 of 5 passes, including a perfectly placed ball to Gore on a seam route for a score. He also had an interception by safety Dashon Goldson that was caused when Isaac Bruce slipped on his route.
To finish practice, all three competing quarterbacks rotated two series each in a team red zone session with Hill competing first. Hill and O'Sullivan each had a shot to get one series with the one's, while Smith worked with the two's.
Hill finished 4-of-6 including a touchdown throw to DeShaun Foster to wrap up his morning work.
O'Sullivan also completed 4 of his 6 passes, although he nearly had one picked off by safety Michael Lewis. Lewis allowed the ball to pass right through his fingers.
Smith started off the team red zone period with a beautiful 20-yard touchdown pass to a wide open Billy Bajema.
"There's a lot of exact routes and timing down there in the red zone that we really need to get down and I think we were able to get some good work done today," said Bajema. "All the quarterbacks stepped up and played well, and I think we feel confident in the situation that whoever it is, we'll be able to win with them."
Smith finished 3-of-4 with his one incompletion on a throw to Robert Ortiz. Smith threw the ball to the right corner of the end zone, while Ortiz broke inside. Based on the reaction from the coaches, Ortiz should have been right where Smith placed the ball.
One of the early highlights of the morning occurred in the first team period when quarterback J.T. O'Sullivan launched a deep ball to Arnaz Battle. Battle beat man coverage on a deep skinny post for the 45-yard catch.
Most of the highlights from the practice arrived during the red zone work, much to the delight of Frank Gore.
"Everybody who follows football already should know how important it is to score when you are down in the red zone, so it goes without saying," said Gore. "We need to come away with the points (touchdown) and not the assists (field goals). You work so hard to get down there, you've got to punch it in and get the TD's. The more often you capitalize down there, the better chance you have to win."
Gore won out on a few touchdown catches and runs in the red zone work, including a well fought one on one battle with Joe Staley. Gore ran a crease against the Pro Bowl linebacker and snatched a Hill pass for a touchdown score from 20-yards out.
"He played me man and I gave him a move and went over the top and the quarterback saw the mismatch and threw it," said Gore of the play.
Bajema, a tight end known primarily for his blocking prowess, proved he can also contribute in the passing attack. The veteran tight end ran a corner route with the safety biting on the underneath receiver, leaving the 49ers tight open clear as day.
"At the end, the receiver crisscrossed and they bit on him and left me wide open and Alex Smith threw a nice ball," said Bajema. "It's great when a play is called and you can execute it as well as that."
But the defense also enjoyed their share of big plays, including Willis who nearly avenged Gore's touchdown with an interception. The second-year backer stepped in front of Arnaz Battle on a quick slant throw by Hill, but let the ball get away from him.
Dontarrius Thomas, a competitor for the spot next to Willis, also proved to be disruptive. Thomas read Thomas Clayton perfectly on a run play and quickly shuffled over to stuff the running back inside the 5-yardline.
Justin Smith flashed among the defensive linemen with his coverage skills on a pass to tight end Vernon Davis. Davis made the catch, but Smith was there to stop him as the ball arrived from O'Sullivan for no gain, and maybe even a 1-yard loss.
A handful of players in the secondary also created highlights. Cornerback Shawntae Spencer broke on a pass to Davis to knock the ball away inside the five. Already mentioned in the QB Track section, Michael Lewis may have allowed an interception to get away from him, but the veteran safety put himself in excellent position to defend against a score.
Lastly, and also another repeat from QB Track, Goldson notched the only turnover with his heads up play and diving maneuver to snag the interception after Bruce slipped.
Jerry Sullivan's receivers were running routes on air with the quarterbacks when rookie Cam Colvin ruffled his feathers. Colvin, concerned with hustling to get back in line for another rep didn't hear or acknowledge Sullivan's critique.
Sullivan then hollered, "CAM, who do you think I'm talking to out here? You think I'm just blowing in the wind for the heck of it?"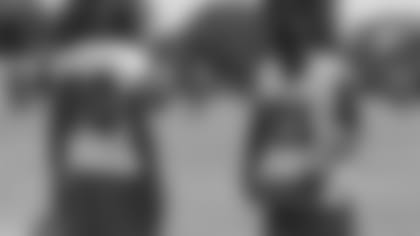 During special teams work Frank Gore sought out veteran receiver Isaac Bruce for some route running tips. Bruce first demonstrated some footwork on how to properly plant, and then worked with the back on getting off a jam.
"Lining up wide is something new to me and he's been in the league for a long while," said Gore. "He's just showing me how to beat people when I'm out there. I just try to learn from a veteran like that."
Offensive coordinator Mike Martz and Vernon Davis also spent some time together during special teams on the opposite field.
"I get a lot out of that time with him, and it's something we do every other practice or so," said Davis. "We just go over routes and discuss my reads based on what I'm seeing from the defense."
Defensive linemen Ray McDonald and Isaac Sopoaga passed their free time throwing 20-yard spirals to one another. Each one enjoyed at least one tight spiral, but the pair should probably stick to their roles in the trenches.
Wide receiver Jerard Rabb returned to action after missing time with a groin injury.
Safety Mark Roman returned to individual work after missing the last few days with a hamstring injury.
Wide receiver Ashley Lelie also missed practice with a nagging calf injury. Lelie worked on Monday morning against the Raiders, but his calf flared up and forced him out of the second session against Oakland. Lelie worked on his conditioning on field one with the 49ers strength and conditioning staff during Wednesday's practice.
By design, cornerback Walt Harris sat out the morning practice, but will work in the afternoon.
Safety Dashon Goldson (arch strain) and cornerback Tarell Brown (hand) suffered injuries in the second practice against Oakland, but both worked in full on Wednesday.
Safety Lewis Baker (thigh) and linebacker Parys Haralson (shoulder) remain out with their injuries, while running back Michael Robinson is also still recovering from having his knee scoped.
G David Baas remains on PUP as he recovers from surgery on his pectoral tear.
The Daily Drill contributed by Taylor Price
Under the supervision of quarterbacks coach Ted Tollner, the 49ers signal callers were working on using proper footwork in play-action passes and screen passes on Wednesday.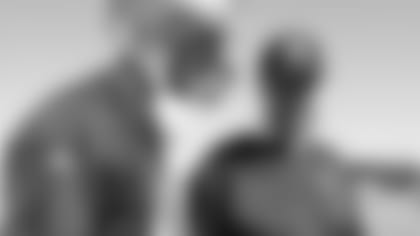 For the start of the drill, all four quarterbacks practiced rolling out of the pocket to their right while throwing on the run to a receiver in the flats. After several rotations, the group began working on their play-action fakes.
"Be a good actor – sell it!" Tollner advised the group.
The object of the drill was not only emphasizing the necessary footwork, but also the sequence of looks the quarterback must give to the defense to carry out a play-action fake.
"We were trying to keep our eyes downfield and go through our progressions in play-action," rookie quarterback Kyle Wright said.
When the quarterbacks practiced throwing on their back foot on a screen pass, Tollner was very specific in mentioning to the group that they needed to, "Get it over a potential defender with touch."
That type of Tollner emphasis on every little detail during the individual work has helped all of the quarterbacks improve on a daily basis.
"I'm learning as much as I can right now and I'm trying to pick up as much as I can," said Wright.
The quarterbacks finished the drill by continuing their play-action fakes and throwing downfield passes to a stationary receiver. Tollner explained to the group that they should be throwing towards the sideline because the imaginary defensive back had inside coverage on the receiver. He also stressed to his group the importance of deceiving the defense but still knowing where their check-down receiver would be.