At halftime of the 49ers 23-10 victory over the Seattle on Sunday, former longtime team owner Eddie DeBartolo was the first inductee into the newly created 49ers Hall of Fame that was named after his father, Edward J. DeBartolo Sr.
"I'm very proud to be honored," DeBartolo said of his enshrinement along with 16 other 49ers representatives who have had their numbers retired by the team or been inducted into the Pro Football Hall of Fame.
DeBartolo's induction celebration kicked-off last Saturday night, with a star-studded dinner reception in San Francisco. The event featured speeches from team owner Denise DeBartolo York, team President owner Jed York, several of DeBartolo's former player, former San Francisco Mayor Willie Brown and Eddie himself. It also was highlighted by a performance from singer Paul Anka, who wrote a special song dedicated to DeBartolo.
The celebration culminated with DeBartolo's halftime speech, but it took a long time to get to that point. The onus of creating a 49ers Hall of Fame fell squarely on DeBartolo's nephew and current team president Jed York, who worked dilligently to get the 49ers Hall of Fame created.
"We've honored so many players and coaches of the past, but this weekend is just about my uncle and I think it's time to have some time set aside for just him," York said. "He's been a huge influence on me.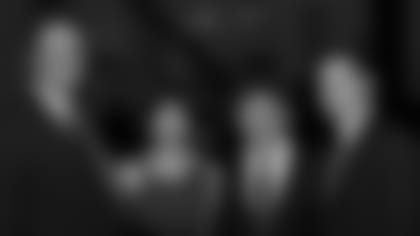 "My uncle is definitely one of the most popular people in San Francisco and I think he's one of the greatest owners in the history of professional sports. It's an honor for us to be able to induct him in the Edward DeBartolo Sr. 49ers Hall of Fame."
The entire weekend was more than a celebration; it had more of a family reunion feel.
"We won so many championships and it was because of him," former 49ers wide receiver Jerry Rice said. "What he brought to the game was more of a family. He had guys willing to take pay cuts from other teams to come to the San Francisco 49ers and play for Eddie DeBartolo. He meant the world to San Francisco and when you think of San Francisco you think of him."
Rice introduced DeBartolo as part of the halftime celebration. Both speakers were given standing ovations as they spoke candidly about DeBartolo's influence on the 49ers. Rice thanked DeBartolo for his leadership, while the team's former owner thanked the fans for impacting his life.
"You are not my 49ers Faithful," he said at one point of his speech. "You are my 49ers family!"
The 49ers family atmosphere under DeBartolo served well as the team won 12 division titles and went 5-0 in the Super Bowl, a feat that has been unmatched by any other NFL franchise.
DeBartolo's competitive drive and family-oriented nature proved to be the perfect mix for successful leadership, as he put together one of the most competitive teams in the history of professional sports.
"He was an owner when he got here, but through his leadership became a family," fellow 49ers Hall of Fame inductee Dwight Clark said of DeBartolo. "The more you were around him; you didn't want to let him down. He did so much for you that you wanted to play your heart out for him."
Clark recalled one such occasion, when he felt like literally fighting for his owner.
"I got into a fight one time against Buffalo and I remember coming in the locker room and he was the first one there," Clark said. "He was grabbing me by the shoulder pads and I thought he was going to yell at me, but he was saying, 'Thanks for fighting for me out there!'
"Well, I was fighting every week from then on."
The 49ers fought valiantly under DeBartolo's leadership, growing closer with each win.
To further demonstrate the bonds between former players, Hall of Fame quarterback Steve Young thanked DeBartolo Saturday night for creating a family environment where the players could become great.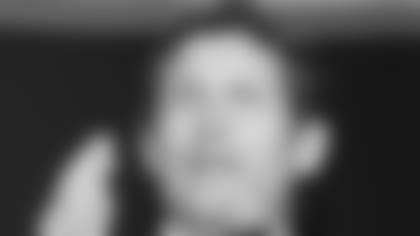 "San Francisco was the place you could go to find out how good you could be," Young said.
Others like Hall of Fame safety Ronnie Lott talked about how they appreciated what DeBartolo did in creating a standard for winning.
"The best thing I can say about Eddie is that he just exudes excellence and I think that's the one thing I loved about him," Lott said. "He's one of those guys who understood what it takes to be great and have a certain standard. He was just an incredible competitor. He was more than just an owner."
To the players, DeBartolo was a friend, a competitor and a father-figure.
"He was like the 12th man on the football field," Rice said. "He always greeted us after football games. I would remember, win or lose, he would always greet us."
Now that DeBartolo is amongst the greatest names in team history as members of the Edward J. DeBartolo Sr. 49ers Hall of Fame, the greatest owner in team history can be rightfully recognized with a plaque at Candlestick Park.
"I think it's really great that the 49ers are doing this," DeBartolo said. "You know what it does? It creates unity. You cannot win consistently without unification and when you bring people back together that was one of the cornerstones of our success. Not only the family attitude and atmosphere I created, but the unity."
DeBartolo said he's beginning to see that same unity with this year's 49ers team.
"I think they have a lot of great young players and I think they're on the right track," he said. "I've seen that unity from them and so far, I've liked what I've seen."
On the other end, the 49ers would like to see DeBartolo in another Hall of Fame, the Pro Football Hall of Fame.
"I think it's only right Eddie is the first one to get inducted into the 49ers Hall of Fame," Rice said. "It's great that he's going into the 49ers Hall of Fame but we also want to get him into the Pro Football Hall of Fame too."