During his presentation of Hall of Famer Fred Dean, former 49ers owner Eddie DeBartolo shared the play by play of San Francisco's swap with San Diego and the subsequent days leading up to Dean's debut in the red and gold.  
"When Bill Walsh learned that the Chargers were willing to trade Fred, he came to me like a kid with his eye on the niftiest possible Christmas present. You see, Bill had something different in mind for Fred, something downright revolutionary," said DeBartolo.
Walsh's plan was simple. Take the every down Pro Bowl end and utilize him as a situational pass rusher. Easily said, but back then, role players just didn't exist.
Nonetheless, DeBartolo said Walsh boasted to him on the night before the 49ers rival match-up against the Cowboys, telling the owner, "Wait until you see what we do with Fred tomorrow."
But Walsh sang a different tune to everyone else.
"In that wonderful manipulative way of his, he put out the word that Fred would be a nonfactor," said DeBartolo. "In fact, he told John Madden, who was doing the game, that Fred wouldn't play much, if at all. Oh, did he play. He sacked Danny White three times. And we won 45-14."
Walsh indeed pulled a fast one over on Madden, the Cowboys and even Dean.
"Coach told me I might get 8-10 plays, 12 if I was lucky," remembered Dean. "He said he was worried about my conditioning and when he told me that, I didn't think I was going to have to do that much that night. But, I ended up playing almost the whole game. Afterwards he told me my conditioning was just fine."
But Walsh wasn't the only one with tricks up his sleeves. Dean also had his own habit of shocking people throughout his NFL career.
Bengals Hall of Fame Anthony Munoz recalled this weekend his first time seeing Dean on tape. Munoz was a rookie then, and Dean still sported the blue and gold.
"The week of preparation leading up to the Chargers game I kept asking the linemen that had been there that previous year about Dean," said Munoz. "I'd run the film back and forth and I'd say, 'Is Fred Dean really that fast, or is this kind of a tape they've got it going in a faster speed?' I'd say, 'How can a guy that size be that fast and that strong?"
Though undersized, Dean possessed rare speed and strength that made him virtually unstoppable.
"I'm sure a lot of people were licking their chops before playing me because they thought I was so small," said Dean. "I think I surprised people."
Dean received the ultimate assessment by his peers this past February when he was voted into the Class of 2008, and on Saturday night, he officially became the 13th member of the San Francisco 49ers organization to be enshrined in the Pro Football Hall of Fame.
49ers Hall of Fame safety Ronnie Lott, a former teammate of Dean's deemed it a well-deserved honor, and acknowledged it as fact that the defensive end helped pave the way to greatness for San Francisco.
"Fred is now considered one of the best, one of the elite, one of the all-time greats," said Lott. "He was our Lawrence Taylor. I think what was great about what Fred was able to do when he was with the 49ers was that he established our defense. He made our defense. I know I wouldn't have been able to wear this yellow jacket had it not been for having a person like Fred Dean in the game of football with the San Francisco 49ers."
Many of Dean's former teammates made the trip to Canton, including wide receiver Freddie Solomon, who said he couldn't stay in his seat on Saturday night because he was so nervous about his friend's speech.
"Fred was very quiet but I always knew how funny he was," said Solomon. "He always had people laughing. But, I was nervous. It's like getting ready for a game. You have those pre-game jitters. I was hoping and wishing he would speak like he played, and he did that."
In fact, after being described as a shy, quiet and gentle man leading up the festivities, Dean again surprised folks, proving to be one of the more entertaining speakers.
At least a good ten-fifteen minutes into his speech Dean suddenly halted and confessed, "What I did, I went off and left my glasses and I can't see my words."
A veteran Famer quickly offered up his glasses to which Dean glanced down at his notes and quipped, "I think that's gonna work, dog."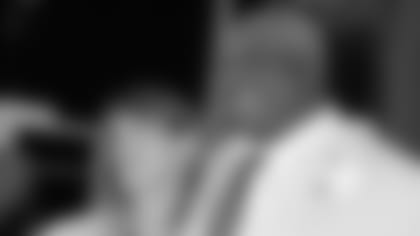 Former 49ers linebacker Keena Turner, sitting center floor with a large contingency of 49ers alumni, busted up with laughter upon that particular remark.
"Fred did an awesome job," said Turner. "That's the most I've ever heard him speak. He was so eloquent and he it was right from his heart, and it was so meaningful I was in tears."
He continued, "I think what stuck out to me was the sincerity about the people who touched his life – about Bill Walsh and how much it meant for him to come to the 49ers. He said he was born in San Diego but that he really came alive with us in San Francisco, and wow did he start something unbelievable for us because he was the final piece when he came to San Francisco and he really became a dominant player for us on defense."
In his speech Dean described the move to San Francisco as finding his rainbow.
Following 18 years of consideration, the Pro Football Hall of Fame finally allowed Dean to also find the pot of gold at the end of that rainbow, in more ways than one.
Literally, in the presentation of his gold Hall of Fame jacket, and figuratively in the richness that accompanied him throughout the weekend.
Although he stopped several times towards the end of his speech to keep his emotions in check and refrain from crying, Dean couldn't help but be overwhelmed at his after party where he was surrounded by his friends and family members.
"This moment for me - I felt so much love in that room and with all that love, there's nothing that can top that," explained Dean. "I felt really great. This is the highlight of my life."