As the three weeks of OTAs come to a wrap, rookie tight end Vernon Davis checks in again with 49ers.com in this latest installment of his Rookie Diary.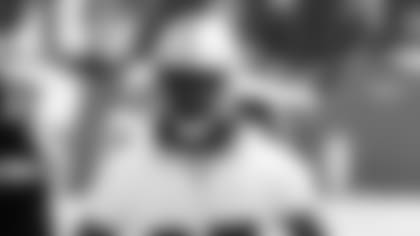 I headed to the beach last Saturday as planned with my old roommate Onye Ibekwe. We went down to Santa Cruz. We shot some hoops which is actually his true sport since that's what he played in college. All the sudden we had a big crowd watching us because I guess people recognized me. There were even some fans out there actually wearing my jersey. That was a little wild.
We just walked around down by the boardwalk for a little bit. After I got back, I went back to studying my playbook. On Sunday I pretty much sat around the hotel room and stuffed my face with some tacos, salad, and baked chicken that I had picked up while I was out. I don't know how to cook so I have to buy food. I can make eggs and sausage for breakfast and I can get down with the breakfast thing, but outside of that, the kitchen is not where I've got my top skills.
A bunch of us rookies rode down in a limo that Alex got for us for his foundation event on Tuesday night. Manny Lawson was being a jokester and bidding on my jersey. I guess he put 99 dollars down which is his number. It was an interesting evening for a very good cause. There was mostly finger foods so I think everyone headed out to eat afterwards. We've got big appetites. Most of my rookie class couldn't wait any longer so they left a little early to eat. I stayed to hear Alex and the Mayor and Antwone speak and then went with some of the vets right down the street to grab some food when it was over. They tried to make me pay for the whole thing but I told them my contract hadn't been negotiated yet. I know they'll get me eventually but for this one we all put up money. That was the first time I ever put up a 50 dollar bill just for me to eat. Normally for me, that's 20 bucks. That was crazy.
NFL Films as back this week shooting Hey Rookie again. They had me wired up at practice one day this week. Sometimes you forget you are miked and you just talk away. A couple of guys tried to get me and talk about guy stuff things to get me to say something crazy. Kevan Barlow actually had me but it just so happened the mike was disconnected at that moment so it worked out okay for me.
Our new practice field is in and we practiced on it on Thursday. I like it. OTAs wrap up today and it's crazy how much I've learned and the knowledge I've gained of this offense just in the last three weeks. Plus I continue to get more comfortable with the guys, the coaches, and again the system, so that's a real plus.
Most of the rookies are still around for next week to continue working out here and then we'll go to the Rookie Symposium in San Diego. I'm not too sure what that is exactly but I just know that I'm supposed to show up, so I'll be there.
I've definitely gotten better, way better since when I first got there. I'm excited for camp and my body still feels brand new fresh so I'll be ready to get going.