Tight end Vernon Davis signed his rookie contract just moments before the first training camp practice began. He checks in with 49ers.com in his latest installment of his rookie diary!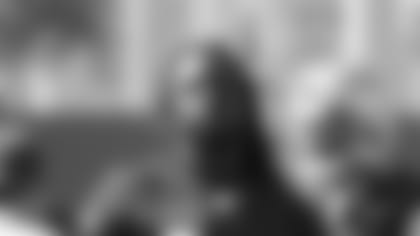 I was relaxed and frustrated at the same time throughout the process of getting my contract done. It was frustrating because I wanted to get here and practice with the team. At the same time, I knew I had to keep myself calm and be patient. As I said yesterday, I wasn't about to hold out. I can't stand missing days and I told my agent just to get it done.
I've been in town all week and staying over at the team hotel but on Thursday night I had to leave the team hotel because my contract wasn't signed and I guess it had something to do with the NFL's rules that you can't be there if you aren't under contract.
But I took care of that first thing Friday morning and then put on my practice gear and headed to the field.
Everyone was asking if it had sunk it yet that I had signed my deal but it's not really a big deal. Yeah, I have money now but that's really not a big deal to me. I still feel like Vernon. It's not about that. That's not why I'm here. I'm here to play the game because I've got love for it and not because of money. That's the way it's always been for me and that's the way it's going to stay. It's nice to have the money, but it's not about that.
We've had three practices so far and it's going well. A big thing is keeping your body replenished during camp and trying to keep your weight level up. You really have to be on top of that. I lose about 3 to 4 pounds a day and so I drink a lot of Gatorades a day and a bunch of water.
I'm still learning and I have a little ways to go before I get really comfortable with the offense but I'm almost there. It's cool to have the fans out here for some of the practices. It's a great feeling and since I've gotten out here, the fans have been very welcoming. You want to do well in front of your fans so it helps to motivate you more when they are out there watching.
I didn't pack much for camp just shoes and clothes, mostly shoes. I brought about 14 pairs, mostly casual, classy tennis shoes of different colors and styles. I'm real into shoes. You've got to have a pair of shoes to match every outfit. You've got to look good when you step out.
We finished up with meetings around 10 last night and I was in the bed a few minutes later. I ordered room service and just went to bed. I slept very well and felt like I got in a good nine hours even though I really didn't. Brandon Williams is my roommate now for camp. Thankfully he doesn't snore like Onye does. I think I might be the only snorer now in the room.
I'm looking forward to another good night of rest and a day of tomorrow!