49ers top rookie pick checks in from Miami where he's taking a few days for some R&R! Find out what tight end Vernon Davis has been up to since the OTAs ended in this latest installment of his Rookie Diary.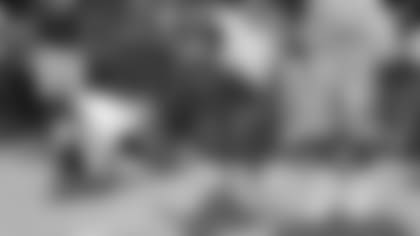 Before heading out of town after our OTAs, a bunch of us rookies went to Monster Park for the 49ers Family Day. It was a good experience. There were a lot of crazy and excited fans there. I took a lot of pictures and did a lot of smiling. It was just good to be around the fans and for them to get to know what you are about a little bit too. I enjoyed playing with the kids and racing some of them.
The NFL's Rookie Symposium was very informative. We had a lot of people who came through and gave us some great information. I'm pretty sure a lot of guys took it in and really listened, I know I did. Coach Nolan spoke and we all stood up and gave him a round of applause afterwards.
Shawn Merriman from the Chargers spoke and shared his experiences from his rookie season. We played together at Maryland so we hung out a little bit. He knows I'm intent on doing his lights out action when we play them. It'll be a good challenge.
Cris Carter also spoke and he probably stood out the most out of all of the current and former players who spoke. He was just so real in what he said and I think he got across to a lot of people and I think people enjoyed what he had to say. Everyone was still talking about what he had said afterwards.
It was lock down while we were there, so it was cool for the break we had in helping run a kids camp one morning. We were teaching them some football drills and it was cool.
I spent a few days after that in DC with the family and then came down here to South Beach in Miami and I'm just chilling, drinking a Gatorade right now actually. I'm with some of my family members and we are just hanging out and relaxing. I'll head back to DC for a few days and then go to Arizona for some endorsement stuff. I'm going from there out to Los Angeles for the ESPY awards show and then again back to DC before I come back to California for camp. It's a lot of flying but I either sleep or study the playbook. I take my playbook with me everywhere I go. It's like my own little puppy. I take it everywhere. When I'm on a flight I really get deep into it and just tune everything else out.
I went to the grocery store as soon as I got here to Miami and stocked my hotel room with a bunch of food that I like to eat because I'm not spending 50 dollars on anymore meals like I did back in San Francisco. I try to keep a low budget and I'm conservative.
I'm taking a few days off from working out and taking a relaxation period while I'm here in Miami but I'll pick that up when I go back to DC.
That's about it for now. I'll check in again prior to camp!