My first regular season game was not the outcome that we wanted, but it was fun to play ball at this level. I wasn't really nervous, just excited and anxious to get out of there and play a real game that counted.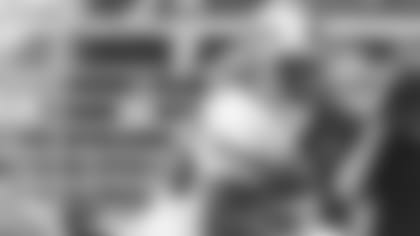 You really couldn't hear anything when you've got a loud crowd like that especially with the roof close. We prepare for it out here with the speakers and everything but it's still just insane out there. You've basically either got to get real close to the quarterback which doesn't happen at my position or watch the ball very carefully.
We started out on offense and really got some momentum going. I got my first touchdown catch on that drive and afterwards I felt like I could do anything I wanted to do.
When I caught it I was just thinking how can I score? Every time I get the ball that's what I'm thinking. I'm trying to get to the end zone. I saw guys coming from an angle towards me and just thought to myself, just keep on running and hopefully they'd bounce off me. When I got to the last guy I considered jumping over him but I thought I could make it so I just kept going. You do think about stuff like that when you are running, but for me it is always depends on the angles and what think is best to ward off the tackle.
I wish we could have kept that momentum going and part of that was my fault for fumbling. I got a hip contusion on that play too, but that won't keep me out at all this week. The hip injury was my fault for making a dumb decision to not wear hip pads. I'm wearing them from now on!
Anyhow, I got hit in the hip and I lost control of the ball and fumbled. I hate to say that, I fumbled, man. I was so mad about making that mistake. It's not like me to make a mistake like that either. I definitely am hard on myself about things like that but you also have to let them go quick and just go back out there and not make another one.
We hung in there. We fought. We were strong enough to stay together even though we got behind. I'm proud of my teammates and the way we battled. We scored and we were all pumped up and then they went ahead 21-7 and it just seemed to go up and down.
I knew a lot of the guys from the Cardinals, Larry Fitzgerald, Matt Leinart, Leonard Pope, and Darnell Dockett. I think when you know guys personally it really makes you want to compete that much harder and top them. I lived in Arizona for about 4 months training before the draft and so it was nice to be back there. I got pretty attached to that place after living over there for that time so the trip back was nice, although brief. I did make it to City Hall to grab dinner on Saturday night. That's a great restaurant.
One thing that's great about traveling with the 49ers is that our planes are huge and they gives us our own row so you can really spread out. I had never had that before. You can really stretch out and relax. That'll come in nice when we go on some of our longer flights. There are tons of snacks too. They come by with stuff non-stop but my favorite is the fruit, the strawberries and the blackberries that they serve are usually my go-to choice.
I went out to eat in Los Gatos and that's pretty much it. I watched some game film. I've gotten more settled into my place and it's slowly coming together. I need my granny to send out some of my paintings so I can put those up on the walls and then it'll be more complete.
We've got the Rams game coming up this Sunday and since it's our first home game a bunch of the players headed to the city on Tuesday. We just visited with some fans and gave out schedules, footballs and signed some autographs. It's a little strange to me still sometimes to have so many people know who you are and even care to have your autograph. This trolley driver even jumped off to come shake my hand real quick. That was different and funny, and it's great to see how much fan support we've got.
Everyone gives me a hard time about how I look like Rams running back Steven Jackson, so that'll be funny to play against him. I met him when I visited the Rams before the draft and guys on the team were telling him that his look alike was at the facility. Then he was actually out in New York during the draft so I hung out with him some then too. After I got drafted, he actually sent me a text message that everyone kept saying to him congratulations because they thought he was me. I guess people see a lot of resemblance but I think it's just the dreds.
Ball security is the number one thing against these guys. We obviously didn't do a great job of that in Arizona and the Rams definitely got after Denver in terms of forcing turnovers. They've got a good group of guys up front who can really pass rush. Leonard Little looks like a solid pass rusher so it's going to be pretty important to get a lock on him.
After practice today, I caught about 100 balls on the JUGS machine with Billy Bajema and Eric Johnson. It's good just to work on my hands and catch some passes.
I switched up my gloves today and wore these Spider Man looking ones. I do usually wear white ones because when you run fast, the white hands look hot. It looks like you are doing magic or something when you are running fast out there.
Come check out us out this Sunday at Monster Park. We need to create that loud noise that we had to deal with in Arizona.