Seventh grade students at Cabrillo Middle School in Santa Clara were scheduled for a visit from a 49ers player, they just didn't who it would be.
The visit was planned after Cabrillo was named as the top performing Bay Area school in the NFL Play 60's "Fuel Up Like a Pro" contest in conjunction with the National Dairy Council and the Fuel Up to Play 60 program.
On Friday, students found out the identity of their guest when Pro Bowl tight end Vernon Davis walked through their gymnasium doors wearing his home 49ers jersey.
Davis, one of the team's Play 60 spokesmen, was honored to speak to the students from Cabrillo, answer their questions and reward them for being so successful in the contest.
"I had a wonderful experience with the kids," he said to TV49 after the hour-long assembly wrapped up. "It was great to encourage them to get out and do something for 60 minutes a day as well as consume the right nutrition. It feels good anytime you can get out and encourage kids to do the right things."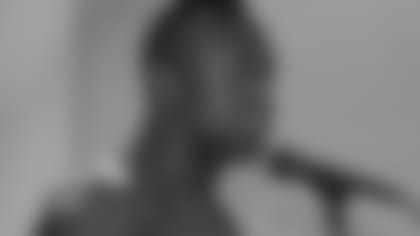 Davis' involvement with Play 60's is important to him because it involves two things near and dear to him, exercise and nutrition.
Having Davis involved with the program was an easy choice for the Dairy Council of California, who works with all NFL teams based in California to promote kids living healthy and active lifestyles.
"He was very animated and you can tell he's very passionate about what he does," said Leslie Fondacabe, territory manager for Dairy Council of California. "He wants to get the message out to kids to be active and to eat well."
Over a four-week period, the contest required students grades K-8 to fill out activity cards with their daily physical activities and meals. Each student also wrote out their favorite health recipe and listed the best ways to get 60 minutes of exercise a day.
With Cabrillo logging the most hours of activity locally, Felicia Hyde was named as the school's top performer for having the most activities on her card. She also entered her banana breakfast fruit smoothie as her favorite healthy recipe.
Mary Anne Bowles, who teaches physical education and leadership at Cabrillo, was moved in seeing her students have such a positive interaction with Davis.
"These kids look up these athletes. They see how strong they are and want to be like that. They need to know that they do need to stay in shape and be a healthy and that it's really important in life to succeed at that goal," Bowles said.
After the initial surprise wore off for the students, Davis spoke to them about eating healthy and working out when he was a kid growing up. Davis explained how his choices as a youth allowed him to be successful in sports. He answered questions from the students and later officiated relay races for the right to win his autographed football cards.
Davis appreciated the support he received from Cabrillo students, but knew his message was an important one for them to hear.
"I appreciated all of their support, but I was most excited about encouraging them and letting them know that exercise and nutrition are the most important part of everyday life."