Throughout this winter and spring, tight end Vernon Davis will bring you updates from his first ever NFL off-season. Here's his latest Off-season Diary update, straight from Miami, Florida.
It's been a busy couple of weeks since I last checked in with my off-season diary. Like I had mentioned, I went back to Maryland to do some training and have some of my grandmother's great cooking!
It was good to get back into the swing of things with my training, and very nice to spend time with my family and eat some good meals, but my time there was short.
Last weekend I flew down to Houston for this weekend-long Charity event that Vince Young was throwing. There were a lot of guys there, mostly Vince's teammates from the Titans like Travis Henry and LenDale White.
Mid-week I headed to Miami to take part in some of the festivities surrounding the Super Bowl week. I hung out with my Maryland buddy Shawne Merriman and we hit the Reggie Bush party on Wednesday night. Alex Smith was there and he was talking about how it was funny because Reggie never got to throw any parties when they went to high school together. He put on a nice one at the Super Bowl though! It was packed.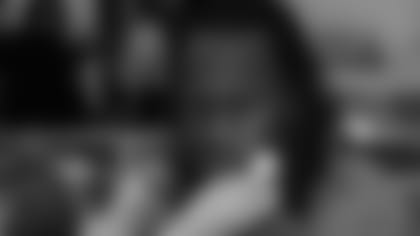 On Thursday, Alex and I both met up with Frank Gore over at the Super Bowl media center and we did some interviews on Radio Row. It's just crazy over there because there are rows and rows of radio stations and all kinds of NFL players and coaches, and other celebrities making the rounds. Boxers Lennox Lewis, Oscar De La Hoya and Floyd Mayweather were over there during the week, and Hannah Storm was doing some interviews too.
Of course, the best part was when we went on NFL Network with Trent Dilfer. That was an easy segment to do since we are all so comfortable with each other. We had to sit there for the makeup routine which just feels weird on your face. You can watch some of the video from that on 49ers.com.
Later that night I went on ESPN and they did that two-minute drill thing with me. I guess I called out Maryland recruiting for basketball which is true! I stopped by a cocktail party that the NFLPA had and then went by the EA Sports John Madden Bowl for a little while.
Friday night I participated in this ESPN event and played some of their video games. I got my butt kicked by an eleven year old. It was pretty funny because his mom kept yelling for him to get me.
I heard about the Commissioner's party on Friday night, and apparently it was at some zoo place that had an actual liger. As you all know if you've read my columns, Napoleon Dynamite is my favorite movie. I didn't know that ligers actually existed, but they do. There are ten in the world supposedly and a 950 pound one was at this zoo down here.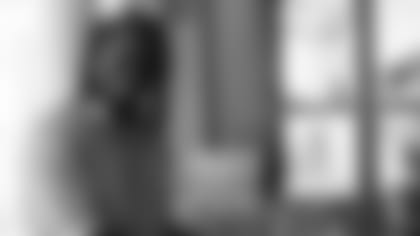 On Saturday morning I participated in the NFLPA's Smocks and Jocks. It was a chance for current and former players to submit some of their art work for a showing at this local restaurant in Miami. I finished up my painting Kissing Him and so that was pretty cool to have my work on display, and see what other players have done as well.
Those are just a few of the highlights from the week. South Beach was pretty crazy the entire week. There were so many parties and so much stuff going on and everywhere you go, you run into people. I didn't get much sleep, but I'm glad I decided to come down here and hang out. It really shows you how huge Super Bowl is and makes you want to be the team down here vying for it!
I'm heading back to San Jose this week and will rest up some and keep up with my training!
I'll check in again soon!