Tight end Vernon Davis continues sharing his first-ever NFL off-season in this latest diary entry! Enjoy catching up with the 49ers starting tight end...
It's been a while since I've checked in so I'll try to recap the last few weeks of the off-season. I've always got something going which is how I like life. I like to stay busy and that's how it's been lately.
Last week we switched from general conditioning to position specific training. We do a lot of similar stuff, but we've added some new workouts and now everything we do is a little more catered to our respective positions.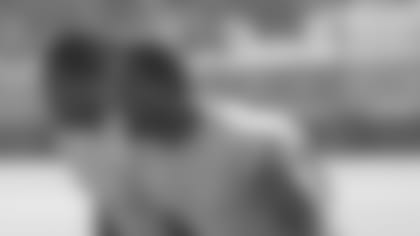 Every Tuesday and Thursday we have passing school out on the field with the coaches. Basically we just go out and work on routes and our timing with the quarterbacks.
I've been working with Coach Sullivan on receiver routes, particularly working on my routes out on the outside. Last year, I basically just ran inside routes and matched up against linebackers, but now the coaches are trying to get me out on the edge matching up against some smaller defensive backs. I'm very excited about being a larger part of the offense and am hoping to take advantage of my speed.
Coach Sullivan is off the charts in terms of details, he's watching everything from your feet all the way up to your head and critiquing you after every single route.
We go through several routes out there, so one of the things that Coach Carlisle has changed up for us on Tuesdays is that we just run strides for our field work with him. Basically it's a light sprint from goal line to goal line and then we walk the width of the field and run back along the other sidelines. It's a little bit lighter so that we can keep our legs fresh.
On Saturday I came up the facility to do a photo shoot for the front cover of Muscle & Fitness magazine. We did some stuff in the weight room and then some poses out on the field.
After that I headed to Los Angeles to attend a Joey Porter's charity event. It was basically an auction and dinner, and quite a few guys there who I was familiar with – Ronnie Brown, the other Alex Smith (Bucs TE) and even Warren Moon.
I was back in Santa Clara for our workouts on Monday, and it's been business as usual.
I got my keys to my new place today so I'll probably make the move sometime next week. I'm very excited about it, and it'll be great to have a nice yard for my dog!
I was just thinking about how this time a year ago I was already up in New York doing different appearances and getting ready for the NFL Draft. It's really wild to me to think that it's been a year since then. It sure has flown by fast.
I'll probably watch the first round of it and then just watch the highlights that night, but I'm curious to see how everything shakes out. I think the LSU QB will probably be the number one overall pick. As for us, I'm hoping we take a receiver so that we can yet another weapon to our offense, but I've got a gut feeling they are going to go defense.
The new Under Armour commercial will air on Saturday. I'm kind of pumped to see it actually.
I'm looking forward to finding out who some of our new players will be, giving up this rookie tag to another draft class and getting back to work next weekend at our mini camp!