Last year's top pick, tight end Vernon Davis continues with his off-season diary with this latest installment.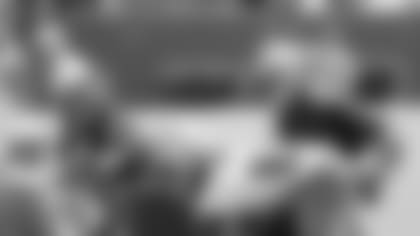 Last time we checked in I was going to take my brother with me to LA but he didn't end up going with me. Instead he just came to San Jose and I showed him the sites. He also got a new tattoo on his back while he was out here, and it was just the first time he'd seen my new place so it was a good visit. I think he liked it.
The off-season conditioning program ended well. I gained a lot out of it, especially in just being around all of the guys and getting to know them better. I felt definitely in much better shape when we kicked off OTAs on Monday in comparison to how I felt when I came in a year ago.
The practices are going very well. On Monday, I worked on my route running and continued with that today. Coach Hoener got pretty fired up during the blocking drills we were working on today, but I thankfully don't think I make him as mad as I did last year.
I think the defense has gotten faster and that pushes you to kick it up another notch when you are running a route on them. It's pushing me to go top flight.
I feel like most of my life these days is football - working out, practicing, reviewing my playbook, stuff like that -  which is what it should be since that's what I'm paid to do.
As far as the rookies go, I think Jason Hill has played pretty well. He caught a nice pass over the middle out there today. I can't say that I'm paying much attention to the class as a whole because I've got my own things to work on, but I have noticed him.
On Wednesday, which is our day off this week, I'm going to get my hair done. It takes about an hour and a half to get my dred re-twisted. I'm going to cut it soon I think. I think I'm about tired of it. After that, I'll probably hang around the house and maybe have some of the guys on the team over.
I was home over this past weekend and I didn't do too much, but I think I am going to LA this weekend to do a charity event on Sunday for kids who have AIDS.
For the record, I still haven't learned to make brownies, and my puppy has now moved on to chewing up my blinds. So it goes.