Tight end Vernon Davis continues sharing his first-ever NFL off-season in this latest diary entry! Enjoy catching up with the 49ers starting tight end...
I met a lot of new people at the charity golf tournament last weekend in Los Angeles and then also saw some familiar faces like Tony Parrish and my former Maryland teammate Shawne Merriman who was there with one of his Chargers teammates Shaun Phillips.
It was a fun weekend. I'm actually getting better at golfing which is a surprise. I lost about seven golf balls between the water and the woods which is an improvement. I had the vest with the polo and the khaki tans and my golf shoes, so I looked the part anyhow.
I finished up the Under Armour commercial on Monday. They had rented out a loft downtown in San Francisco and basically I was making a shake, turning on the TV to watch the draft, and then doing some push ups. My line was "Click Clack, I think he is coming." So, Click Clack has lived to see another day.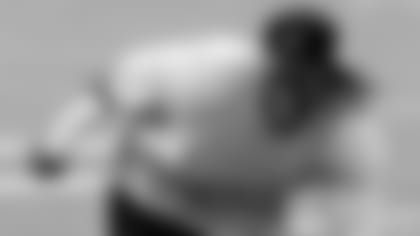 The week of workouts went well.
We hit the sandpit a few days. I really think it helps a lot with your explosiveness because you are digging and digging to get out of it. It's awkward at first. You really have to get used to it and once you do, it becomes a little easier for you. We did some figure eights one day, and then did some suicide drills where you shuffle to a cone, sprint back, shuffle to a cone farther away, sprint back, etc until you go the whole distance of the sandpit. Of course, like everything we do out there, we compete. I was racing against Delanie Walker and on top of pushing each other, we were also trying to out-grunt the other! Hey, when you are buried with your feet in sand, sometimes you have to grunt your way out of it.
Speaking of Delanie, he had some wild hair the other day. I think he was trying to take his braids out but only got halfway through so it really looks wild. He got some heat for it. It wasn't a good look.
I learned a new catching drill that I worked on all week with Billy Bajema. Coach Carlisle and my position coach, Pete Hoener, came up with it. We basically did catching drills using tennis balls. They think it will help our hand-eye coordination, so probably each caught about 100 every day this week.
Frank Gore came back for the workouts on Monday and that's very positive. He's a leader for us, and so I think it's important that he's here with us. We raced on the hill on his first day back and it's always great when you've got competitive people out there, especially Frank. He doesn't like to lose, and neither do I so it definitely keeps the competitive edge on.
I flew back Thursday night to DC to see my family for Easter weekend. My grandfather had eye surgery so I wanted to come back and help him out. I'm just going to chill and relax and play with my dog. I got her about three weeks ago. She's a Blue Pitbull, which is weird because they are really gray dogs. Her name is Lady. She's only 12 weeks old so I'm still getting her trained. She flew back with me and she did really well in her little bag.
That's all for this week.