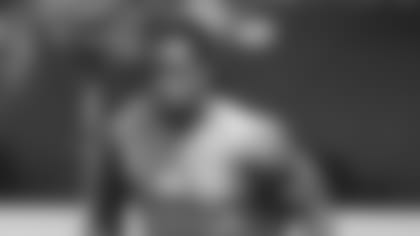 Tight end Vernon Davis has been sharing his first ever off-season with our fans on 49ers.com. Catch up with last year's first-round draft pick in this latest off-season diary entry.**
I haven't checked in for my off-season diary in a little bit, so I'll first go back to the mini camp weekend.
Mini camp was so much easier than a year ago. Everything about it was easier. Coach isn't yelling at me as much because I know what I'm doing on most of the stuff, and I know what to expect and what they expect out of me.
Last year, I was just running around, not really knowing what the heck I was doing. This year, I felt like I caught a lot of passes, and that's what I want. I want the ball in my hands so I can help this team out as much as possible.
I've been working on outside routes and that has really helped me because I'm still a tight end but I've got that receiver mentality too now. I run my routes with my head up, and I know how to come out of my breaks so much better. I really feel like that's helped me become a better player.
I'm very glad not to be a rookie anymore. They look so lost. I look at them and think wow, that was me last year. I can just feel them. It's just so much better now after having just a year of experience.
I definitely felt better in shape too because when I came in last year, I had been training for the Combine and the Pro Day which is different than being in football shape. Also, the few weeks before the draft there was a lot of flying around visiting teams, and so I kind of got out of my workout routine. It was also great not to have to go from being drafted and flying over for a press conference and then flying across country and back a few days later. This time, I had fresh legs and was ready to go for camp. .
I did get to see my latest Under Armour commercial which aired during the draft. They've got one online that I think is 90 seconds and that's one cool because you can see the Golden Gate Bridge. The other one that they aired on television I think was shorter. They came out pretty cool. I think our new first-rounder, Joe Staley, has done some stuff too for Under Armour.
My new house is coming along. I did get moved in, but I've got a lot that needs to be done. I am putting black hardwood floors in right now and black cabinets in the kitchen, just because I think it looks nice in the house. I've got an interior decorator picking out all of my furniture, and the whole process will probably take a few months. I'm getting rooms painted different colors, adding wallpaper and just changing things up.
It's nice to have my own home, but it's a lot of work. I really had no idea how much would go into it because when I bought my grandmother a house, she wanted to do everything herself and she kept things really simple.
I guess you could say that my dog loves the house since she's tearing everything up.
I haven't done as many appearances lately. I've just been dealing with the house and getting things in order. I've got an appearance at Sports Authority this weekend. I like being out in the public and meeting people for the most part, but sometimes I need a break. So over the weekend, I took it easy and just stayed in the area.
I went to see the latest Spiderman movie. I thought it was really good. I hadn't been to the movies in a while, so it was nice. I wish they sold brownies there because I'd be getting one every time. That's my weakness. None of that other stuff they sell really interests me, but brownies, that's my thing.
I'm starting to get into cooking a little bit more, now that I've got this nice kitchen. I can do some things. I know how to fix a steak, on the grill, in the oven or on the stove. I am pretty sure my next move will be to learn how to make brownies. I'm not sure if that's a good idea or not though because once I learn I'd probably be making them every other day and I'd get all fat.
For the most part, I either pick up food or eat over at El Patron, a Mexican place out by my house. That's pretty much been my spot since moving in.
Other than that, I come into the facility every day for our workouts which have been going very well. Afterwards, I head home, let my dog out and then just relax. I don't have a couch right now, so I just lay on my bed and it's so lovely. It's a therapeutic California King so it's big and just feels so soft and I just lounge around and watch television. I usually check out this show, Your Mama. They basically go around and find little kids who compete in Your Mama jokes. It's so silly. I really don't know why I watch it but it just makes me laugh.
Lately, I've been in bed by 10 every night. I don't know why, but I think it's just because it's so cozy and I get so comfortable in my bed, I find myself not wanting to leave. I haven't left the house much to be honest with you.
My brother Vontae is coming in later this week though and I'm going to take him to L.A. with me because Chargers linebacker Shaun Phillips is having a birthday bash. My brother plays at Illinois, so keep an eye out because I expect him to have a big year.