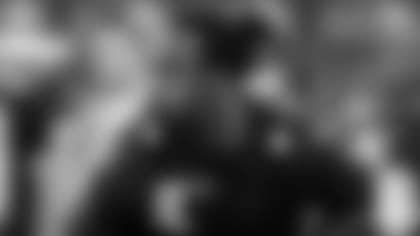 Tight end Vernon Davis checks in again to update the fans on his first ever off-season. However, in this journal, Davis reflects mostly on his experiences a year ago at the Combine in Indy when he churned out one of the most phenomenal performances of the week.**
After I left the Super Bowl in Miami I headed back to Maryland. The off-season is really moving fast and before too long we'll be back in Santa Clara for the start of our off-season program. Until then, I'm training back at home mostly.
I went to Las Vegas for the All-Star weekend. I don't like losing money so I'm not into gambling but I tried to play blackjack and I ended up winning some good money! I'm sure I couldn't get a repeat of that if I tried.
I did go to the dunk contest, but ended up leaving before it was over. It seems like it's all been done before with so many great players in the NBA who have made some incredible dunks in the past.
I also caught a Cirque Du Soleil show. That was fun, and it's just amazing to me to see that kind of stuff and what those people can do. It's like watching a magic show almost.
So I've gotten a lot of questions lately about the Combine. It's wild that it's already come back around already. It doesn't really seem like it's been a year since I went through all of that.
I stayed in a room with Stanford defensive lineman Babatunde Oshinowo. He was a great guy, smart as heck. We got a long great and it's good to have someone to share the Combine experience with because it's intense.
I just think you have to treat it like you are going out to play a game. You've got to show up because it's your future on the line. There's so much pressure, but that's a challenge you have to answer.
I was just getting after it during my workout. I knew I could perform because they were tests of athletic ability and I felt like I was an athlete. It's all about believing in yourself and being confident.
I worked out prior to the Combine at Athletes Performance in Arizona, and my trainers had timed me before close to that same time that I ended up running so that's what I kind of expected.
I was nervous about the bench press though because you never really know how many reps you will get. It's a tiring process and so guys don't always get a number that they have done before. I was able to get 33 so I was happy with that, but I was probably the most nervous for that.
The worst part of the Combine is meeting with so many coaches in such a short span. You are trying to be prepared and you don't really know how to take some of the questions they ask you. It was a different experience.
You just go around doing interviews, all of this medical testing, and then you even have to go stand in front of everyone in your underwear and have them weigh and measure your height. I knew I didn't have anything to hide by taking off my shirt, but it was a little weird.
The best part was just performing for the scouts and coaches and showing everyone what you can do. I wasn't nervous before I ran. I was just pumped up and afterwards dying to know what my time was.
It was very competitive that week. Guys have to perform and if they don't, they end up where they don't want to be which is a lower pick in the draft.
I will pay attention this week to NFL Network and see what's going on with this new crop of talent. I'd like to see what guys could be coming out to San Fran because I know they'll help make us a better team and help get us to where we're headed!