He's been to the Pro Bowl, won a Super Bowl and contributed to some of the best teams in 49ers history, but his latest achievement ranks up there with any previous accomplishment.
Eric Davis is the new color analyst for the U.S. Bank 49ers Radio broadcast on KNBR 680 AM, joining play-by-play man Ted Robinson in the booth for all 49ers games.
"This is huge," Davis told 49ers.com. "The organization wants me to represent the team, and to me, being an old-school Niner – that's a big deal.
"There are only 32 of these in the world and I'm glad I have one of them."
The former 49ers defensive back who played six seasons for the organization is pleased to increase his broadcasting role. Davis was the team's color analyst on CBS 5 preseason telecasts for the past three seasons and also worked as a 49ers analyst on CSN Bay Area over the past two years.
Now he's moving to the radio booth full time, where he started his broadcasting career in 2002 following his last NFL season with the Carolina Panthers.  The return allows Davis to be the trusted eyes of the 49ers Faithful who are unable to watch games on television.
"I want to give them the information that they want," Davis said. "They're relying on me to relay what's happening, the emotion of the moment."
Davis enjoys the intimacy of the broadcaster-to-fan relationship. He was an accomplished player (three-time All-Pro, two-time Pro Bowler, Super Bowl XXIX-winner) and has a knack for conveying detailed information. All things that will help him share the finer details of the game.
And Davis has been a frequent visitor to 49ers headquarters in recent years, largely to gain insight by watching practices throughout the year.
"You get to develop relationships with the players and coaches and you're not just a guy on the radio talking about them," Davis said. "You get to understand what they're doing and you begin to anticipate things they might do.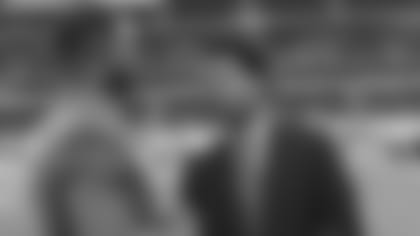 "You see what guys do during the week and you can relay that to the fans."
Broadcasting wasn't Davis' goal at the conclusion of his NFL career, but he felt obligated to share his insight of the game and his experiences.
"I started doing it because it was something interesting to me," Davis explained. "In some ways, it's almost like the same way I started playing football. It was a game I enjoyed and I worked at it because I enjoyed it. Then it became one of those things that was too much fun not to work at."
Davis has to get used to being considered as a "radio broadcaster," but he's been doing his best to get accustomed to his new role for Sundays. He's a frequent listener of sports-talk radio, often listening anywhere from his car to his workouts at the gym.
It's a great tool to help him enter his new forum, but it's nothing like being paired with an accomplished partner like Robinson.
From Wimbledon to the Olympics to every major sporting event in between, Davis couldn't have asked for a more experienced teammate in the booth.
"I'm honored to be able to work with a guy like Ted Robinson," Davis said. "I want to take all of that knowledge from our experiences and channel it to where listeners can really enjoy what's going on.
"You have to paint a vivid picture of what's happening."
**Additional 49ers broadcasting notes
**With Davis' move to the radio booth, the 49ers and CBS-5 will name his replacement on the preseason television broadcast in the coming months.
Another broadcast line-up change for the 49ers comes on the teams own weekly magazine show, 49ers Total Access. Host Joe Fonzi will be joined by new co-host Melissa Galvin. Galvin has been a reporter for 49ers Total Access since 2008. She also served as a Gold Rush cheerleader for the 49ers for five years, and currently works with the Gold Rush squad and 49ers game day entertainment.  49ers Total Access is an Emmy-award winning program ("Best Weekly Sports Program"). The show takes the viewer behind the scenes of the 49ers during the season and includes primary segments (Football 101, Red & Gold, In the Community, etc.) featuring various members of the organization.
More on Davis' NFL playing career
Davis was originally drafted by the 49ers in the second round (53rd overall pick) of the 1990 NFL Draft. He went on to play in 81 games (65 starts) during his six-year career (1990-95) in San Francisco, totaling 81 passes defensed, 12 interceptions (three returned for touchdowns), six forced fumbles, six fumble recoveries and one sack. A member of the team's Super Bowl XXIX Championship team, Davis saw action in 10 postseason games (eight starts) and recorded six interceptions (one returned for touchdown), 13 passes defensed, and one forced fumble. In his final season with the 49ers in 1995, he earned first-team All-Pro and Pro Bowl recognition as a member of NFL's top-ranked defense.
After his stint with the 49ers, Davis went on to play five seasons (1996-2000) for the Carolina Panthers, where he became one of only two players in NFL history to have five-or-more interceptions in five consecutive seasons. He helped Carolina reach the NFC title game in his initial season, only to lose to the eventual Super Bowl XXXI champion Green Bay Packers. As a member of the Panthers, Davis earned Pro Bowl recognition in 1996 and was twice named first-team All-Pro (1996-97). He posted 25 interceptions, 85 passes defensed, seven forced fumbles, four fumble recoveries and one sack in his five seasons in Carolina. Davis played 16 games in his only season with the Denver Broncos in 2001, before seeing action in 13 games (8 starts) as a member of the Detroit Lions in his final NFL season in 2002.
In 13 NFL seasons, Davis logged  38 interceptions (four returned for touchdowns), 171 passes defensed, 14 forced fumbles, 12 fumble recoveries and two sacks in 188 games played (152 starts).