Tight end Vernon Davis is one of the most exciting players on the field, and not always because of his rare mixture of athletic talents.
Davis provided Sunday's morning practice with an explosive outburst, and the almost-first fight of camp. Instead of sparring with his usual partner, linebacker Parys Haralson, Davis sprinted from the offense to holler at defensive end Justin Smith.
Smith's transgression?  The defensive unit is told to keep guys up, meaning tag off only, but Smith got a good shove in the back on Walker on a screen pass to the tight end.
"I don't like people picking on my teammates," explained Davis. "Especially with Delanie being my co-partner, I had to have his back."
Davis got up in Smith's face shouting, "what the (heck) are you thinking?'
The two traded a few shoves before players on both sides of the ball split it up.
"It feels good to know he has my back and he's always going to be there to support me," said Walker. "To see what he did today – I love to see that. We're teammates, we play the same position and for him do something like that, it gives you a lift and it makes me wants to play hard for him."
Walker didn't have any ill will towards Smith either.
"I know Justin is a great football player and he was trying to make a play," said Walker. "And with me tripping over Shawntae Spencer at the end, it made it look worse than it was."
Davis was all smiles by practice's end.
"What happens on the field, stays on the field," said Davis. "It's no big deal. I'm sure he didn't mean anything by it."
Smith was also unfazed by the incident.
"I was just going for the ball," said the defensive lineman. "No big deal. Everything is fine, it happens in football. It's all good."
Head coach Mike Nolan responded to the incident following practice.
"I think some of these big guys don't know how strong they are," said Nolan. "They tag guys off and don't recognize that it's a little more than some guys can take. But his intentions were good. It's just that he fell down. We've just got to be careful with that. I think the important thing is to know that Justin's intentions were to do the right thing. But I understand where the other guy is - my guy gets knocked down - I ought to go over there. Believe me if nobody goes over in that case - I'm worried about our guys."
The Daily Drill
*Contributed by Scott Kegley
*
Individual period took on a whole new life during Sunday's morning practice. With fans sitting in bleachers just five feet away from the linebacker drills, the players received thunderous applause and encouragement after each repetition.
The real show came during coach Mike Singletary's infamous bag drill where each player shuffles his feet back and forth while stepping over their own bag. The drill continues until each player does the drill to Singletary's satisfaction and he calls out their name.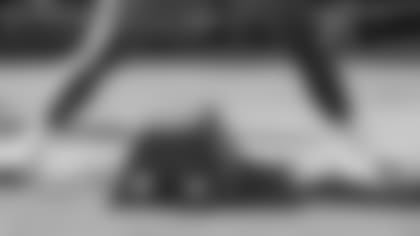 "It's a brutal drill," said veteran linebacker Jeff Ulbrich. "It doesn't matter how much you've prepared and trained for it in the offseason, it kills you. Your lungs and your legs are exhausted. It's tough."


Unfortunately for rookie Larry Grant, Singletary called out his name last on each set, making him continue for up to 30 seconds after everyone else had stopped.
"It's about technique with Coach Singletary and especially that drill in particular," said Grant. "The more repetition I get, the better I get at the drill. I seem to keep on getting a lot of repetition so I guess that's good because it's something I need to work on."
Ulbrich looked upon the rookie with a mixed bag of emotions.
"I feel bad for him in one sense, but I've been through it too," said Ulbrich. "We've all been there, and since he's a rookie he has to pay his dues."
After the first the first three sets, Singletary had Grant do one last set by himself just for good measure.
"Jeff came up to me before the last one and told me, 'Don't quit and stay low,'" said Grant.
With some encouragement from his teammates and the fans who sat right behind him, Grant finished the drill, but with some very tired legs.
"I think the fans fire Mike up a little bit more than usual," said Ulbrich. "And so for us it's a double-edged sword."
QB Track

After missing the first two plays of team and the last handful of team in order to watch the replay of Robinson's injury, tracking the stats became less important on the list of to do's for 49ers.com. Formers 49 quarterback Trent Dilfer, who was visiting practice, provided reassurance that really it's a pretty silly task anyway.
"I think it's just too early," said Dilfer. "I think you have to look at it a little more globally. You can't isolate it day to day, throw to throw. It has to be placed more on after a few weeks of camp and they've had an opportunity to work with all of the different guys and there's some continuity up front. Then I think you'll see it a little clearer. Then you have the preseason games, which will show you more of what you need to know."
That being said, both Shaun Hill and Alex Smith enjoyed fairly good stats during the team period. There were a few drops and a throw away or two, but really only one or two poorly thrown passes by each player. Hill finished 4-or-4 in his final team period, including a tight spiral to rookie Josh Morgan over the middle. Smith's final team session was the one that was missed with the attention on Robinson, but of the one that was tracked, he was 2-for-2 including a well-placed ball to Bryant Johnson.
Dilfer did have a few comments of his own for a few of the throws by his former teammates.
Dilfer twice shouted out "Stealing," to Hill. The first was after a 20-yard out route to Arnaz Battle, with the second one coming on a pass to Jason Hill.
When Smith rolled out of the pocket and headed to his left, Dilfer said, "Now, throw it now." His commanding words were too far and too quiet to have been heard, but Smith released exactly on time for a "that's it" from Dilfer.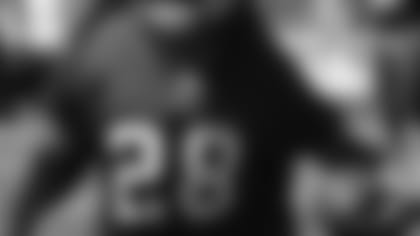 **Safety Keith Lewis snatched an interception for the only turnover in Sunday's practice. Lewis' big play came at the expense of quarterback Alex Smith during skele.
Cornerback Marcus Hudson dove to break up a long Alex Smith pass, two plays after nearly taking one away from Robert Jordan.
Observers caught a glimpse of defensive end Isaac Sopoaga's ability to move during a zone blitz period. Sop dropped back in coverage and managed an impressive open field "tackle" of Delanie Walker.
Seen or Overheard

Defensive line coach Jim Tomsula provided some motivation for linebacker Jay Moore prior to his second rep against tackle Joe Toledo.
"You know who you are, you are Michael Jordan, take it to the hole," Tomsula said to Moore.
Tomsula then shouted "Go Michael, go Michael," during the rep.
When Toledo stonewalled Moore, center Eric Heitmann shouted out, "Not with Shaq in the lane."
Running back Michael Robinson injured his knee during the final session of team. Right guard Chilo Rachal was pulling on the play, but was pushed back over on the left side of the line by linebacker Dontarrius Thomas. Robinson collided with the pair and quickly crumbled to the ground. On the way down, the back also received an awkward blow to his neck.
The team backed up about 30 yards and worked from the endzone while trainers tended to Robinson's knee. After a few minutes, Robinson got to his feet and walked to the sidelines on his own, where he received ice.
"I think he was scared more than anything else," said his teammate Frank Gore.
Nolan said the medical staff would take a further look at Robinson, but that the knee appeared stable in their initial probing.
Running back Thomas Clayton had come off the field limping during the first team period, but he did return to the field, and took the final few plays of practice in place of Robinson.
T Damane Duckett (knee), WR Ashley Lelie (calf) and CB Walt Harris (by coaching design) missed practice.
Nolan said Duckett and Lelie would be out a few days.
G Davis Baas, T Joe Staley, and NT Aubrayo Franklin remain out. Nolan expects Staley back by the middle to end of this next week, while Franklin should be back in the "next day or two."
Throughout training camp, TV49 will be scouring the bleachers during the open practices for highlights and play by plays from the fans. We'll also feature a few in our practice reports in this From the Bleachers section.
"I enjoyed watching Coach Singletary," said fan Bansen Elkins. "He was all over them (during the bag drill). I can't say enough about Singletary. He's one of the best coaches in the world. What are we, 10-15 yards away?  Singletary was all over Larry Grant. He was having a hard time. But Joe Staley, I can't believe how well he does."
While Elkins chatted about the defense, Loni Gross observed the offense.
"I've been keeping my eye on Shaun Hill and Alex Smith," said Gross. "I'm excited to see who is going to be the first quarterback. They've been pretty even out there. Arnaz Battle looks pretty good out there. I'm a big fan of him. I think the season is going to be a good one, I have high hopes.
Autographs Instead of Afernoon Practice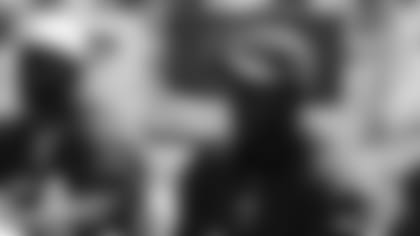 Head coach Mike Nolan cancelled the afternoon practice session.
"We decided that we would not go through practice this afternoon," said Nolan. "We have had great tempo in the first five shell practices. Our players are practicing in a padded tempo-mode. We will be in pads tomorrow. Training camp has a lot of objectives to accomplish. Taking care of our players is one of them. The rest of the evening meeting schedule will remain the same."
To avoid disappointing the fans who were already in line waiting for the gates to open for practice, the 49ers held a hugely popular 45-minute autograph session.
"I'm going to have Frank Gore sign my Pro Bowl jersey, said Steve Mullan from Modesto. "I've seen a bunch of practices, missing one is not going to hurt me."
It was the first chance the fans have had this camp to see starting left tackle Joe Staley. Staley joined his teammates for the autograph session and said he "can't wait to return to practice."