With 49ers Pro Bowl tight end Vernon Davis serving as the US Curling Team's Honorary Captain for the 2010 Winter Olympics, 49ers.com contributor Lisa Goodwin was alongside to document Davis' Olympic experience.
A lot of people were wondering why Vernon Davis would be the Honorary Captain for the US Curling Team, but there's a quick back story to how it came about. Janie McCauley, a 49ers beat writer who works for the Associated Press also happens to be covering curling for the Olympics. She asked me during the season if one of our players could try out curling so she could do a story on it and see if NFL athletes could be successful in curling. She wanted to see if any athlete could do it, and so we figured what better athlete to test that out than Vernon. When she asked him if he'd be interested, Vernon immediately said, "I'd love to do it."
On an off day during the season, the Bay Area Curling Club took us to Sharks Ice in San Jose so Vernon could try it out and Janie could write her feature. From there, the US Curling team heard about it and reached out to me and invited him to be their Honorary Captain. Vernon said yes and that's how he ended up at the Olympics and even did some commercials before then to promote his involvement.
Because Vernon's schedule is pretty hectic in the offseason, he was only able to come out for two matches, but he made the most of his time out in Vancouver. He definitely wanted to support the team and help bring light to their sport. I learned that there are 1.5 million curlers in the world and 1.3 of them are in Canada. We don't have that many curlers, but it's important to the guys in the US who do it and love the sport. Once Vernon got to know the sport and had fun with it, he figured he could help bring a little more attention.. He did quite a bit of interviews in the two days and a lot of it was international media.
I got into Vancouver Thursday night and met up with Vernon Friday morning to help facilitate all the appearances he would be doing over the next two days. The first important stop was a lunch meeting with the President of the US Curling Team at his hotel.
Vernon fit the part too. They sent him an official team jacket with his last name on the back and he wore that to lunch and to the match on Friday when USA played France. Right before the team played France he spoke with the team before they were introduced and they hung a 49ers banner in the locker room to welcome him, which was a very nice gesture. The funny thing about Vernon's jacket was how people confused him with Olympic speed skater Shani Davis, who is much smaller than Vernon. I don't know why people thought that, but it was really entertaining.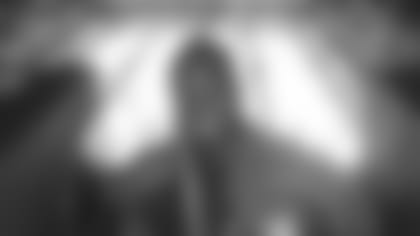 After Vernon met with the team, he sat in the stands and we watched USA beat France. Vernon was really into it. Obviously, he's still learning all the details of curling, but he was pretty knowledgeable about what was going on just based from his exposure to the sport. Plus, we had Beau Welling from the US Curling Team sitting with us to answer any questions that we had. It was almost a three hour match, but it was very exciting. It was the USA's first win of the Olympics and coincidentally the first game Vernon attended. But Vernon didn't sit the entire time, he did a live TV booth interview with NBC and hit the media Mixed Zone following the game where he walked down media row and did interviews with team members.
After USA beat France we went to the Vancouver Curling Club, which is a place where people can try curling out and they can rent a sheet (which is what they call one court or field). Vernon curled with the US Team for a little bit and they did more interviews as well for the media that weren't credentialed for the game versus France.
The Curling team was so great, they treated us like they're own. They took us to the US Olympic Hospitality House downtown after our time at the Curling Club. The hospitality house was a cool spot where you can get the official merchandise or get a bite to eat or watch the Olympic Games. Vernon got to meet Kelly Clark, an American snowboarder who was the Bronze medal winner for the half pipe. It was a fun place to be, especially being around so many Olympians. Vernon closed the night out at the Burton Snowboard party, where he walked the red carpet and mingled with more Olympic athletes.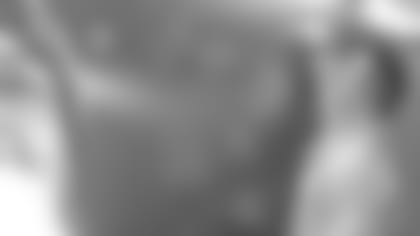 The US won again on Saturday, so Vernon again was a good luck charm. After their win, they gave us guest passes into the Olympic village, which is a very tough place to get access too. It's the residential area where the athletes stay. We ate lunch with the team in their cafeteria, saw the athlete's game room and even took a tour of the building and condo they're staying at. The condo was on the top floor of the building overlooking the water and downtown Vancouver. After the tour of the village, they took us to a US Family House sponsored by Proctor and Gamble that had everything a family would want while at the Olympics supporting their loved-ones. They had a Pringles bar, with 23 different flavors to try, a game room for the kids, countless rooms with TV's to watch the Olympics, a salon, a massage parlor, food and beverage areas and a place where people can pose as winter Olympic athletes behind a green screen. Vernon tried this out and given he was asked if he was Shani Davis all day long, he thought it was appropriate to do a speed skater shot. He also took a picture with one of the members of the US Curling Team, Chris Plys, as snowboarders. Vernon was having a great time, messing around with all the different athletes and families from other sports.
Having an NFL player involved in curling might be considered odd, but not really with Vernon. He's always had multiple interests off the field, whether it's charitable work or even some of the art work or his interests in fashion. Being involved with the Olympics just shows Vernon's personality and the type of character he has. He paid his own way out to Vancouver and really embraced the entire experience, as you can tell in this 49ers.com photo gallery.
Who knows, maybe we'll see him representing the USA in 2014.