Not that competition is ever lacking on the 49ers practice fields, but it's clear that Vernon Davis brings it to the next level.
The Pro Bowl tight end has provided some of the best highlight catches of training camp, and he always lets the defense know about it.
He doesn't do this to build himself up or put anybody down. In fact, it's quite the opposite.
Davis is pushing the defense to try and stop him so the team will be better as a whole.
"I'm having fun out here," the five-year pro said. "It's amazing being around my teammates, they push me to play harder and I try to push them. I feel like you practice how you play. If you have fun in practice and play hard, you'll do that in the games."
Davis approaches each snap with the same passion and intensity as if he were playing at Candlestick Park in front of over 65,000 screaming fans. He never takes a play off.
"That's what it's all about, making practice as competitive as the games are," he said. "Guys out here are having fun. You can't be uptight, you just have to be yourself and do what you love to do, which is competing."
Davis makes it a point to jaw with the defensive backs when he makes catches. But at Friday's training camp practice, the defensive backs earned sweet revenge.
When Michael Lewis broke up a quick out intended for Davis, the nine-year veteran safety was overly demonstrative while celebrating his success, clearly having a little fun with Davis. But at the end of the day, Lewis said, it was all in fun and it was simply time to return the favor.
"Vernon likes to get fired up a little bit out there when he makes plays. But we pride ourselves on defense too, and when we make a play on him we want to let him know that we're still here."
Lewis doesn't mind Davis' passion one bit. He appreciates it.
"That's just Vernon's personality. That's who he is, whether he's in a practice or a game – he's going to let you know about it. And I like that. We need a guy like that with swagger."
But more than just confidence, Davis' unique athleticism from the tight end position pushes the entire 49ers defense to get better, not just the secondary.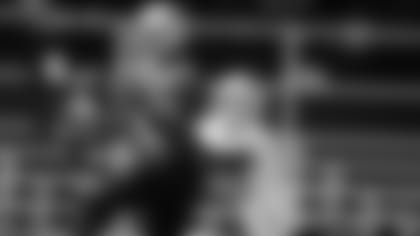 "Having to cover him in practice makes a big difference," linebacker Takeo Spikes said. "On Sundays, when I'm matched up against a tight end, it's like I'm in the Matrix – everything else slows down."
Since the start of camp, Davis has made tough, across-the-middle catches just like he did last year when he tied an NFL single-season record with 13 touchdown receptions by a tight end. Based on Davis' early production in camp, the results this season should be the same, if not greater.
Even with all the time he spent fueling his thirst for life – trips to the Olympics, visiting American troops overseas, promoting the NFL International Series Game in London – Davis worked hard on his game too.
He spent a good portion of time working on his concentration, not just his 6-foot-3, 250-pound physique. As much as the physical aspects play a part in his role as the 49ers starting tight end, Davis has learned to embrace challenges and focus in on what he can do to get better in 2010.
"I've really improved my awareness, my ability to concentrate on everything from route-running to watching the ball into my hands," he said.
Plus, Davis has taken inspiration from the play of the 49ers wide receiving corps. Seeing players like Michael Crabtree and Josh Morgan attack the football with their hands has been a positive influence on Davis' pass-catching ability.
"The way they're catching the ball is amazing to me because they're so athletic. They really attack the ball like it's theirs."
There's no question that going against one of the league's best tight ends is a benefit for the 49ers defense. The players understand if they can stop Davis, they can stop pretty much anyone at his position in the league.
"I think we all have it in ourselves to compete, but having Vernon adds to it," Pro Bowl linebacker Joe Staley said. "Having a tight end who can play like he does every day – there's not too many tight ends who can do that. There aren't many who can move like how he moves. He raises our level of play. We know if we can stop him we have a good chance against any other tight end."