The starting job. The NFL lifestyle. The flashing lights of the professional stage.
It's because of his mother Desrene that 49ers safety Dashon Goldson is able to do what he truly loves: play the game of football with unbridled passion.
Goldson's first tattoo, which he got at the age of 14, is a testament to his relationship with the woman who raised him to be a supremely talented yet humble star athlete. Her name vertically inscribed down the top of his right shoulder reminds him of her every day and of what it took to get to the NFL.
And now as one of the 49ers top defensive play-makers with a career-best 114 tackles, four interceptions and three forced fumbles in 2009, his first year as a starting free safety, Goldson is doing his best to pay homage to his mother in any way possible.
Take the most recent Mother's Day as an example.
Desrene was surprised that morning to find an extravagant gift from her 25-year-old son waiting in her driveway, a brand-new Mercedes SUV wrapped in a big red bow.
"I don't know if she's the talk of the town, but mom loves the car and that's what's most important," Goldson said after the 49ers wrapped up their mandatory minicamp last month. "She deserves it. I'm just glad I can put a smile on her face and do something like that for her."
It was the least he could do.
Dashon's down-to-earth nature comes directly from the matriarch of his family. The way he treats everyone is a direct reflection of Desrene's teachings.
"She kept me level-headed," the fourth-year safety said. "That's just me. I'm just a cool person. I've always been like that. I never overlooked anybody. I don't think I'm bigger than anybody and I never will be."
Dashon grew up in the Los Angeles area, but he and his mom moved several times within the region. With each change of scenery, the goal to become a great football player never wavered. Dashon's humble attitude remained the same.
And while Desrene was well aware of the talent her son possessed, it was the college recruiters who failed to make the same connection.
Dashon didn't receive the attention he felt he deserved early on in his football career. Colleges ignored a young, dreadlock-less Goldson coming out of Narbonne High School, so he went the junior college route landing at Coffeyville Community College in Coffeyville, Kan.
From there, Goldson quickly received the attention he deserved and the 6-foot-2, 200 pound ball-hawk earned a scholarship to the University of Washington. Goldson did it all for the Huskies, even lining up at cornerback for the betterment of the team. Despite playing an unfamiliar position, Goldson earned All Pac-10 honorable mention as a senior. He made another big change during that stage of his life and decided to grow the long dreadlock hair he currently sports thanks to a suggestion from whom else, Desrene.
Dashon finished his college career with a degree in African American Studies and was poised to take the next step to showcase his talents, his new look and most important of all, his passionate persona.
Four rounds into the 2007 NFL Draft, Goldson was taken off the board by the 49ers with the 126th selection.
Soon after, Goldson would become "The Hawk."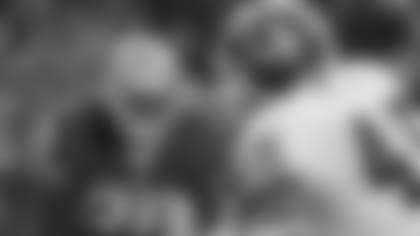 It was the name bestowed to him by former special teams coordinator Al Everest, who played a large part in Goldson's early development with the 49ers.
"I liked the name and I could see the comparison he was talking about, especially with me being back there preying on everything," Goldson said.
An elbow injury suffered before his first season slowed down Goldson's progress on defense, but it didn't stop him from contributing in other ways. Even though he was only a reserve in nickel and dime packages, Goldson became a standout on special teams.
The lack of playing time on defense didn't stunt Goldson's growth; it only pushed him to go harder.
"Coming in here you know people are going to have experience above you. But you just have to wait your turn. You have to know your role and I had a goal. My goal was to be a starter on this team."
Goldson did his best to study the veterans ahead of him on the depth chart. He picked up on their techniques, how they studied the playbook and their dedication to the sport.
"Those guys who were playing ahead of me, they had been playing for a long time and that's what I wanted to do. I wanted to be in the League for awhile so I didn't mind sitting backseat. I knew it was a matter of time before I got my shot; I just had to make the best of it."
Goldson lined up primarily as the starting free safety throughout the following offseason. With more repetitions he felt ready to contribute to the defense, not just the special teams units.
Goldson would start the second game of the 2008 season finishing with five tackles, but it would be his only start of the year. Throughout the season, Goldson's passion never wavered. As a main contributor on special teams and in sub packages, Goldson used that playing time to showcase his talents.
"When I first got here they stressed how important special teams were at this level and I just took it as this is going to be a stepping stone for me to be a starter. If I wanted to play on the defense, I knew I had to step up and do what I had to do on special teams."
Goldson still values his role on special teams to this day and remains an important contributor on the punt teams.
This past season, his first as the 49ers starting free safety, Goldson's three forced fumbles put him in a tie for second for most forced fumbles among NFL safeties. It also helped the 49ers lead the NFL with 23 forced fumbles.
To put Goldson's unique skill-set into perspective, he was one of four players in the NFL to record at least three interceptions, three forced fumbles and a sack last season. Teammate Joe Staley was one of the other three to accomplish that feat.
Goldson led the 49ers in interceptions, but savors his first career interception which came at the hands of former Seahawks quarterback Seneca Wallace. The ball is among Goldson's other interception and game balls piled up at his house. And if Goldson has his way, it will be joined by many other footballs soon.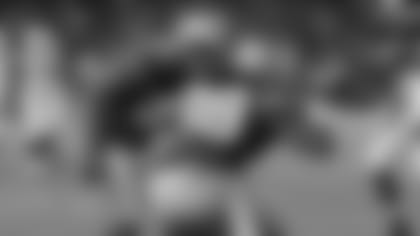 He once added three to the collection in one night alone.
Playing the defending NFC Champion Arizona Cardinals, Goldson forced two fumbles and picked off Kurt Warner in the 49ers season sweep over their division rivals on "Monday Night Football."
For the time being, Goldson is taking pride in having the 49ers Faithful follow him on Twitter, the social networking site that has allowed athletes to become reporters in their own right.
"I just like interacting with the fans," said Goldson, who uses his nickname and his uniform number as his screen name (@thehawk38). "I'm on there for our fans. It's fun and I like giving them a chance to know about my life."
More than just giving the fans entertainment, Goldson has launched The Highest Point Foundation, which according to Goldson's official site, "provides motivational outlets for youth through sports programs such as camps and clinics – to take them off the streets and onto the field, making productive use of their time and physical abilities."
Goldson plans to give back again this offseason, hosting 350 kids at his second annual free youth football camp in Carson, Calif., on July 10. Goldson will be joined by several 49ers teammates including Vernon Davis, Frank Gore, and Willis among others.
"I like giving back," Goldson said. "When I was growing up, we never had people from the league come to our camps or have people come back and speak to us. We never had stuff like that. After my first camp I saw how important it was. It's something I really want to continue doing, keep giving back and be a part of something."
As much as Goldson is focused on building his stature in the community, he's extremely intent on raising his level of play on the field as well.
The 2010 season is Goldson's last under the four-year contract he signed as a rookie. Knowing that the upcoming season is a great opportunity to showcase his ability, Goldson is optimistic about remaining in the Bay Area long-term.
But instead of letting the business side of the game interfere with his progress, Goldson has vowed to relentlessly train for the rest of the offseason.
"I'm just anxious to get started A.S.A.P! This training camp is very important, I know a lot of people are expecting a lot from my teammates, my coaches and me personally."
With training camp weeks away, "The Hawk" is eager to patrol the middle of the 49ers practice fields and more importantly, put in the necessary work to get the 49ers back in the playoffs.
"I just want to build off of how I finished last year. With this being my last year of my deal and with me loving the game of football – always wanting to get better – wanting to be one of the top guys in the league – all of that stuff plays a factor. I'm not just playing the game to play it, I want to be respected."