"Heart of a champion," was written on Joe Staley' gloves Tuesday afternoon.
But the words weren't there solely for Willis' own inspiration; they were personally written by the Pro Bowl linebacker as a selfless gift to one of his biggest fans, 15-year-old Brandon Dale of Santa Clara.
Brandon visited team headquarters with his family for a "49ers wish fulfillment," to spend the day with his favorite team. Months ago, Brandon was diagnosed with a rare form of liver cancer and has since been valiantly battling the illness. All the while, his wish was to see the 49ers five Super Bowl trophies in person.
Brandon's father Andy informed his son that their family would be visiting team headquarters to see the Lombardi Trophies and eat lunch in the team cafeteria. Andy managed to withhold some of the more pertinent information.
To Brandon's surprise, what was supposed to be a quick visit ended up being a day full of lasting memories that he won't soon forget.
"I thought it was just fantastic; it was more than I could expect," Andy said in an interview with TV49. "To see my son smile so brightly and not feel anything he's going through, this was all made possible by the 49ers as a whole and I thank them for that. It brings me so much joy, I'm overwhelmed."
Along with his sister Katryna, mother Grace and father, Brandon toured team headquarters, watched practice from an end zone, got autographs from the entire team and finished the day off eating lunch among players and coaches. He even received his own personalized red No. 52 Willis jersey with his name on the back. But the highlight for Brandon wasn't hard to choose – it was the gloves he received with Willis' inspirational dedication.
"I didn't even ask for them," Brandon said with a smile.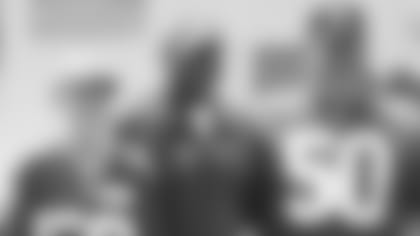 Out at practice Brandon looked down the team roster and told stories to his family about the different players. At one point when Vernon Davis made a great catch, Brandon jumped up with excitement.
Brandon was also greeted by head coach Mike Singletary, who signed autographs and took photos with the family.
"The first thing I want to say is it's not enough, but it always blesses me to have the opportunity to speak to someone who has a great spirit," Singletary said of his visit with Brandon. "To think that we can do something to bring joy to someone really amazes me. It blesses me at the same time."
For Andy, having a moment with the respected Hall of Fame linebacker and his son was something he'll always cherish.
"It was nice to personally thank him. I wished him the best with everything in the future on and off the field. It's great that the 49ers have him as a coach."
As much as the Dale family was eager to meet the 49ers players and coaches, the feeling was completely mutual.
"It's a blessing to see someone wear your jersey because it means they support you and know who you are," Willis said.
The All-Pro linebacker showed he's worthy of making the "All-Class" team in taking the time give strength to a fan in need of support.
"I just want to say to Brandon that I know times are tough right now considering what the doctors are telling you, but one thing I like to live by is 'Live life until it gives you no more.' And that just means smile and be happy for the days that you can enjoy, and know that I'm going to be smiling with you each day. God Bless."