It's not Christmas quite yet, but the 49ers received a special present on Wednesday.
It wasn't wrapped in a bow and it didn't show up under a tree, but the team was happy to add first round-draft pick Michael Crabtree to the family after he signed a six-year contract early Wednesday morning.
"First of all, this is a great day for the 49ers," head coach Mike Singletary said at the start of Crabtree's introductory press conference. "Yesterday, when [President] Jed York, [General Manager] Scot McCloughan and [Vice President of Football Operations] Paraag [Marathe] went down to visit with Mike [Crabtree] and worked all day and all night to get a deal done, it showed the commitment in place of having Crabtree here."
Tuesday's meeting between the two parties fueled speculation that the two sides were close to an agreement and after hours of face-to-face time, both sides found common ground and worked out a deal.
"This process took a lot longer than we wanted it to, but I thought it was handled very professionally on both ends," McCloughan said. "It was not negotiated through the media, which I think is very important for our organization and our stance we want to take."
McCloughan didn't get into the details of the contract but said, "I honestly think it was a very good deal for both sides for the 10th pick of the '09 Draft."
Once Crabtree's 72-day holdout ended on Wednesday, the look on the former Texas Tech product was one of liberation.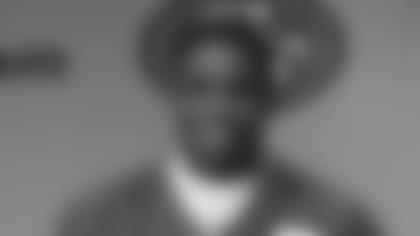 "It's a lot of relief off of my shoulders," Crabtree said. "I can't wait to get into this locker room with my teammates, get under coach Mike Singletary and go out there and play on Sundays."
After his press conference, Crabtree participated in his first on-field work since he had offseason foot surgery.
With a lot of extra attention being given his way, Crabtree's prime focus has to be on picking up the offense as quickly as possible while acclimating himself to life as a professional football player. But with his experience of being a two-time Biletnikoff Award winner as college football's best wideout, Crabtree's arrival was welcomed according to his teammates.
"I think it's great that he's here with us," team co-captain Eric Heitmann said. "Michael Crabtree will be an excellent weapon for us on offense. As we go forward, he has a lot to learn but I think he'll learn quickly. I don't know a whole lot about what the wide receivers are doing, but offensively, we'll do what we can to make him feel comfortable and get him to where he needs to be."
With Crabtree signed, the 49ers applied for a roster exemption which will allow the team to carry an extra man on the roster for the next two weeks. After the team's bye week, the 49ers will have to release a player to get down to 53.
"It's going to be fun to see him catch up," team co-captain Joe Staley said. "I think it's going to be a lot of work, but I'm sure he's up to the task."
Crabtree will not play this Sunday against the Atlanta Falcons according to Singletary but he will hit the ground running as he prepares to see his first NFL action.
"I'm doing the best job I can do," Crabtree said. "Anything coach asks me to do, whether it's blocking or running go routes for no reason, I'm doing it all just to win. Anything I can do to win, help this team win, I'm here."
Crabtree said he's been following the 49ers 3-1 start and has watched every game.
"It's the team that drafted me, so I watched them very closely and the intensity they put in every Sunday," he explained. "I'm looking forward to playing a big role in that offense."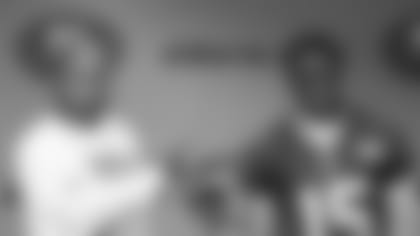 Until Crabtree finds his niche within the 49ers offense, he knows he has a lot of hard work ahead of him. Whether it's learning the offense or proving himself to his teammates, Crabtree is undoubtedly ready to put the past behind him and do what he does best – play football.
"I'm very humbled right now," he said. "It was just getting a chance to sit back and better myself as a person and as a player – as a teammate."
If Crabtree performs like his teammates expect him to, the lengthy holdout will be water under the bridge.
"I think his play will speak for itself. Once he can get started and get comfortable with the offense – everybody will love him," co-captain Vernon Davis said.
But until Crabtree dresses on gameday, the onus for him is on learning as much as he can quickly.
While he's doing that, the 49ers will be ready for Sunday's game against the 2-1 Atlanta Falcons.
"Everything has been said, everything has been done, all that other stuff – it is behind us," Singletary said. "We are going forward. We're looking forward to the opportunity that we have this weekend with Atlanta."