It was a microcosm of their relationship.
As Tuesday's practice concluded, Alex Smith and Michael Crabtree walked side-by-side, step for step off the 49ers practice fields. They were in-unison, on the same page, honing their craft.
The 49ers starting quarterback and top wide receiver looked to be having a football-related conversation, each motioning one way or the other as if they were talking football scenarios while they walked to the locker room.
The connection was apparent. But 49ers fans have yet to see it on the field in the preseason.
Crabtree missed all of the 2009 preseason due to a contract holdout and has been sidelined for the first three games of 2010 with a neck injury.
But that could change this Thursday night against the San Diego Chargers. Crabtree took part in the full practice regimen on Tuesday, just like he did all four days of practice the week prior.
But once again, the 49ers No. 1 wideout will wait to see if head coach Mike Singletary will give him the green light to play in the preseason finale.
"It's going to be the same situation as last week," Crabtree said. "If it's a game-time decision again, I have to go with Coach's decision, whatever Coach has for me, I'm going with it."
Before he suffered a neck injury before the preseason opener at Indianapolis, the second-year wideout was one of the most dynamic play-makers on the team's Santa Clara practice fields.
And since his return, nothing has changed.
As the 49ers regular season opener steadily approaches, Crabtree makes no bones about it; he's ready for what's to come.
"I feel great about it. I'm just ready to get this thing started," he said. "I can't wait to really show it on Sundays to tell you the truth."
With the regular season less than two weeks away, Crabtree's teammates aren't so sure getting him back against San Diego is the right thing to do.
Smith said as much in his Tuesday press conference prior to practice.
"I don't know about (Crabtree playing) Thursday. Now it's almost time to get healthy and get ready to go. I think that was the precaution we took this last week."
Whether he dresses Thursday night or not, Crabtree values the time he's spending on the practice fields.
"I feel like I'm working hard in practice and getting good work with my teammates," he said. "I feel like whenever you put me out there on the field, I'll be ready to perform."
Crabtree said being on the sidelines during the preseason has been tough. With his quarterback performing well, Crabtree has been eager to catch passes from his starter.
"I'm real confident about Alex," he said. "I can't wait to see him out there on Sundays when he and I can really just put it all together."
And it's not just Crabtree and Smith, who hope to put it all together in their second year with offensive coordinator Jimmy Raye. All of the wide receivers believe the passing attack will be much more potent with another year in Raye's system under their belts.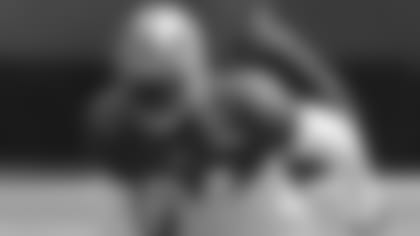 "More so this year we understand the whole play and not just what we have to do," third-year wideout Josh Morgan explained. "We understand what Alex expects from us, where he wants us to be."
Morgan cited spacing as one of the biggest improvements the receivers have made in year two working with Raye.
"If the defense blitzes, we know what route Alex wants us to run, and we have a better idea of knowing our spacing in the passing tree," Morgan said. "Last year, we were too close. We were tripping over each other and didn't have the right space distribution of where wanted to be."
While they've grown further apart on the field, the receivers have grown closer off it.
"Crab, that's like my brother from another mother and Teddy (Ginn Jr.), he's the step cousin. We just adopted him. We're all like brothers," Morgan joked. "We're family over here. Every day we come in and it's like a comedy show. We're making each other laugh. We're all we got, so we have fun with it every day."
But not to be taken lightly, the receivers know there's work to be done in order to be fully prepared for the regular season.
"We're focused on alignment, assignment and execution – that's it," Morgan said channeling his offensive coordinator's key to success. "For us, it's about making sure you line up in the right place, do your job right and just execute."
Franklin Returns to Practice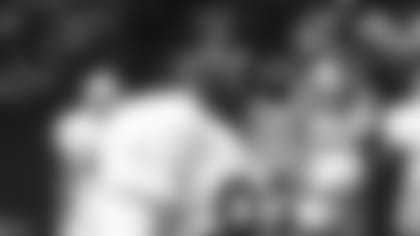 The last time Aubrayo Franklin suited up with his 49ers teammates was in a 28-6 road victory over the St. Louis Rams last January. But on Tuesday, Franklin re-joined his teammates on the practice fields for the first time since.
"It felt good to back out there and get a feel for it," said the eight-year pro, who signed his one-year franchise tender on Saturday. "It was good to get back out with the guys and feel the camaraderie."
Franklin admitted one of the people he missed most was his defensive line coach Jim Tomsula, who wasted no time inserting the 6-foot-1, 317-pound nose tackle into the starting lineup.
"I was a little slow on a couple of steps, but as I got going it was like riding a bike. When you get back out there you can do it," Franklin said.
Being back in the locker room was just as good of a feeling for Franklin. Spending time with his teammates has him refocused on what could happen in 2010.
"I'm just looking to see how far we can progress as a defensive unit and add to where we left off last year."