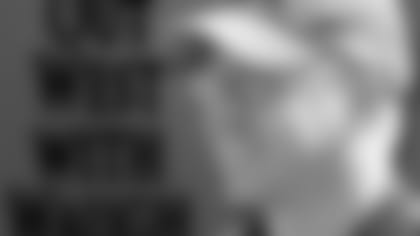 Player Personnel Assistant Ethan Waugh is in his fourth season with the 49ers and has become a jack of all trades for General Manager Scot McCloughan with duties that cover both the pro and college side of scouting. In this latest blog, Waugh updates everyone on his recent travels covering Pro Days! **
I blogged at the start of the Combine and then Todd Brunner finished the rest of the week as I was deathly ill - as sick as I'd ever been in my life. I caught a bug that was running rampant throughout the NFL, and it made a long week even longer!
At the Combine, they announce the date of each player's pro timing day, and following the last workout in Indianapolis the personnel department meets to build our calendar of all the events our scouts and coaches need to attend.
Once I returned from Indianapolis, I headed out to several Pro Days out in the west including University of Idaho, Cal, San Jose State, Eastern Washington, UCLA, San Diego, San Diego State, and Stanford.
For my first Pro Day, I flew into Spokane, Washington and then drove down to Moscow, Idaho. I ran into some snow on the way to the Idaho workout where there was a strong turnout of players. Idaho had one player who had gone to the Combine, a very productive linebacker, and so he and roughly ten of his teammates worked out that day. Idaho is always an interesting workout because they hold it in the Kibbie Dome and since it's not football season, they have it set up for tennis courts and a basketball court. So, after running 40s on the track, all of the position groups did their drills on the basketball court.
The next day I drove about an hour and a half to get to Cheney, Washington, for the Eastern Washington workout. There were about ten guys who worked out, including one underclassman who is an interesting prospect, as well as a player from Western Washington. NFL rules dictate that in addition to the seniors from the host school, players who went to either a small school or grew up in that area are allowed to work out, at the discretion of the host school. However, I don't see too much of that in my area as the rules in the Pac-10 allow for only players who attended the host school to work out. Eastern Washington is part of the Big Sky, not the Pac-10 so they let this player work out, offering him a great opportunity for more exposure.
The following day I headed to Washington State which is in Pullman and they worked out in their indoor facility, which is basically a big bubble over an Astroturf field. They hired a new coaching staff this off-season that actually came over from Eastern Washington so it was good to see those guys and congratulate them on moving up.
Washington State had probably 15 guys work out at their Pro Day. Quarterback Alex Brink had been at the Combine and completed all of the tests already, so he only threw routes to his receivers and backs.
Normally I really enjoy driving through that part of the country, known as the Palouse. It's a very scenic drive – rolling hills and farms - but just outside of Colfax they had a nice little speed trap set up. I managed to avoid a ticket, but the trooper waiting there nabbed an agent or two.
Once I got back to Spokane I found out my flight was cancelled, so I was re-routed by the airline. I ended up flying from Spokane to Boise to Reno to San Jose. All of the takeoffs and landings drove me crazy, but at least a flight attendant took pity on me and seated me in an exit row. Finally, I made it home and was able to get my workouts entered and briefly see my family before flying out the next day to San Diego, which is a vastly different climate than the Inland Northwest.
My first Pro Day in souther California to cover was at the University of San Diego. It was an unbelievable day and I had to ask why anybody would live anywhere else. They had a baseball game and the WCC basketball tournament going on so it was a busy day on campus. We worked out four guys from USD and a couple of San Diego natives from other schools as well. Josh Johnson, the Torero quarterback, ran very fast at the Combine and again did well in his workout. A number of NFL scouts and coaches were there, including a pair of head coaches in the Chargers' Norv Turner and Carolina's John Fox.
I had dinner that night with some of the coaches from San Diego, and then the following morning I drove over to San Diego State where it was another incredible day. We worked out about 20 guys and it was attended by essentially the same crowd that had been at USD the day before. Quarterback Kevin O'Connell had also done the drills at the Combine, and therefore only threw routes to his receivers.
From there I flew back to San Jose and my next Pro Day was at Cal. Cal obviously has a very good class of players, including a pair of premier receivers and a talented running back and so there was a large crowd for that workout. Jerry Rice was there in support of WR DeSean Jackson who he's been working with. Chiefs head coach Herm Edwards, who played two years at Cal, was also there for the workout.
RB Justin Forsett didn't run at the Combine so he ran and did well at the Pro Day. Jackson ran his 40 at the Combine and timed very well, so he skipped that portion and just did the football drills. Hawkins also ran his 40 at the Combine, but he ran again, and did well.
The next morning I left bright and early for the drive to Fresno where I enjoyed watching a great workout. The Bulldogs run on their practice field, which is actually old fashioned grass. Only a few teams do so anymore, and it's nice because that is what our game surface is.
From Fresno I drove to UCLA where apparently there was not a hotel to be had in the Los Angeles area that was not ridiculously priced. Since the workout started at 7AM the next morning I didn't want to deal with any traffic, so I found a locally owned hotel located right by campus that allowed me to walk over the following morning. The Bruins have a large senior class and their staff did an excellent job keeping things very organized and efficient. They ran on grass there as well, on one of their practice fields. UCLA does not have a senior quarterback, so 49er quarterback and UCLA alumnus Drew Olson threw at the workout. He was fired up about last week's start of our off-season program and learning the new offensive system.
I drove back from UCLA and got caught up on entering workout information from all of our scouts. We also share numbers with some other NFL teams on workouts we can't get to, so I also had that information to enter into our system. It pretty much took the whole weekend, but I was able to get back up to speed.
I spent a few days watching tape of all the workouts from the Combine, including the position workout, the 40's and all of the other tests. Obviously we saw it live, but this way you can rewind and watch each guy carefully on each drill and you don't miss a thing. The Combine also asks a standard set of questions of every player there and video tapes the interview, sending them to each of the teams. So, we've also watched all of those and that gives you a little bit more of a feel for a player, his background and his personality.
I visited Stanford last Thursday morning. They fed us breakfast and lunch which is always a big hit with the scouts. During lunch they had the NCAA tournament on so we didn't miss out on any good games or any upsets. Stanford had three players working out who were at the Combine - Mark Bradford, T.C. Ostrander and Evan Moore, and all three performed well.
On Friday, I had a very short drive over to San Jose State for one of my final Pro Days before this year's draft. Most of the students had left campus for spring break, but 14 seniors stayed behind to workout. Two Spartans, defensive back Dwight Lowery, and quarterback Adam Tafralis both attended the Combine, but participated in the drills anyway at their Pro Day in hopes of improving their times. SJSU's head coach, former 49er assistant Dick Tomey, has instilled a great attitude in his players and the strong numbers posted by each of the participants proves that they are diligent workers as well.
From now until the Draft I'll be in the office watching more tape and continuing to investigate each of the prospects. The college scouts will be heading in soon for our final draft meetings and then we'll set the final draft board.