After learning a few things about their respective units in week one, the 49ers coordinators put the petal to the metal in improving and refining their game plan in this short week of preparation for Sunday's game against St. Louis. Every week in the NFL is big, but Sunday's game against the Rams is an even bigger one because it's the chance to get ahead in the NFC West division with a 2-0 start.
49ers Offense/Rams Defense, Offensive Coordinator Jim Hostler**
The 49ers offense took a big step on Monday night with an 86-yard go-ahead scoring drive, but it wasn't the kind of debut new coordinator Jim Hostler expected out of his offense.
"We overcame the adversity and winning ugly in this league is going to happen so any time you can play an ugly game and win it, it's obviously a bonus," said Hostler. "But, you don't want to have a whole off-season and then come out and look like that. It was the first time Alex has ever done that though on the final drive and that shows a lot of poise, it shows his playmaking ability and that was a real positive. We'll learn and build from that."
Arizona stacked the box and sold out in order to stop Frank Gore and the run game, and the 49ers failed to make them pay.
"The first thing we have to understand what is happening to us, what defenses are doing to us and that's the most important thing. Then, I've got to do a better job of getting us in situations where we don't have a loaded box and give our guys a better chance of having success, and then we have to make some plays in the passing game. You are going to have some breakdowns, but when you have your opportunities we've got to make them."
The Rams tried to shore up their run defense with some moves this off-season but in week one they allowed 186 yards on the ground to Carolina.
"When you watch them play, at times, they do an outstanding job against the run. It just seems that they have a few breakdowns here and there and they lead to breakouts. I really anticipate them trying to stop the run on us and forcing us into throwing."
The run defense surely has been an area of focus this week for the Rams, although the defense did take some hits with DT Claude Wroten being suspended by the league, and linebacker Pisa Tinoisamoa unlikely to play with a high ankle sprain.
"Pisa is an extremely good player. He's extremely good against the run and plays aggressive and fast every play. He makes a difference in that defense."
Linebacker Chris Draft is expected to start if Tinoisamoa can't go with Will Witherspoon in the middle and Brandon Chillar on the strongside.
The Rams still have other playmakers up front to rely upon in pass rushers James Hall and Leonard Little.
"They've both had a lot of success in this league so they understand how to play the game. We are going to have to do the best job we can to take them out of the game and not let them affect the game. When you expose tackles in this league to guys who can really rush the passer like that, it only takes one disastrous play and that 's what happened to us the other night. We are going to try to eliminate those two guys and try to control them because they are formidable threats."
Look for rookie defensive tackle Adam Carriker to also make some plays.
"He is very stout, a very square player, and a very aggressive player. He's very tough and although he's still going thru the stages of development as a rookie, he's already a very good inside player for them."
In the secondary St. Louis has played more zone, except for manning up last year's first-round corner Tye Hill on Steve Smith last week. Other than giving up one explosive to the Pro Bowl Carolina receiver, Hill covered very well but a back injury suffered on Thursday will keep him out of Sunday's game. That's a huge loss for a Rams back end that is already without starter Fahkir Brown who is serving a four-game suspension.
Six-year vet Lenny Walls will start in place of Hill with rookie Jonathan Wade working in Walls' place in the nickel package. Safeties Corey Chavous and Oshiomogho Atogwe are more box safeties, but they do have some range, and are experienced players, while their other starting corner in Ron Bartell is a little untested.
The 49ers must test and win against this secondary to alleviate that loaded box because ultimately this unit is not going to stray to far from its run game.
"We won't change - us having a lack of success will not waver our confidence in our ability to run the ball. We are not sneaking up on anyone this year, we are not going to get even boxes and they are not going to let Frank win the game. We won't let that waver our identity or pull back from running the football or from giving the ball to Frank as much as we can."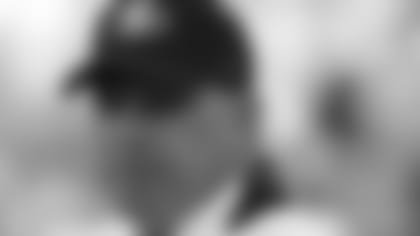 49ers Defense/Rams Offense, Defensive Coordinator Greg Manusky
**
Greg Manusky came in early Tuesday morning to start planning for St. Louis which probably felt a little like déjà vu. Like Arizona, the Rams feature a Pro Bowl running back in Steven Jackson, a Pro Bowl quarterback in Marc Bulger and another trio of talented receiver in Drew Bennett, Isaac Bruce and Torry Holt.
"Every week you are going to face obstacles and productive players and Pro Bowl players and you have to game plan around them," said Manusky. "You have to give your guys a chance to go out there and compete and it's a lot like Arizona again this week, except that this is at least the same staff."
It's a staff that similar to the 49ers understands their success lies first and foremost in Jackson, who had a rough go in the opener with only 58 yards, one catch and fumbles on back-to-back possessions.
"I think any Pro Bowl player of his caliber is really going to come out and secure the football. I also think it's just going to have them fired up to come out and really want to make a statement in the run game."
Jackson will get his touches, but it won't be behind the offensive line the Rams envisioned with starting right guard Richie Incognito out with an ankle injury and the season-ending loss of Pro Bowl left tackle Orlando Pace. The Rams announced on Thursday that Milford Brown will start at right tackle with Alex Barron moving over to the left side. Brown, who started in lieu of Incognito last week at guard will be replaced by Claude Terrell.
"You want to know who is playing where so the players can get a feel for who they are playing against and rushing against. They have been flipping guys around, so it's good to know who we've got where but that can still change. You never know. Whoever lines up on Sunday, we have to compete because those backup players are going to do just as good as if one of our guys moves into a starting role. They are going to play hard, lights out as well."
St. Louis even made a change this week at fullback, cutting it's only true fullback on the depth chart in Madison Hedgecock. The 49ers expect Brian Leonard, a rookie out of Rutgers, to be used in that capacity.
The Rams do get some help at receiver with the return of Bennett who did not dress like week with a quadriceps injury. Dante Hall also played at receiver some last week (look for him to be used on short passes out of the backfield) catching two balls for 18 yards.
"He's a good player, and so is Dante Hall. They come in and out of breaks pretty well. Those are all experienced guys they've got and they all have good ability regardless of which one of them, or if all of them, are out there."
To stop the pass, the defense needs to get to Bulger to throw off a passing game that is predicated on timing. Carolina sacked Bulger only once last week, but they didn't give him much time to set as he finished the day with only 167 passing yards.
"He's got a very quick release, a good arm, and he's confident in his ability to play. He's a talented guy, feels the pressure and slides and moves well within the pocket. He's been to the Pro Bowl and there's a reason why he's there. You can't let him just sit back there and pick you apart."
Of course picking the 49ers apart won't be easy against a secondary that played outstanding in week one.
"I think the players played real hard, physical, got after them and it was good to see that they stepped up to the challenge on a big game on a big night and performed well. There was a lot of nerves and emotions that come when you've got a newer group with so many new faces out there but they really showed that they've already gelled, and that will just continue to get better as we go forward."
Special Teams, Coordinator Al Everest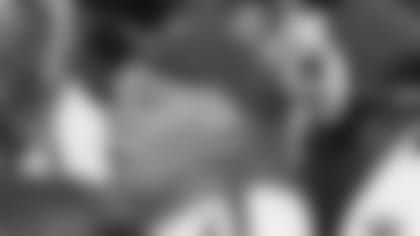 The 49ers started off the season with a solid performance in the Monday night game, giving up very little on both punt and kickoff returns.
"They accomplished all off their goals. I though they played with great energy and urgency and I think they had fun doing it," said special teams coach Al Everest. "When you play well you are going to be respected, but nobody lives off your laurels in this league, you enjoy but then you buckle up and go play. So last week was great, but you have to do that every week."
That challenge becomes even tougher when you are trying to stop one of the league's best return men in Dante Hall, who took one nearly to the house last week on an 84-yard kickoff return.
"He finds a small area and goes. He's been to the Pro Bowl so we've got to go ruin the party for him. Every time he gets the ball you better show up. You can't take any plays off in coverage against him. He can give ground, reverse field, he'll hit small holes and seams. He's got great vision and he's quicker than fast, he makes people miss. He's not a big guy, but he's very effective. That's the match-up right there."
The Rams also started off on the right foot in terms of their coverage under the direction of a new coach in Al Roberts.
"Al was in Cincy the last time I played against him and he does a good job, and runs a good scheme. They did a good job in their coverage, and they are playing some of their offensive and defensive starters on teams and really trying to get the most out of their play. That can be a wear and tear on those guys so I'm hoping as the game goes on we get stronger and they get weaker."
Another strong suit for the Rams is kicker Jeff Wilkins, one of the NFL's most accurate kickers. Wilkins has led the Rams in scoring for eight straight years.
"Wilkins is a solid guy, a solid pro. He's got a good kickoff leg, good hang time, and has been a solid field goal kicker. He and Joe Nedney match up pretty good. They are both solid pros. We have our work cut out for us on defensive FGs and we'll see if we can take some points away from them."
The Rams did make a change at punter this year by signing Donnie Jones as a restricted free agent from Miami.
"He's an LSU kid with a big leg. He's a left footed punter. He had a good first game and hit the ball pretty solidly. His big punts are to our right."
Last week safety Keith Lewis went after the block and instead ran into the punter, giving the ball right back to Arizona. Under Everest's direction, expect the 49er to maintain that aggressive approach again this week, just with a little more discipline.
"I am not going to try to take away aggressiveness, but you have to play smart. You can't leave your feet because once you leave your feet you have no more body control and two, you are slowing down. If you really want to block it, keep your feet and you'll get there faster and you don't run into anybody because you can adjust your angle. I liked his aggressiveness and we'll keep going after them, but we can't get those penalties."