The 49ers can put an end to a four-game slump with a win over the visiting New Orleans Saints this Sunday at Monster Park. The former NFC West divisional opponents are tied with a 2-4 record, but New Orleans has put together a nice two-game wining streak after an 0-4 start and will arrive to the Bay Area with some confidence. The 49ers do hold a 22-9-1 advantage against this Saints when on their home turf, odds that hopefully play into their favor. Here's a look at the game with the 49ers coordinators.
49ers Offense/Saints Defense, Offensive Coordinator Jim Hostler**
At this point in the season it goes almost without saying, but to have any success against the Saints defense, the 49ers need to win the battle up front.
New Orleans runs a 4-3 defensive scheme that really is measured by the success of their front four. Pro Bowl defensive end Will Smith and the Saints once franchise tagged defensive end Charles Grant serve as bookends to nose tackle Hollis Thomas and under tackle Brian Young.
"They've got two first round draft choices in the ends and they are both very good players, and they are very talented inside as well. He relies on those guys in the run game and to get pressure in the passing game. If you leave them in one on one situations, they can win those match-ups. We've got to be the ones to win them, and also get some help on those guys when we can."
The Saints had only one sack through their first four losses, but they've since added eight in their last two victories. Two things have helped the Saints in their pass rush efforts.
"I think first of all early in the season they were often playing from behind, so you don't get as many opportunities to rush the passer or to affect the passing game. The last two weeks they've played from ahead and they've been able to know it's a passing situation and they've been able to play downhill."
The Saints have also been more creative, using more safety and linebacker blitzes to disrupt the passing attack. Linebacker Scott Fujita picked up a sack last week while safety Roman Harper is in a three-way tie for the team lead with two sacks.
Harper and his secondary have often been exposed, particularly early on. In their first four losses, they allowed one or more passes of 35 yards. They've made some adjustments to put a stop to those deep balls, often using a top cover corner in Mike McKenzie in man to man and then dropping back corner Jason Craft, and safeties Justin Bullocks and Harper in a three deep zone coverage so that nothing gets over the top.
"They've played some good people – a team like Indy for example that can really throw the ball and so those things can get exposed. The last couple of weeks they've played a lot better, they are really playing aggressive. Their safeties can run and they won't make it easy for us."
McKenzie has only one pick on the season, but he notched two key ones last year when these two teams met.
"He's as good as a cover corner as they come in this league. They have a lot of confidence in him and they leave him alone in one on one coverage, so that gives them the ability to double up your other receivers. He was a difference in the game last year, and he's a guy we've got to be aware of out there."
Amidst four turnovers and numerous penalties last week, the 49ers were able to use a single back formation, spread the receivers out, and disguise both the run and pass more effectively. They picked up more yards on first down, keeping second and third downs in more manageable situations as Frank Gore had a season high 88 yards on the ground and a 6.6 yard per carry average.
That's not what this unit hoped for after Gore's Pro Bowl 2006 season, but it's something they can build on to keep New Orleans and their stingy run defense guessing. The Saints rely most often on Thomas to eat up blocks, freeing up Fujita and his fellow linebackers Mark Simoneau and Scott Shanle to make the stop.
"Fujita is an active guy. He's a rangy guy, big and tall and he can play sideline to sideline and then he's got two active guys next to him that know the system and have a lot of experience."
Hostler gets quarterback Alex Smith back this week after having Trent Dilfer as his starter the last two weeks.
"We've got confidence in all of our guys but Alex does have the ability to make plays with his feet and move around. It's good to have him back from the standpoint of getting our leader back. Sometimes when you have to sit and watch you do have a chance to see things from a different perspective and that can help slow the game down."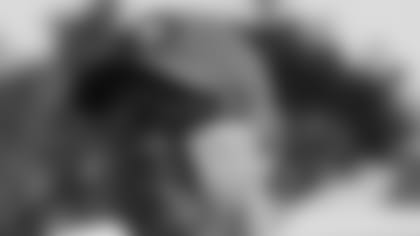 49ers Defense, Saints Offense, Defensive Coordinator Greg Manusky**
Similar to last season, this is a Saints offense that tends to be much more effective in the passing attack than on the ground. That's been even more obvious since the loss of power running back Deuce McAllister.
With the electric Reggie Bush now as their primary ball carrier, Sean Payton has become extremely creative in their run game, using various formations and shifts to disguise the run. The 49ers defense can expect to see Bush split out on the edge, catching screens or running sweeps.
"He's a very talented running back," said Greg Manusky. "He's got great speed, great vision and an ability to cut on a dime. He's a talented kid. We've got to focus and stop him. They are using him all over the place so we've got to be aware of where he's lining up."
Since last year's game, the 49ers have added some serious foot speed in middle linebacker Joe Staley. Willis might be the only player who could track down Bush if the 49ers allow him to get in the open field.
"You have to swarm around the ball and go after him. He's going to make guys miss at times, but if you've got more than one guy there, you've got yourself some insurance."
Quarterback Drew Brees has only been sacked four times on the year, an all-time league low, but his offensive line will be without starting center Jeff Faine. Faine will be replaced by Jonathan Goodwin, a former player with the New York Jets who has 13 starts to his credit. Even without Faine, this is a line that plays well together with its strength coming from Pro Bowl left tackle Jammal Brown.
"That's impressive and I made that point in our defensive room because that's an outstanding job by the line really working together and then Brees knowing when to get rid of the ball. I was with Drew in San Diego and he really does a great job of moving in the pocket, understanding what is going on and really avoiding the sacks."
Brees' accuracy hasn't been what it was a year ago when he shattered several franchise records in his first year with the Saints. After throwing only 11 picks all of last year, he's already thrown 10 this season, which is twice as many as the five touchdowns he's thrown.
Brees seems to have settled down in the last two wins which is why Manusky hopes to keep him guessing, and under heavy fire.
"We've got to give them some different looks so that his line doesn't get too comfortable. We want to get some pressure on him and our guys have to go for the ball. You can have his legs but he'll flip it out of there and if he's got good awareness when he's out of the pocket and he'll throw it away."
The Saints high octane passing offense has been tempered this year as Brees is not getting the reliability he did last season out of his receiving corps. The group leads the NFL with 22 drops on the season, many that have come from deep threat Devery Henderson.
Manusky and the 49ers secondary will not underestimate the Saints receivers. Brees will still take his shots for Henderson and will also distribute the ball to Marques Colston, a seventh-round draft pick a year ago who earned serious consideration for all-rookie honors. Colston leads the team in receiving yards, and leads his group in catches. Veteran David Patten has the second most receiving yards in the group with 15 catches for 232 yards. Second-year receiver Lance Moore has more receptions than Patten with 16, but fewer yards with 177.
"They have had some drops but that can turn around quickly for a team. Henderson has good speed and he can really get up the field. Colston is a big kid and he knows how to run good routes. He's got speed and he's a physical receiver. Patten is an experienced guy, while Lance is a young player who is coming on. Drew just really does a good job of spreading the ball around. We've got to keep them in front of us and we've got to have tight coverage."
Sure bets for Brees on any passing play are Bush and former 49ers tight end Eric Johnson. Bush leads the team in receptions with 36. Johnson is second on the team with 28 catches, but he's got more yards than Bush, and a slightly higher average yards per catch.
"Drew likes Johnson. He throws him the ball often, he feels confident that Johnson will make the catch, and he does. Johnson and Bush both get a lot of touches in the passing game and have really started to fuel that offense. Johnson isn't going to be the yards after the catch type threat that Bush is, but they both show up. They are a big part of their offense and if we want to stop them, they are two guys we know we've got to key on."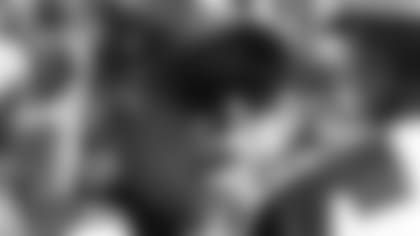 49ers/Saints Special Teams, Special Teams Coordinator **
Al Everest's last stop before joining the 49ers was with the New Orleans Saints back in 2005. 17 players remain on the roster since Everest's departure, including one of his favorites in long snapper Kevin Houser.
"We drafted him in 2000 out of Ohio State and he's just a great person and he is very solid and consistent snapper," said Al Everest. "This is now his eighth year so he's been doing it for a long time."
Outside of Houser, the Saints feature a new group of specialists since Everest's time there. Their former PR/KOR Michael Lewis joined Everest here in San Francisco, while New Orleans has since acquired a new kicker in Pro Bowler Olindo Mare and a new punter in second-year player Steve Weatherford.
Weatherford gets the advantage of punting on game days inside of a dome, but Everest isn't too sure that the challenge of punting at Monster Park will throw off this young player.
"The dome is great for kickers, but they've always got very windy conditions usually at the practice facility so he gets plenty of work in those conditions. Monster Park is a little bit unusual in its wind tendencies, so we'll see how that pans out."
Mare has battled a groin injury for part of the year, leading to a poor 3-of-7 performance in field goals. The kicker hasn't attempted a field goal in the last two games, but he has hit all of his extra points and resumed kickoff duties.
Mare's strong leg on kickoffs is one of the better things the Saints have going for them on special teams. His ability to get touchbacks is a reason New Orleans is tied for sixth in the league in kickoff coverage.
Last year the Saints plugged in Reggie Bush as a punt returner whenever they needed a big spark, but he's been used only twice this season. Second-year Lance Moore is the guy and is coming off a game against Atlanta where he posted a 48-yard return, his high on the season.
"He was on our practice squad when I was with them, and he's quick. He's a small guy, but he's tough and he's a real good competitor. He's got an outstanding punt return average and we've got to take him out of the game."
Six players have fielded a kickoff for the Saints so far the season, although Moore and running back Pierre Thomas are the most likely suspects, followed by Aaron Stecker. Thomas has one less return than Moore, but has a better average, while Stecker holds the team long with a 41-yard return.
New Orleans has a few key playmakers to keep an eye on.
Troy Evans is their leading tackler on teams with five, but is followed closely by Kevin Kaesviharn (4) and Chris Reis (3).
Running back Pierre Thomas only has one special teams tackle but is their most disruptive player in coverage. Thomas recovered a fumbled ball by Seattle's punter Ryan Plackemeier that he returned for a touchdown.
Safety Josh Bullocks blocked a field goal against Seattle, a feat he also accomplished once in the 2006 campaign.
The 49ers blocked a kick of their own last week when fullback Moran Norris charged up the gut to get to Jeff Feagles punt from the back of the end zone.
"That was a big play, a very big play. When you have a plan to rush, every guy has to plan on it being him. Moran would have been the last guy you thought would have gotten there but he went after it and took advantage of his opportunity and made a nice play for us. We've got to keep coming up with big plays like that."