The 49ers will celebrate Red Fog Day this Sunday at Monster Park and with an all-out effort performance San Francisco could cloud the picture for the Vikings quest for an NFC wildcard berth. Here's a look at the game from the eyes of the 49ers coaching staff.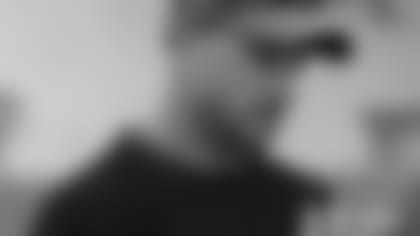 49ers Offense/Vikings Defense, Offensive Coordinator Jim Hostler
**
This thirteenth game of the year pits the 49ers mostly ineffective offense against
the league's stingiest run defense. For the second year running, no pun intended, the Vikings top the charts when it comes to plugging up opposing running backs and it all begins up front with their inside guys in Kevin and Pat Williams.
"As good as the two inside guys were who we played in Carolina last week, these guys might be even better," said Jim Hostler. "These guys can run sideline to sidelines and are a little more active. They drive the whole thing. The linebackers are fast, very active and you can't ever get on them because of what they do up front, and so they make plays."
The Vikings will be without their starting defensive end and team sack leader (5) Ray Edwards, who is serving a four-game suspension that came down from the NFL earlier this week. Second-year end Brian Robison, who is tied for second on the team with four sacks, should start in his place with Kenechi Udeze working on the other end.
"They've got more than two pieces of the puzzle at the end spot. They do lose a little bit of the pass rush with Edwards out, but they've got depth. You don't do what they do as a front without depth. I think they are feeling really good with the guys they have in there. They've all got high energy, high motors and they keep coming."
Back to those active linebackers that Hostler said are nearly impossible to get blockers on because of the success of the Minnesota front four. E.J. Henderson has missed practice this week with flu-like symptoms but is expected to start in Sunday's lineup, carrying on his role as the Vikings leading tackler including 13 tackles for a loss. Second-year backer Chad Greenway works on the weakside where he leads the league with four fumble recoveries. Veteran Ben Leber has dealt with some injuries this season but he will start Sunday, lining up on the side of the tight end.
"EJ can play the run and the pass and is very effective. Leber is very disruptive, a great pass rusher inside and out and an extremely active player. Greenway is a younger guy who really feeds off the other two. They might be one of the best group of backers in the league and they really create havoc, again because of those guys up front keeping you off of them."
The Vikings dominance against the run has according to Hostler created somewhat of a distorted view of their 31st ranked pass defense.
"Nobody can run the ball against them, so teams have thrown it every down and that is going to add up. They have been hurt though the last few weeks without Antoine Winfield, one of the best corners in the league. He plays every snap like it's his last and he's just excellent. When I was with the Jets, we'd play Buffalo and they had he and Nate Clements and they could shut you down."
Winfield seems set to return from his hamstring injury on Sunday after taking the majority of practice reps this week, adding back some veteran leadership to a secondary that already has two long timers in Dwight Smith and Darren Sharper.
"Sharper understands and knows how to affect the passing game. They do a good job of getting themselves in the right position to make big plays and to give you grief."
Turnovers have killed the 49ers all season long, but Minnesota doesn't just take the ball away. They also score with it. Tied for 7th in the NFL with 25 takeaways, Minnesota managed to get seven of those steals into the end zone for touchdowns.
"We've got to be able to keep the football. As good as their offense is, we need to keep them off the field and our offense on it. Turnovers and penalties have hurt us all year long and to have success, you've got to remove those from your game."
49ers Defense/Vikings Offense, 49ers Defensive Coaching Staff

The Vikings boast the NFL's leading rusher in Adrian Peterson, and the NFL's best rushing offense.
"Adrian is very explosive, and makes the first guy miss well," said defensive assistant coach Jason Tarver. "He's very fast when he gets to the edge so we've got to surround him. He's got great vision and it'll be our goal to swarm him."
Five of their six wins have come in games in which Peterson, or Chester Taylor rushed for more than 100 yards.
"He's a very hard runner," said Tarver. "He'll cut it back, he drives his legs and he's a tough football player. He'll very good on screen passes and with both of those guys, we've got a challenge."
The run game starts up front with a premier offensive line anchored by Pro Bowl center Matt Birk, a Pro Bowl guard in Steve Hutchinson and a Pro Bowl tackle in Bryant McKinnie.
"They work very well together and they are playing very well," said defensive line coach Jim Tomsula. "Their running backs are good, but that offensive line is what makes it work. You can see they take a lot of pride in attacking the line and we'll need to play very physical ball."
Minnesota's blocking efforts also include downfield blocks by their receiving corps as the Vikings are first in the NFL with 73 runs of 10 yards or more, first in the NFL with 16 runs of 20 yards or more, and tied for first with 4 runs of 50 yards or more.
"Those guys have been well coached and they really get involved in their rushing efforts," said defensive backs coach Johnnie Lynn. "They'll make sure to go get their hands on the DBs and they've been a big reason why they've gotten so many of those long runs. Those backs have speed, but their receivers help make it happen for them."
Quarterback Tarvaris Jackson even pitches in to the Vikings rushing yardage because the mobile field general will run whenever he gets in a pinch, which isn't very often. Jackson has been sacked only 13 times.
In terms of his overall effectiveness, Tarvaris is coming off his two best games of the season and seems to have finally hit his stride. On the year, the second-year passer has thrown only 5TDs in comparison to 7INTs, numbers he's improved upon in the last two wins with 3TDS and only 1INT.
"He's a very good athlete and he's performed well in recent weeks," said Tarver. "He's got a strong arm, really uses his legs to his advantage and it'll be important for us to keep him in the pocket and get some pressure in his face."
The Vikings don't have a household name at receiver, although veteran Bobby Wade has had the best year of the bunch with 37 catches for 426 yards.
"Bobby is a veteran and he's leading them in receivers and leading them in third down receptions," said Lynn. "He is a good route runner. He plays in the slot and he's got sure hands. He keeps the sticks moving for them."
Rookie receiver Sidney Rice has also come along quickly and is tied for first among NFL rookie wideouts with 4 touchdown receptions. The team's second leading receiver with 28 catches for 365 yards is averaging 13 yards per catch.
"He's a young guy really coming on for them," said Lynn. "He's got great speed and they like to take put the ball up deep for him and let him go get it. He can really run and he'll go chase down the ball."
The 49ers also have to be wary of Rice as a passer. The rookie has thrown 2 passes for 94 yards.
It seems as if all season long the 49ers have had to also deal with talented tight ends, and it's no different this week with a 5th year player in Visanthe Shiancoe, who is third on the team in receptions with 21 for 292 yards. Shiancoe was on the receiving end of one of those passes from Rice, a 79-yarder, and has a 13.9 average yards per carry on the season.
"I was in New York when they drafted him and he's a good player," said Lynn. "He's more of their receiving tight end and he can run and does a good job with his hands. He's another guy who keeps the chains moving for them."
The Vikings have given the ball away only 19 times on the year which puts them tied at 10th in the NFL for the fewest number of giveaways. Every week the 49ers defense looks to come up with steals, but given the Vikings success at controlling the clock with their running game, it's a virtual must.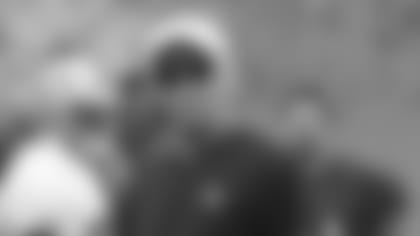 49ers/Vikings Special Teams, Special Teams Coordinator Al Everest**
The 49ers have employed their fair share of trick plays, including a successful surprise onside kick last year against the Vikings, but the purple and gold have dished out some of their own this season.
Up by 32 points on Detroit last week, Minnesota lined up for a field goal and then ran a fake instead, using their punter Chris Kluwe to shovel a pass to fullback Jeff Dugan.
"That was the second one they've done this season, and a little unusual that they showed a good play like that in those circumstances. I probably would have saved it, but maybe they've got a bunch of them they feel good about using."
They also used a successful surprise onside kick in the first quarter of their game against the Eagles.
As a punter, Kluwe ranks 2nd in the NFL with 25 punts pinned inside the 20-yardline and 9th in the league with a gross punting average of 44.8 yards.
"He gets rid of the ball very quickly, and it's hard to get to him on blocks. His distances have been a little inconsistent this year, but he's gotten some good rolls that have helped him."
Kicker Ryan Longwell has enjoyed an outstanding eleven-year NFL career with his only misses since joining the Vikings from 46 yards or more. He's money on field goals from inside of 45 yards with 28 of 28 perfect kicks. On the season, he's 15 of 18 with a 48-yarder getting blocked and returned for a 67 yard touchdown by the Cowboys.
"He's a good solid kicker. He's missed three, but they've all been long ones. He's solid and he can make clutch kicks."
Rookie Aundrae Allison's 103-yard kickoff return last week helped the Vikings climb to a third best return average in the NFL. Allison has had three 60 yard returns this season, the first player in team history to do so in a single season.
"He's a receiver with good speed and was the NFC Special Teams Player of the Week for that. He's definitely a big play guy and he can explode on you if you don't get him down."
When the 49ers played Minnesota last year, Mewelde Moore served as their punt returner. Earlier in the year those duties were taken over by Bobby Wade, but Moore has been returning again the last few weeks and has 7 punts for 74 yards on the season.
"He gets positive yards, and he likes to take the ball up inside, and he'll hit a hole hard if it's there. You've got to wrap him up and bring him down."
In coverage, linebacker Heath Farwell is Minnesota's special teams standout player with a team leading 23 tackles on the year.
"He plays on all of their units and he's solid. They use a lot of fullbacks and linebackers on their special teams which probably makes this our most physical challenge on the season. They are athletic and they've got a good group and we've got to do a good job. This is the fourth quarter of the season and you are going to do everything you can to try to win. We'll expect that from them, and that's the attitude we'll bring as well."
*Defensive coordinator Greg Manusky is absent from the column this week due to the death of his father. A few of his assistants pitched in for this week's column instead.