The 49ers have yet to stack back to back wins during the 2008 season, a must over this final four-game stretch if they want to stay involved in the race for the divisional title. If the Cardinals win this weekend, they clinch the division. But a loss, and a win by the 49ers would keep San Francisco still in it, all you can ask for in the month of December. Here's a look at the game from the perspective of our three coordinators.
49ers Offense/Jets Defense, Offensive Coordinator Mike Martz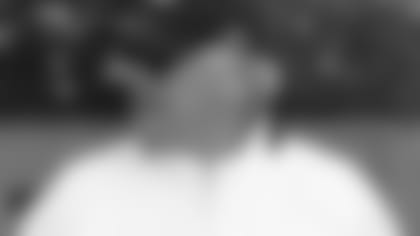 The Jets grant very little to opposing teams in the run game, holding their opponents to 82.1 yards per game, and a 3.6 average yards per carry.
Five times this season the Jets have held the opposition to under 50 yards rushing, including Dolphins Ronnie Brown, Bills Marshawn Lynch and Titans Chris Johnson.
Stuffing the run starts with the Jets dominating nose tackle, a three-time Pro Bowler in Kris Jenkins. Landing Jenkins from the Panthers has been a free agency move that has paid off big time as Jenkins has 32 tackles, eight pressures, eight tackles for losses and 3.5 sacks, according to Jets coaching staffs.
"I think it's a real physical group up front, but I feel you start with the nose guard. I think he is as physical and violent a player in that defense as there is in the league right now. We have to account for him. He gets a terrific push on the center. I think Eric Heitmann has his work cut out for him. It's a good matchup. I'm excited to see that one and it's just a real good front seven."
Martz called Heitmann the offensive line's most consistent player this season, and also one of the best in the business.
"In 17 years that I've been in the league, he's the best center that I've had, ever. He's the best by far because he's so much more physical than most centers. He's got so much size to him and pop. We're fortunate to have him. That's why I'm excited about the matchup. I think he'll deal with that."
The 49ers offense line has done much better as of late of dealing with pressure. Since taking over Shaun Hill has been sacked only 11 times in 4.5 games, averaging out to about 2.25 fewer sacks than what JT O'Sullivan experienced in the first half of the season.
The Jets are fifth in the NFL in sacks, although their sack production has been down in the last four games with the unit totaling only six sacks. Left end Shaun Ellis is their sack leader with 7 sacks and 11 pressures. Outside linebacker Calvin Pace, a free agent acquisition from Arizona, is second on the team with 5 sacks.
"Pace fits that scheme so well. There's very little indecision. He has great change of speed , good key and diagnose and does such a good job with his hands."
But pressure can come from just about anyone on the Jets defense. The unit has 16 different players who have registered at least a half sack this season, the most in the NFL.
"It's matchups. What they do a good job of is not letting you double up anybody in the protections and getting you matched up one on one. When they do that, they do a good job of defeating the blockers one on one. A lot of teams will rush four where you can double here or double there, but they do a real good job with their games and getting guys singled up on pass blockers."
Unfortunately for the Jets, their high sack production hasn't corresponded to great numbers defending the pass. The Jets rank 30th in the NFL defending the pass, with their worst outings including a 472-yard passing day by Kurt Warner, a 400-yard passing day by Matt Cassel, and the most recent 357-yard passing day by Jay Cutler.
In hopes of shoring up the backend, the Jets have used a variety of combinations with the starting group, but the one staple has been fourth year veteran Kerry Rhodes, one of the better safeties in the NFL. He started off the season working deep with Eric Smith, who could make his return to action this Sunday after missing five games due to suffering multiple concussions.
The Jets next best player in the backend is starting cornerback Darrelle Revis.
Veteran cornerback Ty Law was signed prior to the Jets game with New England and has since started their last two games opposite Revis.
"I think both corners are physical corners. They do such a good job of getting their hands on you and disrupting your route – and better than probably anybody we've played this year. But there's a challenge for us with these receivers. On the artificial surface, it's a little easier for the receivers because you can get a little more sudden. On the grass it's a little different, so, we've got our work cut out for us. This is a real good defensive group. We're excited about the
matchups and we'll see what happens."
One final stat to mull over for the 49ers offense, which has struggled with ball security, the Jets lead the NFL with 17 forced fumbles. Their 11 fumble recoveries are tied for second in the NFL.
**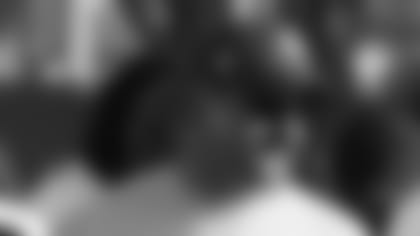 49ers Defense/Jets Offense, Defensive Coordinator Greg Manusky
**
Brett Favre has fueled the Jets offense exactly as they hoped when they acquired the future Hall of Fame quarterback from the Packers. He's thrown for 2,708 yards, 20 touchdowns and 14 interceptions.
His 68.7 completion percentage is the best in the NFL, while his 90.4 passer rating ranks him as fourth best in the AFC.
In 12 games, seven different players have led or tied for the lead in receptions in each game, a stat that displays Favre's ability to spread the wealth.
"He still has every bit of the arm strength and the big play ability. He's not afraid to take a chance. He's really distributing the ball around very well, which is something he's been able to do throughout this career. His leadership and experience is something their offense feeds off, and they trust in him that he's a guy who can win the game for them when it's on the line."
The majority of his balls have gone to Jerricho Cotchery, who leads the Jets in receptions and yards with 58 catches for 692 yards. He's closely trailed by Laveranues Coles, who has 55 catches and 615 yards.
"Both guys get good yards after the catch, so we've got to make sure we get them down. They're quicker than they are fast, and they can get open and have good hands."
Throughout his successful NFL career, Favre has always had a go-to tight end. One of those players included Bubba Franks, who actually signed on with the Jets this year. Although Franks has seen limited action, Favre has developed a solid rapport with rookie tight end Dustin Keller, who is third on the team with 40 grabs for 460 yards. In the last four-game stretch, Keller has caught 27 balls, 20 of which have been for first downs.
"For a rookie, he's really enjoying a lot of production. He's a really good athlete with some speed and quickness and he can present matchup problems for you, so we'll have a good plan to handle him."
Although starting running back Thomas Jones is also used in the passing game, his backup Leon Washington is the bigger concern for the 49ers. He's fourth on the team behind Keller in catches with 34, and is averaging 8.5 yards per catch.
"Washington is an all-around player who helps them out in the return game and then on offense. He finds a way to make plays on the ground and through the air, and he's a guy we'll need to cover up."
Jones however is the Jets most significant offensive weapon. He's already over the 1,000-yard rushing mark, and his success on the ground sets up the Jets passing attack. His average yard per carry is 4.7, and he's scored 11 touchdowns.
"Jones is a tough guy, a downhill runner between the tackles. He's not afraid of contact, and will break arm tackles. He's a very physical runner and similar to the two guys we've faced the last two weeks. He's a big part of their offense."
The Jets offensive line has the potential to be very solid, but it's a group that is still learning to get on the same page in their first year all together. Veteran guard Brandon Moore has the most tenure with the team, while formers first-rounders Nick Mangold and D'Brickashaw Ferguson are in their third year as starters. However the Jets added two new veterans in Pro Bowl guard Alan Faneca and a former Pro Bowl tackle in Damien Woody.
"The three interior guys are more physical players, while the tackles are their best athletes. They do a good job in both the run and the pass, and they are a group that will just keep getting better as time goes on. We need to get them after them, and win the line of scrimmage battle."
The 49ers were excellent last week defensively in the red zone, conceding only three points to the Bills offense on four trips inside the 20, but San Francisco will get a good test this week on that front as the Jets are worthy of the number two seed when it comes to scoring, averaging 28.3 points per game.
"We spend a lot of time every week working on our red zone defense. The biggest thing for us is to handle our responsibilities, execute, and make them work for everything they get."
49ers/Jets Special Teams, Special Teams Coach Al Everest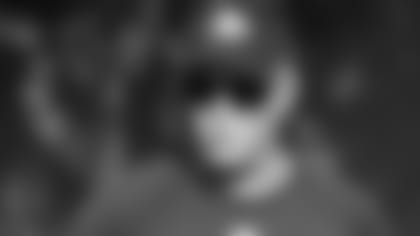 While watching Bills kicker Rian Lindell twice hit the left upright last week, special teams coach Al Everest thanked his lucky stars for his solid field goal operation in snapper Brian Jennings, holder Andy Lee and kicker Joe Nedney.
But at the start of this week, Everest was sweating it a little bit when it came to another critical aspect of special teams, and that was who in the heck is going to return punts this Sunday?
Cornerback Nate Clements handled the job last week for an injured Allen Rossum, who missed the game in Buffalo and is doubtful this week after missing all three days of practice with his ankle injury. But Clements has a hairline fracture in his thumb, and is questionable to play at all, let alone return punts.
"It can change the game. It's not, oh he can do it. Guys in this business who have that job have tremendous pressure on them. The stadiums, the wind and what the balls do, the speed of the coverage people. It's a challenging position."
Fortunately, as the week wore on, the situation improved with wide receiver Arnaz Battle taking a full two days of practice and getting a probable listing for Sunday.
Battle will have his work cut out for him because Jets punter Reggie Hodges is a bit inconsistent as a punter.
"Reggie is averaging 41.8, and he'll try to be directional but a lot of his balls end up on the ground, so you have to be heads up on handling balls on the ground. He'll miss-hit it, then he'll hit a good one, then he'll miss-hit it."
Tight end Delanie Walker looks to remain as the featured kickoff returner if Rossum does indeed miss Sunday's game. Everest has given this kickoff returner a solid rundown of what to expect on kickoffs this week from the Jets kicker Jay Feeley.
"Jay is very aggressive, loves to tackle and considers himself a coverage guy. And he's a factor. He's a guy who makes a lot of tackles for them. He's not a typical find a way to get you down, he's up in there like he's one of them. He's very directional-oriented on their kickoffs and they always try to funnel the ball into an area and overload it with coverage."
Both Battle and Walker will likely see the most from the Jets standout special teams player, Wallace Wright, whose 22 special teams stops rank him as the leader in the AFC. Although Wright plays as a receiver on offense, he leads the way of a unit that for the most part features defensive players.
"They're heavy on defensive players, secondary, db's and linebackers – the most we've seen. They go with 23 defensive players game day. They're a fast group, they have good speed out there and it's a really good challenge."
After facing one of the better return tandems last week in Roscoe Parrish and Leodis McKelvin, the 49ers have just one returner to worry about this weekend in Leon Washington.
Unfortunately, like the guys the 49ers saw last week, Washington is another homerun threat, having taken a 92-yard kickoff back for a touchdown against the Patriots.
Washington is the league's fifth ranked returner with a 27.9 kickoff average, with an eighth-ranked punt return average of 11.4.
"He's a pinball. He's 5-8, 208-pounds. He makes the most of his yardage on broken tackles. He's doesn't have blazing speed, he's got good speed, but he's more of a breaking tackles, able to get extra yards with the ability to turn the corner type returner. He can hurt you. A lot of his yardage is from making one or two guys miss. Not juking them, but just breaking through. He's short, stocky and has good balance. He does a nice job for them."
And it's important that once again, the special teams unit does a nice job for the 49ers.
---
---