The 49ers finished up their final practice on Friday and are now set to host the Detroit Lions this Sunday in an important NFC conference game. Here's what the 49ers three coordinators had to say about the upcoming contest.
49ers Offense/Lions Defense, Offensive Coordinator Mike Martz
This is a Detroit defense that former Lions coordinator and current 49ers offensive coordinator Mike Martz knows a thing or two about.
"They are a product of that Tampa system," said Martz. "They've moved on a little bit to more of a safety in the middle, three deep type of structure. They have terrific speed at linebacker. They've brought in players who fit specifically what they want to do, so they are continuing to perpetuate that system. They've got real good speed on defense."
With Martz knowing a lot about the Lions defense, and the Lions knowing a lot about the 49ers offense, it's pretty much a wash in terms of an advantage/disadvantage.
"Whether or not they have some sort of secret on us or not, I don't even worry about it. I worry about understanding their defensive structure and getting our guys ready, and then we just go play. Nothing else plays into it."
The Lions closed out the 2007 season ranked second to last in the NFL in defense, a finish that sparked some off-season upheaval. The Lions gave up some stability up front by trading their Pro Bowl defensive tackle Shaun Rogers in order to solidify their back end, where the Lions feature three new starters in corners Leigh Bodden and Brian Kelly, and safety Dwight Smith. The Lions also welcomed the return of safety Daniel Bullock, who reclaimed his starting spot against Green Bay after spending the 2007 season on injured reserve.
"I don't know too much about those guys because they are mostly all new. I do know Travis Fisher (Detroit's nickel corner) well because he was at the Rams. They've shored up their secondary from what it was in years' past and they are much better back there than what they have been. They are doing a nice job."
Going back to that front line, Detroit added Chuck Darby from Seattle to play alongside longtime veteran Jared DeVries, who enjoyed his most productive season in 2007 with career high 6.5 sacks and a career-high 54 stops. The right side of the Detroit's line is solid with Cory Redding and Dewayne White, although Redding has missed practice this week with an ankle injury. White is responsible for Detroit's only two sacks on the year, although Martz said the line is getting more pressure than their sack count would indicate.
"They might not have the sacks, but they are causing problems. Jared is a good player, and then the guy opposite him in White has got some real special pass rush ability. They are both high motor guys. That's the nature of that defense. Rod wouldn't let them be any other way. He does a great job coaching those guys. White and Redding are technically very good in what they do and they particularly can get a strong pass rush on that side."
The 49ers offense allowed an alarming eight sacks last week in Seattle, although Martz said only three sacks fell on the offensive line. Martz said quarterback J.T. O'Sullivan should have been able to get rid of the ball on a few of them, and that technical difficulties also caused some of the problems getting the plays in.
"He was getting bits and pieces of plays, so he'd call a play and try to put it together, but maybe one of the tags are wrong. When the ball is snapped, you realize someone is out of position and it's not a pass that we even have. You do what you can to salvage it. In 17 years I've never seen anything like that where we couldn't communicate. It would come on, it would go off and he couldn't understand us. That was really frustrating and at least three of those sacks were because of that."
Martz is confident that the sacks will be reduced. He also expects running back Frank Gore to do a better job securing the ball after fumbling twice in the last two weeks.
"In both situations he really caught himself off balance and he's just got to be aware when he's off balance to protect the ball. He knows it already, but they've done some special drills out there this week to make sure he gets that taken care of. But this defense is one of the better units of taking the ball away. They do a great job of stripping the ball, so we've emphasized the need to protect the ball a great deal this week."
One of the best at getting that ball out is the Lions star defensive player in linebacker Ernie Sims, who led the Lions in tackles in 2007 with 172 tackles (based on coaching stats) and three forced fumbles.
"Ernie is special. He's a very special player, a special person. You just put special all around him. He's a guy with such unusual ability, and he plays with great passion, and speed. He plays the game the way it is supposed to be played. He's a thumper. He'll separate the ball carrier from the ball in a heartbeat. I really like him as a player. I think he's an elite player."
Last week's success in the passing game for the 49ers should give Sims and the Detroit defense something else to think about other than Gore.
"It puts a different pressure on a defense, there's no question about it. When we went up to Seattle, clearly the way they played that game, they were going to take Frank out of that game and dare us to beat them with the passing game. As we got going in the game, we had more opportunities and we were able to do some of those things. When you are effective in the run and pass it gives a defense something else to be concerned over. So, we'll find out Sunday how Detroit wants to play us."
49ers Defense/Lions Offense, Defensive Coordinator Greg Manusky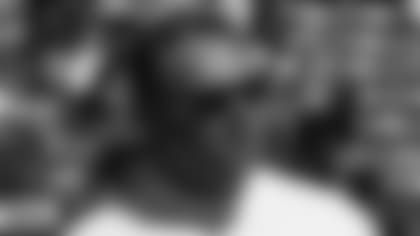 Stopping the Lions offense starts with containing their explosive passing attack. Detroit finished the '07 campaign ranked 9th in the league in passing, with quarterback Jon Kitna posting a 4,000-yard passing season for the second straight season. On the year, Kitna is 45 of 74 for 538 yards, four touchdowns, and four interceptions.
"He's a good football player," said Manusky. "He has big play ability, and does a great job in delivering the ball to some talented receivers. He's seen things over and over for many years and so he has a great grasp for how defenses are going to attack him. He's a talented player with a good arm, a good release, and great vision keeping his head up and seeing the targets out there for him."
Those targets include a starting pair of former first-round picks in receivers Calvin Johnson and Roy Williams, and a sure-handed third wideout in Mike Furrey, a former NFC West receiver over in St. Louis. Johnson leads the team in receptions and yards after having notched 100-yard receiving games in his first two outings, and two touchdowns.
"All of them are talented in their own right. Johnson is fast, quick, goes up and gets balls. Same thing with Williams and Furrey, talented guys who make plays, big plays. We definitely have to tackle those guys when they do make those catches and rally around each one as much as we can."
Shaun McDonald, the team's fourth receiver, also poses problems and is actually second on the team in receiving yards with 8 catches for 56 yards.
With four quality receivers, the 49ers secondary will need to compensate for this week's loss of their third corner in Shawntae Spencer. Fortunately, the secondary is one of the more loaded positions on the roster and Manusky will have cornerbacks Tarell Brown, Marcus Hudson, Donald Strickland, and Reggie Smith to choose from.
"It's not good to have Shawntae out for this week, but it happens, and you've got to get your other guys to step up and fill in. You have these situations in football where guys get banged up. You've got to go out there and perform well, and that's what I expect from our guys."
Tight end Michael Gaines, a free-agent acquisition, only has 2 catches for 11 yards, but the Lions might look for him more after seeing last film of last week's Seattle game when John Carlson caught 6 catches for 78 yards.
"We had good coverage on him but he still managed to come down with the ball, so we understand we've got to be sound in our coverages and win those battles for the ball. They've got a lot of weapons at receiver but you can't overlook the tight end either."
A 49ers run defense that has allowed back-to-back 100-yard rushers could catch a bit of a break this weekend. Although Detroit switched to a zone blocking run scheme and have said they are very committed to establishing a run game, it's yet to materialize, primarily because the Lions have fallen behind early in their first two weeks.
Rookie Kevin Smith, a third-round pick out of UCF, is currently the Lions starting running back, although Rudi Johnson could continue to see more reps as the year wears on after signing on with the Lions in early September. Smith has only 88 yards rushing after two games, with a 3.4 average yards per carry.
"Smith is talented, and he can make plays in space and make guys miss. He fits their scheme well and we've got to corral him. They haven't had a chance yet to get their run game going, but that doesn't mean they aren't capable of doing so with this kid. Johnson is more of a bruiser definitely. He's been pretty consistent over the years, and he's a good football player. Like any week, you've got to stop the run and get pressure in the passing game to swing things in your favor."
Accomplishing those two goals means controlling the line of scrimmage.
Detroit's offensive line is an experienced veteran group, outside of rookie Gosder Cherilus, who started the second half of last week's game against Green Bay at right tackle. The 49ers could still see veteran George Foster, but there's a good chance the Lions first-round pick out of Boston College gets the starting nod.
"He's a talented guy, and a first-round pick coming out this year for a reason. He's learning the ropes like all rookies do but for the most part, he's a talented guy who balled pretty well for them. It's a plus for them to get a young guy like that in there to perform."
Detroit's line has allowed 8 sacks, fifth most in the NFL, but the 49ers defensive line failed to register a sack last week in Seattle. Although they did force Matt Hasselbeck to hurry several passes, their only sack came from safety Michael Lewis.
"We've got to continue to increase our pass rush efforts. Detroit's line is experienced and they work well together. They've got a good offensive line that can attack you and make plays. We need to be the ones attacking."
**49ers/Lions Special Teams, Special Teams Coach Al Everest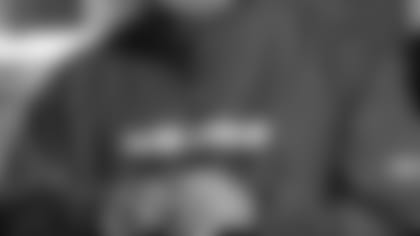 Special teams won the game for the 49ers last week on a 40-yard field goal by kicker Joe Nedney in overtime, minutes after a blown 41-yard field goal that would have won it in regulation.
It wasn't the only high and low for the 49ers special teams last week.
Linebacker Manny Lawson blocked a punt, only to have his hard work erased when Seattle scooped up the loose ball and ran it 24 yards for a first down.
"It was a bizarre play, but that's the thing about special teams," said coordinator Al Everest. "You can never take things for granted or expect things to work who they are supposed to work. Things can be really explosive in the NFL and that went from a great play for us, to a bad play for us."
Everest will be looking for more great plays this week against a Detroit special teams unit that is anchored by a kicker who owns 17 game-winning field goals of his own.
Jason Hanson, a 2-time Pro Bowler in his 17th season, is one of the most successful kickers in NFL history. His 1,673 career points ranks fourth in all-time scoring amongst active players.
"He's been around a long time, and he's probably kicking off better than I've ever seen him in his career. He's kicking deeper and has more hang time. He's maybe one of the best kickoff guys, I've seen so far this season."
Hanson accounted for three field goals and two PAT's last week, including a long kick of 53 yards.
The 49ers will continue to look for solid pressure on field goal tries. Safety Michael Lewis helped force a Neil Rackers miss in week one, while Lawson narrowly missed blocking an Olindo Mare kick last week.
And it wouldn't hurt to go for another block on punts either. Harris' forte since joining the Lions has been landing punts inside the 20. He is second in the league since 2004 with 115, has five punts downed after two games, and is a big reason why the Lions enjoy a sixth-ranked punt coverage unit.
"He's an excellent directional punter. Harris is good at aiming his kicks outside of the numbers. He's got a great get-off, he gets the ball off quickly and it's hard to get to him. Harris does an outstanding job of trying to shrink the field for the return game."
In terms of returners, Detroit features Furrey as their primary punt returner and Brandon Middleton as their kickoff returner, although a few other players including Furrey and Marcus Thomas have fielded their share of kickoffs so far this year. Middleton has a long kickoff return of 28 yards, while Furrey has a long of 20.
"Their returners are explosive guys, who are trying to make things happen. Furrey is very aggressive as a punt returner. He catches the ball and tries to get it up field. He has good enough quicks and speed to try to take the corner on you. He's a good challenge for us."
Detroit's coverage teams, anchored by tight end Casey FitzSimmons (who leads the unit with 6 tackle), safety Kalvin Pearson, linebackers Jordon Dizon, Ryan Nece and Alex Lewis, and cornerback Keith Smith also offers the 49ers a good challenge this week.
"This is an extremely fast group on special teams. Their linebackers weigh less than 240-pounds, and they can move. We are going to have to play very well. We need to return well, be solid in our coverage, eliminate some of the bad plays, and hopefully make a few more great ones."