This Sunday's contest between the 49ers and the Falcons could be a make or break game, especially for the 49ers. After two years of rebuilding, this was supposed to be the season the 49ers expected to win. Not taking anything away from the Falcons, and despite a five-game losing streak, the 49ers must enter into this game with those winning expectations.
**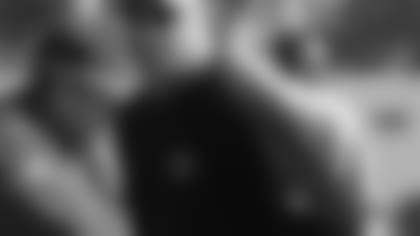 49ers Offense/Falcons Defense, Offensive Coordinator Jim Hostler**
The cornerstone of the Falcons team is really their defense. It's a unit that features several veteran defenders who have enjoyed multiple trips to the Pro Bowl and who have a reputation for swinging a game.
"They've got an experienced group, guys with a lot of mobility and talent," said Jim Hostler. "Two guys who come right to mind, the corner DeAngelo Hall and then the rush in John Abraham. Those two guys can affect the game, they are extremely talented and both are Pro bowl players."
Abraham starts at right end, giving 49ers Adam Snyder an excellent challenge this week as the Falcons stalwart end is responsible for 5 out of the team's 9 defensive sacks. Meanwhile, for the first time the entire season, rookie right tackle Joe Staley will square of against a fellow rookie in left defensive end Jamaal Anderson. Anderson has yet to notch a sack on the season, but he's got 19 tackles, a pass defensed and a forced fumble.
Third-year defensive end Chauncey Davis backs up both ends although he's seen most of his playing time in a rotation with Anderson and has 15 tackles and a fumble recovery on the season.
At defensive tackle, the Falcons feature a veteran at under in Rod Coleman and a raw first-year player at nose in Trey Lewis who has inherited the starting position with the recent release of veteran Grady Jackson.
"Anderson and Lewis are both young, but they are good players and they have
a bright future in this league. They are both good inside players. They move pretty well, they are stout. They are just inexperienced but that will come in time because they've got talent and we've got to be able to win those battles up front against them, and then handle Coleman and Abraham as well."
Moving into the second level of the Falcons defense is yet another repeat Pro Bowler in veteran Keith Brooking. Lining up on either side of Brooking are Michael Boley and Demorrio Williams. Their two interceptions each account for four out of seven of the team's total picks, while all three backers place in the top four on the team in leading tacklers.
"Brooking is a veteran linebacker who has a lot of years in this league. He can play downhill in the run game, he can cover in the pass game. He can do it all and he's the middle guy who gets that front lined up. The other two guys are very athletic, very good in space, they can cover, they can make plays, and they've got a good feel for the passing game."
In the back end, as Hostler already mentioned, Atlanta has one of the finest cover corners in the league in Hall but their talent doesn't stop there. Safety Lawyer Milloy is in his 13th season, is a four-time Pro Bowler and is third on the team in tackles.
"He's been a good player for a long time and that's what this league is all about. He's a guy who has played a long time, he's seen a lot of different things and he can communicate and get the defense lined up because he recognizes things very well."
Veteran Chris Crocker starts opposite Milloy with another veteran in Lewis Sanders listed on the team's depth chart as the Falcons starting corner opposite Hall. Rookie Chris Houston did start in place of Sanders in Atlanta's last game against the Saints.
As a whole the group provides a challenge for the 49ers receiving group that should welcome back Darrell Jackson this week who was out last week with a quad injury.
"Scheme wise they are an aggressive team. Their front seven is extremely fast. They've got an ability to rush the passer and when you have those things, it makes it easier on your secondary. They've got all the pieces of the puzzle that a lot of teams would like to have in this league, and we've got our work cut out for us."
The 49ers offense should get better accuracy out of quarterback Alex Smith, who resumed action last week after missing most of three games with a shoulder injury.
"We don't make any excuses for Alex, and Alex doesn't either. He missed some plays in that game and any reasons why would just be an excuse. We expect him to make every throw and he's got to do that. His courage is outstanding. We know that – we don't have any doubt about his courage and that shows up all the time. He'll feel more comfortable certainly with the injury after a week of playing, but even when a guy is a little uneasy and unsure in something, they can't have a drop off in execution."
The 49ers did improve last week on getting more out of their first downs, keeping third downs more manageable but still, far too many drives sputtered and stalled.
"We really have to focus on our execution on every single play. We did get good yardage on first down last week, but we've got to do that again and then we've got to convert on those third downs. We had some opportunities to make some plays in that game that didn't come up for us. They've got to start coming up and guys have to make the play when the opportunity is there for the taking."
The offense also has the added challenge of handling the crowd noise of the Georgia Dome as penalties have been an issue for this team in a few of their losses.
"When you are struggling like we are to execute and to have success, any setback is magnified. For us, it's about no turnovers, no penalties, nothing that sets us back or prevents us from getting in a rhythm or playing good football."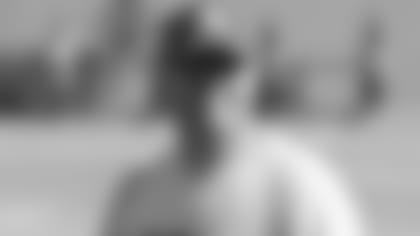 49ers Defense, Falcons Offense, Defensive Coordinator Greg Manusky**
Atlanta's offense has been less than spectacular, a unit that on paper appears pretty similar to the 49ers.
Their biggest problems have stemmed from an offensive line that has suffered significant injuries at tackle. Atlanta could get starting right tackle Todd Weiner back this week from a knee injury, but if not, they are looking at the bottom of their depth chart. They've twice had to replace their left tackle on a unit that has given up 25 sacks. If Weiner doesn't go, there's a chance even that the 49ers could see a former teammate in Harvey Dahl, who was signed off San Francisco's practice squad by Atlanta a few weeks ago.
Getting pressure is a must for a 49ers defense that has mustered only one sack of their own in the last two games.
"It doesn't matter who is in there, each and every week it is a battle up front," said Greg Manusky. "We've got to win those one on one battles and then we need to mix up things to confuse and pressure them from all angles. Getting pressure starts up front, but it's also important that we've got good coverage in the back end because those really go hand in hand."
Despite being badgered left and right, Falcons quarterback Joey Harrington is sixth in the NFC in completion percentage, having hit on 135 of 213 passes for 1,407 yards.
"Harrington has some talented guys to go to and he's definitely got some experience under his belt. Like any quarterback, if he has time, he'll complete the majority of his passes so we've got to get after him."
Harrington's most productive receiver by far is former first-round pick Roddy White. White has 33 catches for 530 yards on the season and two touchdowns, one of which was a 69-yard bomb.
"White's a very good receiver, and he was a top pick for a reason. He's always had the talent and this year, he's really making plays for them."
Veteran wide receiver Joe Horn, the Falcons other starter, has 14 catches for 142 yards on the year. Michael Jenkins works the slot where he's come up with 24 catches and 262 yards for second most in both receptions and receiving yards behind White.
Third on the team in both receiving yards and catches is four-time Pro Bowl tight end Alge Crumpler who has been limited in practice this week and listed as doubtful on the Falcons injury report with a knee injury.
"He's been a big play guy for them for several years now. I know he's been gimped but he's tough and I would not be surprised if he plays. If he's out there, he's a guy you've got to be aware of and cover up because he knows all the tricks of the trade."
The Falcons haven't gotten what they'd want out of their running attack but they're still squeezing as much juice as they can out of veteran Warrick Dunn, who needs only 247 yards to reach the 10,000 career rushing yard mark.
When Dunn needs a breather, Atlanta goes with second-year tailback Jerious Norwood who has come up with the Falcons most explosive offensive play with a 67-yard touchdown run against New York. That touchdown run marked the third time in NFL history that a player's first three career rushing touchdowns went for at least 60 plus yards. His first two came last season during his rookie year.
"They are both very talented backs. Dunn is very experienced, and if you give him a crease in there, he'll hit it. They've got good speed, and they've got the knack to make guys miss and if you do they can explode on you. We've really got to be sure tackles and we've got to perform."
With Manusky's unit playing a letdown game last week, he said his concerns aren't so much about what the Falcons bring to the tabled a letdown game against the Saints, some
"We've got to play better than we did last week and so I think our guys have to play like we know we can. We've played fast, we've played physical, we've played hard and we've played aggressive. If we go out and do that, things will take care of themselves."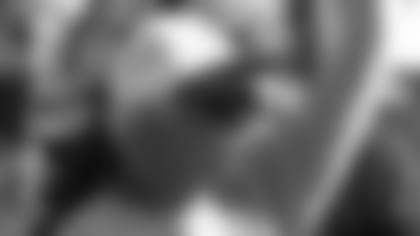 49ers/Falcons Special Teams, Special Teams Coordinator Al Everest** 
Both teams feature veteran kickers in Joe Nedney and Morten Anderson, although Anderson clearly gets the edge as at 47-years old, he's still kicking.
Anderson is 12 of 15 on his field goals with all three misses coming from the 40-49 yard range as the 25th year veteran doesn't quite have the leg strength he once did.
"He's been solid on all of his shorter field goals. He owns the record for the most field goals in the NFL so he's done something good, and he's very reliable for them."
For some of those longer field goals, the Falcons have looked to punter Michael Koenen, who hasn't done much better with two misses from 50 or more yards.
Koenen also handles the Falcons kickoffs, and obviously punts, where he has a 42.2 average.
"Originally he was a field goal kicker and a punter and they used him for both, but they changed up and make him just the punter and the kickoff guy and then he holds on field goals for Morten."
Atlanta ranks fourth in the NFC in opponents average starting field position with a 24.2 yard line mark, a credit in part to 10 touchbacks, which ranks tied for second in the conference.
Kicking in a dome negates any weather concerns for either team's kickers, and could equate to another huge day for 49ers punter Andy Lee, who hit a 71-yarder early in the year in an indoor dome when the 49ers played against the Rams.
Out of kickoff return, kickoff coverage, punt return and punt coverage, Atlanta has fared the best in their kickoff return average, a ranking that was boosted by a 76-yard kickoff return by Jerious Norwood, who handles the majority of their kick returns.
"He's explosive. He's a good running back and he's been a pretty solid returner for them. He's got good quicks and speed and he knows how to find things."
Adam Jennings has handled six kickoffs on the year and has a long of 31, but he's the sole punt returner with a long return of 18 on the year.
"He's small, quick and he's an active player for them on all of their units. He's explosive and he's a very aggressive guy."
In coverage, Atlanta looks to a host of players to make plays as six players are tied on teams with 3 tackles a piece. Look for Jennings, LB Marcus Wilkins, LB Tony Taylor, CB David Irons, LB Travis Williams, and FB Corey McIntyre to come up with stops this Sunday.
This unit has gotten their hands on two punts this year, faked a successful punt against the Titans, and got a successful surprise on-side kick against New Orleans by bunting the ball up the middle.
"We've got to be ready for everything and anything. They are an aggressive unit and they're looking for any way to help them get a win."