The 49ers haven't won on the road since week two at Seattle when they handed the Seahawks an overtime defeat. This weekend they'll have to take flight all the way to the East Coast for Sunday's game against a Buffalo team that is smack in the middle of the playoff hunt. Here's a look at what the 49ers will have to deal with in order to notch their second road win, from the perspective of our three coordinators.
49ers Offense/Bills Defense, Offensive Coordinator Mike Martz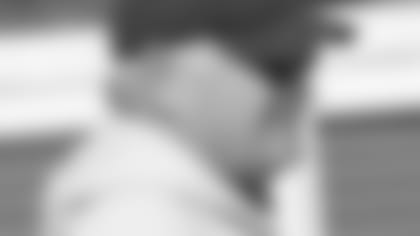 The Bills defense has been operating without Pro Bowl defensive end Aaron Schobel, and it shows as the unit has registered only 18 sacks on the year. His replacement, Ryan Denney, has come up with two sacks, and starts opposite Chris Kelsay.
"Their ends are high-motor guys, who put a lot of pressure on the quarterback," said Mike Martz. "I've played them in the past and they have a lot of speed. They pursue the ball as well as anybody in the league."
Nose tackle Kyle Williams is extremely stout against the run, and works inside next to a former Pro Bowler in longtime veteran Marcus Stroud, who has 2.5 sacks on the year and is tied for second among all NFL defensive linemen for passes defensed with seven.
"Marcus Stroud, boy, is he a load. Both of their inside guys have been very effective."
Head coach Mike Singletary indicated that the Cowboys attacked more from the inside last week when what the 49ers had seen on film. The 49ers must have an answer for pressure coming up the middle this week, as that's the preferred modus of operation for the Buffalo Bills. Buffalo will run stunts and send the blitz straight up the gut, most often with linebacker Kawika Mitchell.
"He's really added a great deal to them. He has some real speed to him. He gets through traffic exceptionally well. We've diagnosed him as a good player and someone you have to account for. "
Another linebacker to account for is the man in the middle, second-year linebacker Paul Posluszny, who leads the Bills in tackles.
"He's very active. The one thing that you could see from the whole linebacking crew is their pursuit and they're downhill. They're really outstanding in their coverage and in their drops are good too. They're a really good defense overall. "
The Bills are especially strong in the secondary with a solid starting cornerback tandem in Terence McGree and Jabari Greer and a premier safety in Donte Whitner. Although Greer has been out with an ailing knee, his backup, rookie Leodis McKelvin played exceptionally well last week by coming up with two picks and a score.
"They're well schooled in what they do. Their eyes are on the quarterback. They anticipate things very well and they read routes very well. Whitner might be their best player on defense. He's really a good player. He's a guy at his position with outstanding athleticism and speed."
Whitner has been limited in practice this week with a shoulder injury, and was listed as doubtful on Friday's injury report. bIfut if he can go, he's a huge difference maker for this Bills backend.
"He has terrific range for that position. There are guys in the past we used to call 'neck-roll guys,' linebackers, who moved outside a little bit. They had a little awareness, but he's not one of those guys. He has that cornerback athleticism, with the toughness of an inside guy. He's an unusual player."
The 49ers offense will be tested in two key areas this Sunday – ball security and red zone offense.
In every loss this season for San Francisco, turnovers have played a pivotal role. Hanging on to the ball becomes that much more difficult considering the inclement weather that is expected on Sunday.
Red zone offense proved to be problematic in the first quarter last week in Dallas when on back to back drives, the 49ers enjoyed first and goal from the 4. Both times they settled for Joe Nedney field goals.
San Francisco will look to punch it in this week, but the Bills defense has been very effective in clamping down on teams once they get into the red zone, ranking fourth in the NFL in red zone scoring with a 44.7 touchdown percentage.
49ers Defense/Bills Offense, Defensive Coordinator Greg Manusky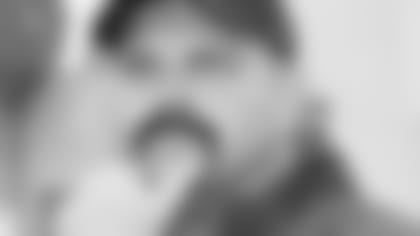 The 49ers squared off against an enormous sized offensive line last week in Dallas, but they'll see an even larger front this Sunday as the Bills offensive line is biggest bunch in the entire NFL.
The Bills group, which is highlighted by Pro Bowl left tackle Jason Peters, is the heaviest in the NFL with an average weight of 335.4 pounds.
"They are a pretty solid offensive line," said Greg Manusky. "Peters is their best player and looks to be back at full strength after missing all of training camp. It's a pretty gigantic bunch."
This formidable front matches the punishing style of their running back Marshawn Lynch, who is the key component of the Bills offense. Lynch has had only one 100-yard rushing total so far this season, but he draws attention every week because of his ability to gain big yards on the ground.
"He's a young back, more of an in between the tackles type of runner. He's got good power and balance and is a very good short yardage runner. He's similar to what we saw last week in Marion Barber, and you've got to tackle him. He'll wear you down if you don't."
If Lynch gets going in the run game, it in turn opens up their play-action attack, which usually will include several check down passes to Lynch and his backup Fred Jackson, as well as deep balls
to the Bills main man, veteran wideout Lee Evans.
Lynch and Jackson have combined for the most catches of any top two running backs in the same backfield with 67 receptions between the two.
"They both have good hands and a lot of catches. Fred had a really good game last week and they like to involved both of those guys."
Evans is meanwhile coming off his fourth 100-yard receiving game of the year, topping the Bills receiving charts with 42 catches for 810 yards. His 10 receptions of more than 25 yards this year ranks him tied for third in the NFL. He currently holds a 19.3 average yards per catch, and he's the only receiver to post an average of 15.0 yards or more per catch in each of the past five seasons.
"He's a good player. He's got big play speed, can get down the field and does a nice job of catching the ball. He can adjust to the ball in the air and he's talented, one of their best players."
The production at wide receiver greatly diminishes after Evans as the second leading receiver is Josh Reed, who has 31 catches for 338 yards. Steve Jackson and Roscoe Parrish have the third and fourth highest respective totals among the receiving corps.
"Parrish is more of a returner than he is a receiver, but he's a guy you have to stay on top of in a game. He's good with the ball in his hands and so they try to get it to him. He's not a big or strong guy, but he's got some real speed and quickness and get some big yards after the catch."
Buffalo has utilized all three of their tight ends, although Robert Royal has gotten the most clock on passing downs, and has 29 catches for 308 yards. He's currently dealing with a hamstring that could prevent him from going on Sunday. will prevent him from playing on Sunday.
Charged with getting the ball to those downfield targets is second-year quarterback Trent Edwards, who is coming off one of his better performances of the year, having completed 24 of 32 passes for 272 yards, a pair of passing touchdowns, and a pair of rushing touchdowns.
"He's been streaky somewhat with really good days and some bad days. When he's hot, he's hot, but if you can force him into a big mistake early, he'll struggle some with his confidence. He's definitely the type of quarterback you don't want to let sit back and make big plays early because that gets him going. We want to keep him guessing and not let him get comfortable."
Last week in Dallas, quarterback Tony Romo probably felt like he was sitting at home enjoying the comforts of his own couch while playing Madden considering the ease he had finding Terrell Owens down the field for huge gains.
The secondary has allowed eleven pass plays of 40 yards or more, which ties them with Jacksonville for the most in the NFL.
"Everyone just has to execute and handle their responsibility on the backend, and then we need to also help get some more pressure up front and get after the quarterback and we'll be fine."
49ers/Bills Special Teams, Al Everest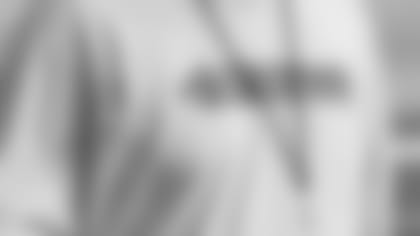 Winning on special teams is the goal every week as the 49ers believe they have one of the better units in the league. That confidence gets put to the ultimate test this week against a Buffalo unit that performs very well in every facet of teams.
"This is an extremely good challenge for us, because they're the real deal on special teams," said Al Everest. "They play hard, they play fast, they're obviously sold into it and it's a great challenge for us to go into this game like two heavyweight champions going at it, that's how I look at it."
The Bills boast the current leading punt returner in Roscoe Parrish, who has a 14.7 average, and the league's second-leading kickoff returner in total yards ( 1,140) in rookie Leodis McKelvin.
"Parrish has good acceleration speed. He's got good balance, and he's a very good returner who can cut it back or use his speed to get around the end."
"As for Leodis, he's very aggressive, very downhill. And he matches what their schemes are. He's done a very good job for them, averaging almost 30 yards a return. It's unbelievable, it's a big challenge for us, like I've said."
Both players have taken back a return for a score this year, with Parrish returning a punt return 63 yards for a touchdown in the season opener against the Seahawks, while McKelvin recently took back a 98-yard return against the Browns on Monday Night Football. Their large returns are a credit to their own skill set, but also to an outstanding surrounding cast.
"The return by McKelvin wasn't anything special by him, but it was an outstanding blocking job. What he does, is he's a downhill returner. So he matches with what they're trying to do, because they're trying to get vertical on you."
For the 49ers receiving end, they'll have to make due this Sunday without returner Allen Rossum, who was ruled out early in the week with an ankle injury.
Delanie Walker will likely take over as the team's kickoff returner, but it's a bit up in the air as far as punt returner. Nate Clements and Arnaz Battle have both fielded punts in the past, but Singletary indicated on Thursday that he would prefer not to use his top cornerback, while Battle is still trying to make it back fully from a foot injury.
"We'll have to see how it shakes out on Sunday. It's tough because we were three deep initially, but we might need to get someone else new to help us out."
Whichever players end up helping out in the return game will likely see a lot of Bills linebacker Blake Costanzo, safety John Wendling, and linebacker Jon Corto, who rank as the top three leading tacklers on teams.
"They've got a core of special teamers that are as good as you can get. Corto is outstanding, and all of their players are very aggressive."
In the kicking game, Everest of course has extreme confidence in Andy Lee and Joe Nedney, but Bills coordinator Bobby April feels equally as sure in his two specialists in kicker Rian Lindell and
Brian Moorman.
Lindell has struggled some on his longer kicks, with three misses from 40-49 yards, and two misses from the plus 50 range. His most costly miss, a 47-yarder that could have won the Bills their Monday night game with Cleveland.
"He's had a lot success. I'm sure he wishes he had that one back against Cleveland, but he's done a good job on the year. He's a veteran and he usually performs well, especially on kickoffs. They do a lot of variety of things on their kickoffs. They do motor squibs, deep kicks, a lot of different things, and he does a good job of that."
Punter Brian Moorman has been one of the best at pinning teams inside their 20 since 2006, doing so 80 times for the third spot among punters during that time span.
The 49ers also have to be wary of Moorman on fakes. The Bills used him in their season opener on a field goal fake where he threw a 19-yard touchdown pass.
"He's an exceptional athlete. I think he was a high hurdle national champion. He runs well, has done a good job and is another veteran guy, eight years in the league. So he knows what he's doing. They run him on fakes because he can go, and he even showed he can throw."
Bad weather also seems to impact special teams more than the other two phases of the game, a point that Everest drove home this week to his unit.
"Obviously it changes a lot of things, particularly in the return game as well as with the kicking game. We looked at some clips of when it was snowing in Buffalo against Cleveland last year, and how the game changes. It becomes slower, and it's a little more neutral, so you just have to take care of business. You have to have good snaps and get the ball off. Cleveland beat them in that horrid snow day 8-0, with two field goals and a safety. That gives you an idea of how it's going to come down to making plays."