The 49ers will finish out their home schedule with a Sunday afternoon contest against the Tampa Bay Buccaneers. The Bucs have already clinched the NFC South, but roll into town with the holiday wish of heading into the playoffs after a strong season finish. The 49ers won't be playing in January, but they too would like to finish out the year on solid footing. Find out more about this matchup through the eyes of our coordinators.
**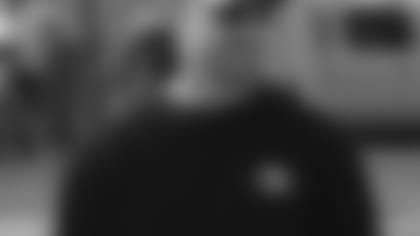 49ers Offense/Bucs Defense, Offensive Coordinator Jim Hostler
**
Defensive coordinator Monte Kiffin has been running his Tampa 2 defense for the last twelve years. From 1997-2005, Kiffin's defense finished in the top ten, and his unit has returned to form again in 2007 with the third overall ranked defense.
"They do what they do and they keep all of their eyes on the quarterback, they rally to the ball and they are extremely physical," said Jim Hostler. "Monte has not changed his defense, his guys have been in it for a while and they've been at the top for a very long time. He knows how to coach it. It's not complicated, but they are fast and physical."
Kiffin is not a blitz happy coordinator, and he doesn't need to be considering the excellent pressure out of his defensive line, which accounts for 27 out of the team's 30 sacks.
Rookie defensive end Gaines Adams leads the starting linemen with 6 sacks, followed by tackle Jordan Haye, who has five. Veteran Kevin Carter anchors the other end with veteran defensive tackle Chris Hovan starting in the middle. Even backup Greg White has been productive, leading the team with 8 sacks coming off the edge.
"They are very good up front. They've got depth at the end spot and they are physical guys. They are as good as their ranking and it all starts with them. The back end is good, but their ability to rush the passer with four guys comes with their edge rush and their penetration in the middle with those inside guys."
In the running game, the Bucs line is an undersized group that can be moved around, but their linebackers are disciplined and hard to get past. The relatively young Barrett Ruud leads the team with 161 tackles, followed by one of the most respected linebackers in the league in Derrick Brooks and a longtime veteran in Cato June, who was signed from the Championship Colts this past off-season.
"Obviously Brooks is the one who stands out still because he's one of the best in the league. He's been in that system for a long time, he's very instinctive, knows what's going on around him, he can cover, he gets after the run, and there's a reason he's been to the Pro Bowl so many times. I don't think he's dropped off at all."
With quarterback Shaun Hill at the helm, the 49ers have fallen into a rhythm with their short passing attack, something the Bucs second-ranked passing defense will look to disrupt with their Tampa Cover 2 defense. Using a zone defense, the back end will use their speed to close quickly on the ball, and gang tackle with aggressiveness to force turnovers.
Cornerback Ronde Barber is one of the best the league has to offer and is well complemented by Brian Kelly and Philip Buchanon. Kelly was the team's original starter but has been playing more as a nickel back after getting banged up.
"Ronde is outstanding. He's extremely instinctive, understands the game and knows what's going on around him, understands situations, he can play inside and out and he's one of the best corners in this league. Kelly and Buchanon are two good complements to him. They've taken on a little of how he plays the game and have become instinctive players. Their games are very similar to him and they are doing a great job defending the pass."
Rounding out that successful pass defense package are veteran strong safety Jermaine Phillips and rookie standout Tanard Jackson.
"Their safeties are physical guys, downhill guys and they attack the ball in both the run and pass. When you watch film, they both stand out. Usually one guy stands out more than the other but you have to really look close to see who is who because they are both very aggressive and they do similar things."
The backend has notched 11 picks on the season, one of which was returned last week by Barber for a 29-yard score. It basically goes without saying, but protecting the football will be an absolute must for Hostler's group this Sunday.
49ers Defense/Bucs Offense, Defensive Coordinator Greg Manusky**
Tampa has had a revolving door policy when it came to their quarterback in recent years, but the acquisition of Jeff Garcia seems to have solidified them with a guy who can win games.
Garcia has thrown for 2,244 yards,12 touchdowns, 4 interceptions and has a 93.6 QB Rating.
"He's a smart, talented guy who has the ability to move around the pocket and make plays," said defensive coordinator Greg Manusky. "He's a very fine football player, and a player we have to be concerned about because he buys time to make plays and he can really make you pay."
Garcia frequently hooks up with the team's leading receiver in yards in speedster Joey Galloway, who is 15 yards shy of a 1,000-yard receiving year. Five of Galloway's team-leading six touchdown receptions have come on passes of 35 yards or more.
"He's a very, very good receiver with excellent speed. He's a good route runner and does everything you want a receiver to do, and he's playing at a very high level. We faced great receivers last week, and Galloway is just as good as those guys. He'll make plays all over the field."
While Garcia goes to Galloway for the explosive play, veteran Ike Hilliard is usually his go-to-guy in moving the chains. Hilliard leads the team in receptions with 59 catches, 35 of which have resulted in first downs.
"He's another veteran guy who knows the system and plays top notch football. Michael Clayton also gets some balls thrown his way and he's another talented guy. I think they all produce at a high level when they get the ball thrown their way."
The strength of the Bucs offensive line lies in its two guards – rookie Arron Sears and Davin Joseph, but as a whole they are a group that shares a similar mentality.
"They are big, nasty, serious run blockers. They are physical, they work well up to the linebackers and they have great communication skills. They really bring the wood and they are a good group."
With that physical push up front, the Bucs continue to rank high (10th) in their run game despite the season loss of their starting back in Cadillac Williams and their starting fullback in Mike Alstott. A relatively unknown back, Ernest Graham, has rushed for 877 yards on the season as the starter with a 4.1 average yards per carry.
"He is in essence very similar to the o-line, physical, nasty, gets in your face and he is a shove it up your butt type of guy. He complements them well, and vice versa."
Michael Pittman has been hampered by an ankle injury this season, but he saw his most significant action in the last month with 13 carries against the Falcons. Pittman could continue to see more carries as the team revs up for the playoffs.
"He's another physical, tough, nasty guy who will fight hard for his yards. We know we'll have to contain the run game this Sunday to get them off the field, and then guard against those big plays deep in the passing game."
The Bucs have been starting Alex Smith as the former Seattle tight end Jerramy Stevens seems to have fallen in disfavor, and is coming off a one-game suspension for violation of the NFL's substance abuse policy. But during his days in Seattle, Stevens gave the 49ers defense headaches.
"He'll probably be back out there for them, and he's a talented tight end. Alex Smith is another good one, and Anthony Becht also contributes to that offense. They are another good challenge and another good offense."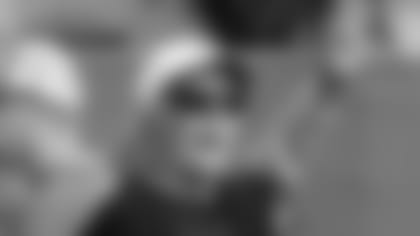 49ers/Bucs Special Teams, Special Teams Coordinator Al Everest

Bucs kicker Matt Bryant ranks first in team history with a .813 field goal percentage. He has missed five kicks on the season although three have been from 50 yards out or more. He did hit on a pressure kick, making a 43-yard game winner for a win over Tennessee in mid-October, and he does have a career long 62-yard field goal to his credit.
"Matt Bryant is pretty good," said Al Everest. "He came out of Baylor as a backup field goal kicker and he's worked his way into a starting spot and really come into his own."
A former 2005 Pro Bowler, punter Josh Bidwell, has become Tampa's most successful punter in team history since his arrival in 2004 with a 43.8 yard average. His 93 punts inside the 20-yard line rank him second in team history.
"He's got a long of 61 on the year, and he's a big kid who can hit big punts for them. He'll cross hit some, but he does a good job placing the ball inside the 20."
Veteran wideout Ike Hilliard has handled the team's punt return responsibilities in recent weeks and has 15 returns for only a 6.1 yard average. Joey Galloway, Mark Jones, and Phillip Buchanon have also taken a turn, but overall the group ranks 28th in the league in punt returns.
"Ike does have the ability to hurt you if he can get rolling, so we want to cut him off before that happens. If they put someone else back there, it's the same mission."
Receiver Michael Spurlock is the team's primary kickoff returner, and just took back a 90-yarder for a touchdown last Sunday, the first kickoff touchdown return in franchise history.
"He can hit it if you open it up to him, and he can go. They do a good job in their kickoff return, so that's something we've got to be disciplined and keep contained."
Just like their defense, the Bucs use their speed to their advantage in coverage, ranking 2nd against kickoffs, and 8th in covering punts.
Safety Kalvin Pearson leads the charge with 18 tackles on teams, followed closely by linebacker Ryan Nece and wide receiver Maurice Stovall who each have 16 tackles.
"They are all about speed coverage and so it'll be a race down the field. We've got to be physical, slow them up and stay on our blocks."
Punter Andy Lee made his first Pro Bowl this week, a testament to his own achievements hitting the ball extremely well on season long, but also to the 49ers success as a coverage unit.
"I'm very happy for Andy, he's done a great job, but any time you get a Pro Bowl guy, it's not just about him. It's about the guys covering around him, and our guys have done an outstanding job. He's got great numbers in net and gross because of what he's done and also because of what our coverage unit have done. It's a great compliment to all of those guys."