Here are some of the things gathered and learned on Saturday at the Combine about the 2008 NFL Draft prospects.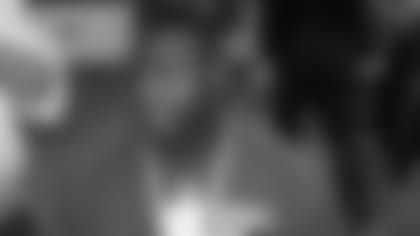 Linebacker Curtis Lofton consulted several other ex-Sooners before making his decision to come out after his junior year. Although one player told him to return, everyone else encouraged him to enter the NFL Draft, including Tommie Harris.
Harris essentially asked Lofton whether or not he had achieved enough of the goals he set before the season which were making All-Big 12, leading his team in tackles, making All-American, winning the Butkus award and a National Championship.
Harris fell short in only two of those.
"I didn't win the Butkus and I didn't win the National Championship," said Harris. "Those aren't guaranteed if I were to return. The only thing guaranteed was I'm healthy right now, I felt good, I had a great year, and so I felt like it was the right thing to do."
WORKOUTS
The offensive line and tight ends worked out on Friday, while the running backs, receivers and quarterbacks hit the bench press.
Officially from the League, Rutgers Jeremy Zuttah was the fastest among the linemen with a 4.99 time. Right behind him was UCONN's Donald Thomas with a 5.00 time. Thomas also had one of the better workouts in the linemen drills. ASU's Mike Pollak finished third in the 40 with a 5.02 time. Nebraska's Carl Nicks ran an impressive time in the 5.21 - 5.23 range, not a bad time by any stretch for a man of his size.
For the tight ends, Purdue's Dustin Keller was the fastest with a 4.55 time with Kentucky's Jacob Tamme close on his heels with a 4.58 finish.
BENCH PRESS
Running backs James Felton of Furman and Carl Stewart of Auburn tied for the lead with 30 reps.
It was an optional bench press session for the quarterbacks and wide receivers and only two of the QBs opted in. Marshall's Bernard Morris, invited to the Combine as an extra arm for the receiver's workout, knocked out 18 reps while Penn State's Anthony Morelli finished with 16.
Several wide receivers competed in the bench press. In the first group of receivers, Mt Union wide receiver Pierre Garcon benched the 225 20 times to lead his group with Eddie Royal out of Virginia Polytech shredding the competition in his group with 24 reps. Utep's Lorne Sam was right behind Royal with 23 reps.
CRAZY FOR CHERILUS
Boston College tackle Cherilus Gosder was finally brought over to the media room and became a new favorite of 49ers.com. Gosder will likely be gone by the time the 49ers first-round pick rolls around, but this is a kid any team will be lucky to get because he loves the game and has the nastiness needed to play offensive line.
"What I tell people many times is that football is what I do but it's not who I am," said Gosder. "Once you step on the field, it's business. Just coming from where I come from, Boston College, for some reason I always felt people looked at us different. These guys, they're big, they're athletic, they're this, they're that. But at the end of the day, football is football. When you step on the field, you go at it. I have fun doing it. I'm not dirty. I do everything within the whistle. I've never had a personal foul. But if I have a chance to really go at a guy and punish him, I will, because that's what the game is all about. That's what the fans want to see and that's what I feel like I should be doing because that's my job to do it. That's what I do."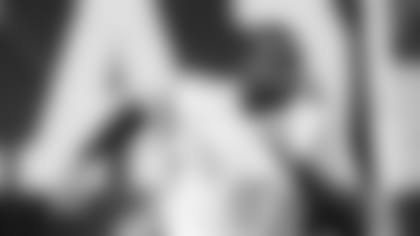 Gosder heralds from Haiti, where he says he hopes he serves as an inspiration.
"Where I'm from, there are so many young little kids, especially Haitian kids, who have no leaders, no one to look up to. I want to be that guy to them. When somebody comes and tells them 'you're this, you're that, you don't have hope' they can go 'Gosder did it, so do I.' I want to be that guy to some of those kids."
Gosder frequently gets asked what his last name means, so much so that the Boston College standout went to his dad to find out.
"There is no story behind the name. I've been asked the question many times, so I went back home and asked my father 'Where did the name come from?' At first, he said to me 'You don't like your name?' I just told him I wanted to have an answer for those who asked the question. He told me he just wanted something unique that nobody else has. That's what he came up with. Pretty creative, huh?"
Gosder played both left and right tackle at BC and said he'll be ready to play either end in the pros.
"At the end of the day, each team needs a right tackle and a left tackle. I feel like I can play either. I played three years at right and one at left, and I was very successful at either. I've played right my whole life and if that's where they want me, that's what I'll do. If it's left, and that's what teams need, that's where I'll go."
SHOUTED AT BY SING
Georgia Tech linebacker Phillip Wheeler is the latest of backers to have their mettle tested by the demanding 49ers linebackers coach Mike Singletary down at the Senior Bowl. Wheeler said he was on the receiving end of a whole lot of shouting by the Hall of Famer during the week of practices in Mobile.
Asked what he learned from Singletary, he answered, "how to get yelled at I guess. He was a nice guy though, pretty cool. I was honored to be coached for a week by him. I think it was just him trying to see who I was, and him trying to push a few buttons. It was nothing personal or anything. I think he's a great coach."
Wheeler plans to run and work out here at the Combine and is expected by most scouts to test very well, although the Yellow Jacket backer thinks he'll still surprise some folks.
"A lot of coaches think I run slower than I actually do. I think I'm faster than what they think, so I hope I'll surprise some people. We'll just have to see when I run."
BIG BATTLES, MUTUAL RESPECT
Tackle Jake Long out of Michigan allowed only two sacks in his collegiate career. The first was during his redshirt freshman year that occurred in a game against Michigan State. The second was to Ohio State's Vernon Gholston.
"I take it personally," said Long. "I wanted to make sure that I was perfect and not let up a sack but Vernon is a great player and he had a good move on me and I let it up."
Gholston came to this year's match-up intent on getting past Long.
"That was a big battle for me," said Gholston. "I know, going back to the previous year, he was tough competition. He kicked back in pass protection and it was tough for me to get around him. So coming into the game, I really focused on that and learned some new techniques to get better hands on him, and it worked."
WHO WON'T WORKOUT
USC linebacker Keith Rivers will not run the 40 or work out at the Combine after recently tweaking his ankle. Rivers said he has been drilled about the ankle since arriving in Indy, but that it isn't reflective of an ankle injury during the season.
"The ankle's been great. It was kind of a freak accident, it's not that big of a deal. The left one I hurt during the season and last week I hurt the right one."
THE OTHER LONG
Michigan tackle Jake Long is one of the best offensive linemen in this year's draft, but there's another Long on the other side of the ball drawing just as much attention, if not more in Virginia defensive lineman Chris Long.
Long has a long list of positive attributes, but one that scouts and coaches love is his high motor.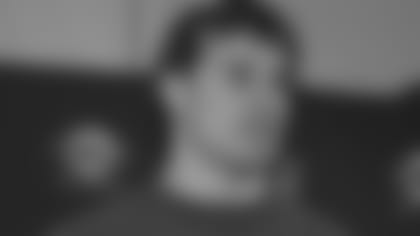 "I don't think of myself as doing anything extraordinary with my effort," said Long. "I think that's just the way football is supposed to be played, at a high speed. I'm not a guy who does things half-speed well. So it's been pretty natural for me to go that fast."
Long will do everything at the Combine except for the bench press after spraining his thumb in the bowl game.
There is talk that Long could be the number one overall pick in the draft, but the son of longtime Raiders defensive end Howie Long could also easily land in Oakland.
"It would mean the same as playing anywhere else, honestly," said Long when asked about the possibility. "It would be an opportunity to play in the NFL. Obviously there's so much more to it there. I'm not afraid of any situation or any burden with the name. I've been dealing with this stuff my whole life. But obviously it will be taken to a new level in a place like that. It's pressure, but I tend to welcome any pressure with open arms."