In this edition of Niners Daily, we take a look at some Colin Kaepernick-related headlines. There's some new and not-so-new notes on the San Francisco 49ers signal-caller.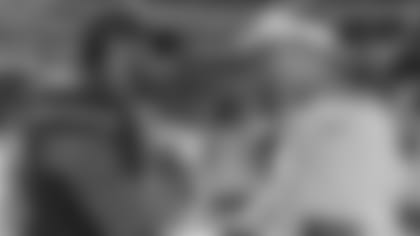 The 49ers visit the Denver Broncos for "Sunday Night Football" in Week 7, and the primetime matchup will undoubtedly be billed as emerging star quarterback versus established star quarterback.
We're talking about Colin Kaepernick and Peyton Manning, of course.
Wednesday morning, MMQB.com asked and mused on this question: Who would you rather face, Kaepernick or Manning?
It's an interesting question, and there's no clear-cut answer.
In six games, Kaepernick has thrown 10 touchdowns against four interceptions for 1,456 yards. In five, Manning has tossed 15 touchdowns and three picks for 1,530 yards.
Then there's the fact that Kap has rushed for 242 yards. Manning has "-7" next to his name in the column.
Number seven does rank behind the future Hall of Famer in one respect.
The NFL Players Association released on Monday its player sales figures for June 1 through Aug. 31.
1. Russell Wilson, Seattle Seahawks
2. Manning, Broncos
3. Kaepernick, 49ers
4. Tom Brady, New England Patriots
5. Aaron Rodgers, Green Bay Packers
6. Dez Bryant, Dallas Cowboys
7. Johnny Manziel, Cleveland Browns
8. Drew Brees, New Orleans Saints
9. Jason Witten, Dallas Cowboys
10. J.J. Watt, Houston Texans
Here's the NFLPA's complete top 50, which includes 49ers linebacker Joe Staley (28) and running back Frank Gore (45).
We also don't want to miss the opportunity to point you in the direction of all San Francisco player jerseys.
Entering his senior season at the University of Nevada in 2011, Kaepernick met the future Hall of Famer at his self-titled Manning Passing Academy in Thibodaux, La. In addition to the physical instruction he received at the camp, Kaepernick said he picked up some mental cues from Manning.
*"He shared a lot of different things with all the quarterbacks that were there," he said. "Just tips. On the field. Off the field. How he prepared for games." *
Which of Manning's tips does Kaepernick employ now that he's in his third NFL season?