Before the 49ers 34-6 victory over the Green Bay Packers last Saturday night at Candlestick Park, former 49ers defensive end Dan Colchico served as the honorary captain.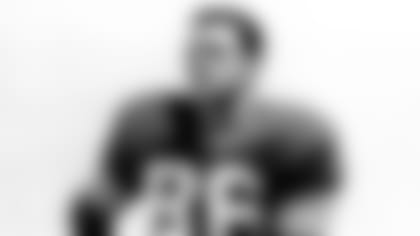 It's been 39 years since defensive end Dan Colchico played his last NFL game with the boys of autumn. It was in 1969 when he suited up for the final time with the New Orleans Saints after playing six seasons as a defensive end with the San Francisco 49ers from 1960-65.
Whether it be a practice, a scrimmage or a game, Dan was the guy who always gave 110% on the field. Just ask Bob St. Clair, who credits Dan for making him the Hall of Fame caliber player that he is.
"I credit much of my success to Dan Colchico, who played so aggressively against me on each and every down during practice that by the time I played against my opponent on Sunday, I felt like I had gotten a break!"
Dan played in an era when the rules of the game were quite different from the rules of today. Recently, he shared some great stories with me about his time with the 49ers 'back in the day.'
The first story comes from a 49ers game against the Baltimore Colts at Kezar Stadium. One of the 49ers players found a way to get rid of Baltimore great Gino Marchetti – legally!
Bob St. Clair was banged up pretty good, and we were playing against the Baltimore Colts and Gino Marchetti. When Marchetti and St. Clair played against each other it was always a hell of a battle between them. What the 49ers did was take out St. Clair and replaced him with our center Frank Morze. Frank's only job was to hold Marchetti. Gino hated to be held. Morze wasn't fast enough to stop my grandmother on the outside, but on the inside he was a great ballplayer. So here he is against Marchetti and sure enough, he held him about three times in a row. Fed up, Marchetti took a swing at Morze. They were both kicked out of the game. No big deal because that's why he (Morze) was put in. Bob went back in and played against some rookie, and we ended up winning the game.
His next story has to do with his 1960 rookie season during training camp at St. Mary's College in Moraga.
*Back in the 60s, training camp was held at St. Mary's College. That particular year the temperature hit 108 degrees. We had two-a-day practices that included 30-minute scrimmages that seemed to go on forever, and back then I played BOTH the right and left defensive end positions as well as special teams. I was dying out there. I finally asked one of our coaches, Mark Duncan, if I could take five. He said, 'Sure.' I thought he meant five minutes. What he really meant was five breaths! *
His last story involves Coach Red Hickey.
We were playing a game at Kezar, and I was really pumped up – so pumped up that I jumped offside three times in a row! That put us back 15 yards. After the third time, Coach Hickey sent in Karl Rubke to take my place. I told Rubke that I wasn't leaving. He returned to the sidelines and Hickey asked him why he wasn't in the game. He told him that I wouldn't leave. The next play I sacked the quarterback for 12 yards. When the defense came off the field, I walked by Hickey and said, 'I owe you three yards.' The second time the defense went out on the field and on the first play I sacked the quarterback again – this time for four yards. I came back in and told Hickey that I was +1 in yardage. I don't think he saw the humor in it.'
When I asked Dan to recall his most memorable moment he replied without hesitation.
*It was during my rookie season at training camp. We were told to write our name on a piece of tape and place it on our helmet so that the coaches knew who we were. The final cuts had yet to be made. I always gave 110% and the coaches and players knew it. A day or two after we had taped our name to our helmet, the offensive line coach Bill "Tiger" Johnson stopped me and told me to take off the tape. Both the offensive and defensive coaches knew who I was. I knew then that I had made the team. *
Football players like Dan Colchico come along only once in a lifetime. Their incomparable, individual brilliance and unique team chemistry that marked this era have transcended this specific time and place to make pro football's "Fabulous Sixties" an unforgettable part of the magic and myth of professional football.
USF grad and author Dr. Kristine Setting Clark is a feature writer for San Francisco 49ers GAMEDAY and has authored four books entitled: "UNDEFEATED, UNTIED, AND UNINVITED" A Documentary of the 1951 University of San Francisco Dons Football Team. The book recounts team solidarity in response to racial prejudice in American sports; also, "ST. CLAIR: I'LL TAKE IT RAW!" An exclusive, authorized biography on former San Francisco 49ers player and Pro Football Hall of Fame member Bob St. Clair – Foreword by Gino Marchetti; her most recent, LILLY: A Cowboy's Story on former Dallas Cowboy and Pro Football Hall of Fame member Bob Lilly – Foreword by Roger Staubach; and Legends of the Hall: The Fabulous Fifties – Foreword by Y. A. Tittle. Dr. Clark resides in Northern California with her husband and has two grown children and a grandson, Justin, who is a godson of Hall of Fame member Bob St. Clair.