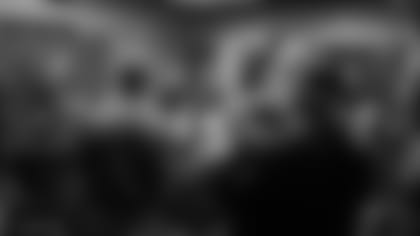 Coach Jim Harbaugh addressed the media in Boardman, Ohio, on Monday as the team prepares for its Week 4 matchup with the New York Jets.How are you doing?**
"Good. Excited to be here in Youngstown. Looking forward to a great week of preparation here. And feel like it gives us a unique opportunity to circle the wagons and get a great week of preparation."
Do you guys need to circle the wagons after yesterday?
"Always need to circle the wagons. It provides a unique way, to get the preparation, the mindset, right for our next ball game."
Can you talk about the decision to come back here to Youngstown? What was behind it? And how you'll use it, as you said, to kind of grow as a team?
"Well, yeah that and quite a few things. To take out the air travel, somewhere in the neighborhood of eight hours of flight time in what would be a five-day period. So, that's one of the biggest ones. And also the ability to be here as a team in a unique way during the season. The advantages that the town provides, the facilities at Youngstown State University are excellent. So, several reasons."
What are the positives to being here, though? What are the things you can accomplish as a group off the field in that regard?
"Well, we're all staying under one roof for every night that we're here. And eating those meals together, training together, practicing together, meeting together. And learn more about your team. Learn more about the guys, their stories. And talk football, prepare for a game on Sunday."
By the time that you guys played the Eagles last year, did you feel like you were on East Coast time? And did you feel acclimated to the time zone that you were playing in after that week here?
"I felt like it. And then you can never put yourself in somebody else's body. But, we felt like it was a good thing, Matt."
I understand that you had the chance to meet with Hall of Fame RB Jim Brown?
"Yes."
How was that?
"It was an honor. It was enlightening. Thought I learned some good things talking to Mr. Brown. My family, especially my dad, has always been a big fan of Jim Brown. They've met on several occasions, and this was the first opportunity that I met Jim Brown. And I really enjoyed our visit."
Do you think it was beneficial for the players, too, just the way they were kind of coming up to him and kind of listening in on those conversations?
"I think so. In fact, I'm pretty sure of it. Yeah, just from the interaction. Just good man-to-man talk, football talk, life talk. It was very good."
What kind of stuff did you learn?
"Well, we covered several topics. Learned more about him, his story, how he saw the game. How he sees the game right now. That he loves football. And that he has a deep abiding respect for it. And he's someone that wants to see others benefit from what he knows. So, not hoarding that knowledge, but sharing it. And I think he comes at it with a very unique perspective. He's seen a lot as it relates to football, as it relates to life. Those are things that he's most interested in passing on to younger players, younger coaches."
Did you talk at all about RB Frank Gore? I know that you don't like to compare guys, but he must be an admirer of hard-nosed running backs. Did he bring up Gore's name at all?
"Yes. They visited together and all the running backs made it a point to shake hands, or take a picture and ask questions."
Unique opportunity for WR Mario Manningham as well being this is his home town. Can you talk about his role on the team and kind of his growth? I know it hasn't been very long here. And then also that opportunity for him to be back here kind of back in his backyard.
"Yeah, and several guys. [G/T] Alex Boone, [WR] Ted Ginn [Jr.], [S] Donte Whitner. I think that goes for several of just the East coast guys, Mid-West east coast guys a chance to practice, play in their area of operation. So, their families can come to practice and Alex can check in on his young son. There's a lot of benefits that way, as it relates to Mario, Ted. Those guys are going to get home and see some family and same with Alex. And that's a very good thing."
But in Mario's role with the team, can you just elaborate on what he needs to do and what you're looking for from him?
"What he's been doing, contributing. And he's a very good football player that plays at a very high level. And that's what he's been giving us and he's a guy you can count on."
Your second year here, you came here last year, kind of got into it. Is this year easier as far as practicing here because you guys know what to expect and you know what facilities you can use and when, that kind of thing?
"I think some things will be, yes definitely. We're doing it for the second time. We're doing it again. Everything we did we're doing it for the second time as it relates to being in Youngstown."
What impact do you anticipate CB Darrelle Revis' injury having on the New York Jets' defense?
"I don't know that."
Well, Jets head coach Rex Ryan said he's out for the year with an ACL tear.
"Yeah, so what impact that's going to have on the Jets? I don't know that for sure."
We talked to a couple of your receivers and almost sort of counter intuitively they were disappointed that Revis wasn't going to be playing because they really wanted to play against one of the best cornerbacks in the league. Do you kind of share that as a coach? Do you want to go against the best? Or do you sort of like the advantage of them being without their top cornerback?
"I don't think any of us in football, whether it's your own team or an opponent, you don't want to see that happen to another player. You don't want to see them be injured. Just like you don't want that to happen to your own players. But, I think all players feel the same way. I feel pretty confident in saying that."
Given the unique circumstances of the travel and all that stuff, what's the message to the team when you address them? What's your take on that? What do you tell them to get them going here as you move forward this week?
"What we believe in is pretty consistent. You go to work, find something to believe in and then go to work on that. And that's what we believe in, is preparation. It's going to put us in the best position possible to be successful. We go to work and we attack it. That's our message."
You mentioned yesterday that DT Isaac Sopoaga and LB Joe Staley would have X-rays, how did those turn out? Negative?
"Yeah, turned out good for both of those guys."
When you looked at the film of that game, in what areas do you feel need improvement most, after seeing yesterday's game?
"Without really getting into specifics, we'll address that with the guys when we come in. We didn't play our best and we'll look at the ways to go to work and fix that. Everybody, players, coaches, that's something that we're shouldered with doing. That's our responsibility to get that done. The Vikings did, they played a very good game. It's not our mindset, but I sensed this from people that live in a mythical, magical, fantasy world of just expecting that game, that we would win. It just doesn't work that way. Your enemy has a vote on that and they played a very good football game and we got beat. So we've got to bounce back, that's on us, to work and prepare. Yeah, we'll go in with confidence that we expect to win any game, anywhere, anytime, anyplace. But that confidence comes through preparation and we're going to do a great job of that again this week. We'll be going against another very talented, very well-coached football team, another very hostile environment. That's just a fact of business. That's just the nature of football in the National Football League."
Did WR Nathan Palmer, did he come here with you guys?
"Yes."
And then he got shipped to Indianapolis?
"Yes. He was signed by the Indianpolis Colts."
You guys brought in three undrafted rookies, and two of them, Owusu and Palmer are on 53-man rosters elsewhere. Does that surprise you at all? What did you see from those guys in training camp?
"Good things. Going back to the very first press conference we had of the year, after the very first rookie minicamp. I noticed on that day, that we had probably the finest group of young wide receivers I'd ever seen at a training camp, or in a rookie camp. So, no, it doesn't surprise me."
Now that you're here a second time and you're out with the community and you get to see this type of thing, does this start to become a real home away from home the more time you're here, the more time you spend with the community, out with people and just being here with the team practicing?
"Yes. Made some very good friends. I learned a lot from a lot of the people we've met here. And continue to do that. The more time you spend, the better it gets. There was a young guy from over at the hospital named Tyler, who gave me this beautiful necklace with a picture of Woody Hayes on the front and a little bit of biography on coach Hayes on the back. I was admiring Tyler's necklace last year, and he brought this for me this year. Had it waiting for me when we came over. Means a lot. Also, Tyler's in remission from Leukemia, it's wonderful news, wonderful news to get today. And a wonderful gift too, from that youngster."
*Is this a really interesting change of pace, being West coast guys and kind of coming back to the Midwest? I know some people were from here, but from day-to-day life over there, is it kind of a nice change of pace to be in this part of the country for a week? *
"It's very good. I consider myself a Midwesterner and a Californian and all those things. I don't see that much difference to be honest with you. But yes it is great to be here."
You currently obviously don't have a wide receiver on the practice squad, does that present any sort of a challenge in terms of preparation?
"We'll address that."
Going back to yesterday's game, TE Vernon Davis caught a third quarter touchdown pass, he's been catching touchdown passes in consecutive games here. How reliable has he become as a scoring threat?
"The proof is there. Evidence is there. He's been doing a very good job. He can do a lot of things really well and that's what makes him a very fine player."
He said he didn't – when he caught the touchdown yesterday he didn't celebrate because you guys were losing. Is that team policy or is that just every guy understanding the situation?
"You know, I've told you before what it is. It's within the player's personality. In terms of celebrating. So there's no policy, no."
His point was, you guys were losing so he didn't celebrate, so just wondering.
"You asked if there was a policy, there's not a policy."
I know you haven't been here long yet, but has head coach Eric Wolford reached out to you, the head coach at Youngstown State University? And have you guys had a chance to speak yet, or any interaction in that regard?
"Not yet. But I know he's doing a heck of a job and has had a couple great early wins. Have a lot of respect for his program."