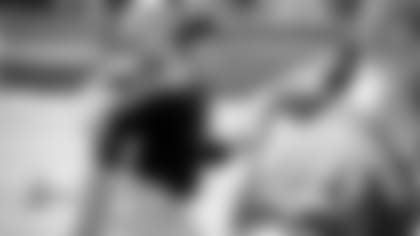 Coach Jim Harbaugh addressed the media following Wednesday's Organized Team Activity at 49ers headquarters.What did you see that you liked out there?**
"A lot of things. A lot of good things. Attendance has been phenomenal, and we really appreciate that with our guys. Rookies are busting their tails. It's great to see it. They're doing a very fine job. New guys are doing extremely well. Noticing a lot of our returners are really doing well, really improved. So, a lot, a lot of people. Could go into some names, but there's quite a bunch of guys that are really Gung-ho and into what we're doing here."
It seems like it's always been a priority to develop as much competition at each position as you can. And it seems like you're really deep in a lot of positions, just about every position right now.
"Yeah, I would agree with that."
I guess the one that kind of stands out when you look at the offensive line, you have a vacancy there and you've got a lot of guys competing for that spot, for the right guard spot?
"Well, really [G/T] Alex Boone had the first shot at that and he's doing a phenomenal job. There will be competition of course, but he's doing outstanding. Another guy that's standing out is [RT] Anthony Davis. Really good with his footwork. That's been much improved. Knowing the system, veteran guy now. Seen a big jump in his play as well."
QB Alex Smith is throwing a lot to a certain receiver. It seems he's been throwing to WR Randy Moss a lot. Have you seen that chemistry improved? Do you want that? Do you like to see Alex throwing it to Randy a lot out there?
"Alex has really been, in the two days out here, has been spreading the ball very well. He's got a lot of options. That's been evident too for two days. Randy's a great target. He's not a B.S.'er. He's rock solid. We just couldn't be happier with him. Couldn't be any more happy with him. Another guy that's really standing out is Mario Manningham. His first two days of OTA's, played extremely well. [WR] Michael [Crabtree], [WR] Kyle [Williams], I'm probably leaving somebody out right there. Oh, [WR] A.J. Jenkins is doing a phenomenal job. Michael Crabtree, yeah that's what I said."
Everyone's talking about Randy's speed. Do you notice it on the field? Do you just tell yourself this guy hasn't lost anything? Where do you think his speed is right now?
"Well, I think it's really good. He's one of the fastest guys on our team when you put the watch on certain drills, so that's all I have to go off of."
After no offseason last year, how important is it this year? It puts you so far ahead of the game.
"It's been fun. This is great to be back out here. Guys have been working fanatically. Our veterans have definitely done that. The rookies that have been here for the past two weeks, they've seen a great example, and they're busting their tails. A lot of excitement with the football team, coming off the season they had last year. But, they're just Gung-ho. They're Gung-ho for the program and what they can accomplish each and every day. So, it's been five great weeks and week six is going very well as well."
You mentioned on the radio how Michael Crabtree had the best hands you've ever seen. I think that was the phrasing. Is that literal, that Michael Crabtree has the best hands out of any receiver you've ever been around?
"Yes, yes. He's got tremendous hands."
Have you noticed that especially lately, or are you saying it from last year too that he's got the best hands you've ever seen?
"Well, the comment stands on its own merit. I know you guys have dissected it about every which way it can be dissected. But, it is literal. It is literal fact, what I believe as I see it and believe it to be."
Is this OTA script pretty much similar to what you guys would have had last year if you guys were to have OTA's, or did you adjust to what you saw this season?
"It's very similar to how it would have been last year, but there are some time restrictions this year that weren't in place last year. So, that's really been the only change in the schedule."
How are you liking this routine? You kind of start slowly with phase one. And then do you think it's a good schedule?
"It's been good for us with a combination of things. How much our guys are into it. How the attendance is that we mentioned. So, yeah it's been good for us."
Jim, what's keeping WR Ted Ginn Jr. off the field?
"He's working through something at this point, physically."
Do you expect to have him back on the field soon?
"We'll see, could be. He'll be back when he's 100 percent. We're not going to take any chances, but it's coming along very well."
How much of a priority is it just to try to develop that number two punt returner for this season, assuming he's number one?
"Well, we think we have a really good one in Kyle Williams. And we'll always be developing players at every position. And the importance of that is very important. So, I think we're in good shape."
You've got QB Colin Kaepernick I think running the two's, the two offense. Is he slotted right now as the number two? How close is that between he and the other guys?
"Yes, Colin's the backup quarterback as it's slotted right now. And, how close? We'll see. That's why we're out here to figure out who the starters are, who the backups are, who the contributors are. And right now everybody has that license. I feel really good about this 90-man roster that we have and their chances to make the football team and contribute. And try not to make any mistakes. Let the guys express who they are as football players. You hate to not have somebody on the team that goes to another team and ends up beating you. But with the quarterback position, all four of our quarterbacks are NFL quarterbacks. All four of those guys will play in the NFL for a very long time in our estimation. So, that's going to be a lot of competition within that position rank. Bodes well for us. We don't ever have a bad rep out here because we're training a quarterback, or the quarterback doesn't know what to do because they're knew in the system. Or they just can't make the throws that NFL quarterbacks make. So, that's been something that's really given us an advantage in our opinion, that every rep is a real good rep for the entire offense, and the defense."
You talked about Alex Smith having a lot of options out there. We talk about opening up the offense. Do you expect more downfield stuff? Do you want more downfield stuff?
"We always just want to find ways, the best ways, the better ways, to move the chains. I think we'll be coming along, we'll be just fine. That's the way we look at it."
How good of an asset is P Andy Lee for you guys and going forward now that he's signed a new deal?
"Sometimes it's underestimated probably, to be honest with you. Andy is one of those guys that wins games for our football team. And it's great to see guys that play all the games, play all 16, 17, 18 games and help our football team win games, get rewarded with a new contract. So, we're all really excited and happy for Andy about that. And selfishly for ourselves we're happy and excited that Andy Lee will be with us for the next six years."