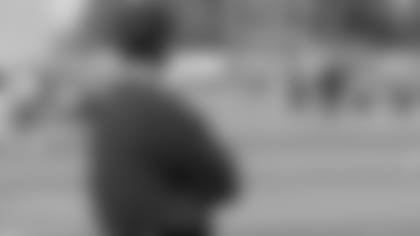 Coach Jim Harbaugh addressed the media following the first of two rookie minicamp sessions on Friday.Opening Statement:**
"Great to be out here. Had a good day. Good news is we've started and it was a good workout. Guys are a little out of shape, but we'll get them going."
What's your goal these three days? What do you want to see out of these rookies, or what are you looking for most?
"Creative destruction. Who that guy is. Who that newcomer is, that new startup guy that's going to be more motivated, going to be talented, going to be hungrier, going to be a harder worker. And somebody that's going to come in here and kind of upset a position that's already established on this team. So, I know it will be somebody and I'm excited to watch it go down this weekend."
You mentioned hungrier. General Manager Trent Baalke talked about guys coming in with a chip on their shoulder. Stanford WR Chris Owusu was not drafted. Do you sense any of that from him? I know it's only one practice, but do you think he's a guy who can have that chip?
"I don't know anything about that. This is a meritocrocy here with the San Francisco 49ers. All the pomp and circumstance that led up to the draft, how fast a guy could run a 40-yard dash, or how high he could jump, or how fast he could go around a three cone, or go over a little cone, or run through a cone, all that's out the window. Where they played, what they did, what somebody else might have said about them. Now it's all on their merit. And they come out here each practice and guarantee they're going up, or it's going down. And that's our job as coaches, is to coach these guys and evaluate them every single day. We're not going to wait for a week to go by. It's going to be a daily thing. So, I'm looking for what I told you we're looking for and I know we'll find it."
Could RB LaMichael James be that guy?
"Everybody's got the license and the opportunity. So, you all can focus on whoever you want to focus on. And when we get out there and see who plays football better. Then we'll understand if those guys are getting better every day. If they're getting better, or they're getting worse. If their merit's going up, or their merit's going down."
What have you seen from WR A.J. Jenkins?
"I think that whole group of receivers really looked good. Out of shape, that's the bad news. Good news is that it's a very talented group of those young receivers. You could tell that right away. But the bad news is we've got to get them in shape. I don't know exactly what all these guys have been doing in the last six months."
It looked like A.J. particularly might have hit a wall out there today?
"There was a few of them, and not just at that position, but we've got time. We'll get them there. If they really want it, and they're willing to work with [Head Strength and Conditioning Coach] Mark Uyeyama and [Assistant Strength and Conditioning Coach] Kevin Tolbert and all those guys."
Would you like to see A.J. work out with former 49ers WR Jerry Rice like Jerry Rice has offered him, to run up that mountain?
"I don't think it ever hurts to be around Jerry Rice. I don't think that would hurt."
Why is A.J. Jenkins here? I thought he was going to graduate this weekend in March?
"Well the rules are that the youngsters, that are going to graduate in June, can be here for this mini-camp. But it's my understanding that A.J.'s coming back too, Monday. I believe he's already graduated though."
He already marched?
"Yeah, you might want to check your facts."
Were you surprised they were a little out shape?
"Yeah, yeah. Well, yes and no. I knew that these guys weren't working out as hard as our guys have been working out. Because our guys are just fanatical with the way they work out and the way they approach their cardio. So, I knew it wasn't going to be as good as our guys, but yeah, we have a ways to go. It's not a panic button or anything. I knew where it was going to be. And it's just a process of going from A to Z, and everybody's at a certain point and we'll get them there."
How many minutes or seconds passed before you realize that you guys are a little out of shape? Was it right away?
"I don't recall how many minutes or seconds it was."
Do you get to see something out of a guy though when he's tired and see how hard he goes even when he's tired? Is that valuable?
"Yeah, if a guy's going to push through it and soldier up, yeah you can see some of those things."
Did you see some of that?
"Well, it's the first day today. I wouldn't call soldiering through the first day of practice anything to really remark about."
What was your first impression of LaMichael James?
"Good. He's just got a great look in his eye and he's got an enthusiasm out here. I can tell he's got a real like for football. So far so good."
What are you teaching them in the classroom? Obviously, you can't install a playbook. So what's the goal in the classroom sessions with them?
"To start installing the systems, yeah, both offensively and defensively, absolutely. Starting at the beginning and we'll work through as fast and as thoroughly as we can. But, definitely want to get these guys up to speed as fast as possible so when they join in with the veteran group, that they're not slowing the veteran group down. Also, that they have a chance to compete and they have a chance. So, that's on us as coaches. That's on them as players to be fully engaged in those meetings. Take their playbooks home at night and read them until they fall asleep."
Do you remember playing against Sacramento State QB Jeff Fleming in 2010?
"Yeah, I sure do. I remember [former Sacramento QB] Mc[Leod Bethel-Thompson] got hurt early in that game and then Fleming came in and played. He wasn't there very long before—I think he was only there a couple weeks maybe his first year over there at Sac State. So, he did a nice job."
You wrapped up your fourth week with the veterans here. I know you've been working with them only two weeks. This is your first offseason with them. How do you evaluate this time you've had with that team? You didn't get it last year.
"It's been great. We're getting a lot of really good work. Our veterans are, like I said before, they're in great shape. They're working their tails off. They've been fully engaged in the meetings and in the workouts that we've had on the practice field. We're getting a lot out of it."
Why do you feel like center is the best position for OL Jason Slowey?
"Well, we'll see. We don't know what his best position is. That's why we're out here. We're going to find out what all these guys' best position is. Who's better at each position. That's the goal."
You have a pretty well-respected coaching staff. Do you think that gives you an advantage now that you have a full offseason to get that coaching staff with your players?
"I do. And I'm very partial, but I feel like this coaching staff does a tremendous job and I feel great that our players have them as a resource. No question about it."
How do you feel about WR Randy Moss so far?
"Really good, really good. We're not a team about fueling the hype, so to speak. But Randy has been outstanding in every way. And it's neat to watch our players watch a guy like Randy that they've watched growing up. And we have two fields. The defensive field's on the far right and then the offensive field is over here on the left. And I can always see the defensive players will be looking over, and a lot of times it's to see if [DT Demarcus] Dobbs caught a ball, or [DT] Will [Tukuafu] ran a play or caught a ball. And a lot of it is watching Randy. And had a chance to go by [DT] Ray McDonald the other day, and Ray and [DT] Justin [Smith] were talking and Ray's like, 'I don't think Randy Moss has lost a step.'. And Justin Smith said, 'That's Randy freakin' Moss over there. It doesn't matter if he did lose his step, that's Randy Moss.' It's been great. He's been all about getting into this team, getting into this playbook and being a part of what we've got going here. So, really, really happy with Randy."
Did he really say freakin'?
"I may have cleaned it up a tad."
Alex talked about how he's been working on his throwing motion with pitching coach Tom House in San Diego. What do you see that you're trying to help him with and how much needs to be done?
"It's been really good. We've had a chance to have an offseason now and work on some of those fundamental technique drills. We're coaching and we're tinkering. He's doing that as well. As you said, he went down to see Tom House down in San Diego, and I think he got some good drills. Working on his core, working on some mechanical issues that he saw slowed down on the super slow motion video tape. We're getting out here on the grass and working on the drop, working on some ball position, some ball carry and throwing motion, as well. I've seen some really good dramatic improvements."
What's ball position and ball carry?
"Where he carries the ball and where he positions it before."
Okay, where he carries it?
"Before he makes the throw, yeah. A lot of footwork drills and all the quarterbacks. Kap (Kaepernick) has been doing really well, as well. There are things we're working with him on, and he's working on. [QB] Scott Tolzien is doing the same thing as well as [QB] Josh [Johnson]. Really pleased with that whole group."
Jim, I have an injury question that I know you enjoy, but C Chase Beeler has a cast on his forearm. Can you say what happened?
"Yeah, he broke a bone in his hand, actually did it in the weight room. He's already had surgery on that. He'll be out for at least a couple weeks. In about two weeks I think he'll be able to get back and play with a cast."
In training camp he'll be fine?
"Yeah, yeah, I think that will be fully healed in four weeks, but he'll be playing with a cast on it for a couple weeks. And we're not in contact right now, so those things he'll be able to do and get work out here in the offseason."
Jim, Alex has been talking about moving inside, was there any thought given to T Anthony Davis moving inside, or, might that still, is that still an option?
"Well, our first plan is to move [T Alex] Boone there, which we already have, and he's doing a really good job. Feel like moving Anthony there and move back outside and we'll be changing two starters, where Boone can come in and fill that role and we will be in great shape. That will be the first course of action."
His height, Boone's height is 6'8. Is that an issue or a concern for a guard?
"Is he really 6'8"?"
That's what he says.
"I don't think so, I think he's added a few inches."
"The thing I tell you what makes me side with what I think is because he bends so well. He bends so well at the knees. He's got a great arch in his back. I think he plays low enough to play that position, so I'm feeling good about it."
If indeed he takes that spot, do you guys have to look at depth at tackle, if he does become your right guard?
"Yeah, [G] Mike Person is here, we've got [G] Garrett Chisolm is here, as well. Our first consideration is let's get our five best starters here, then six and seven, eight and nine as well for depth. We're conscience of putting that line together right now and I think we're in good shape."
From a quarterback's perpective, is there something to be said about having a tall interior line for vision purposes?
"Well, there are times you are throwing over people, but most of the time you're really throwing through. It's more lanes for vision and for throwing lanes."
Could you have a starting right guard who's also your swing tackle?
"We could, yeah. It's not against the rules. We certainly could do that. You don't eliminate the fact there's no reason why he can't be really good at both. So we'll find out."
Stanford K Nate Whitaker and California K Giorgio Tavecchio didn't come to blows today. So, that's a good day right?
"Because one went to Cal and one went to Stanford?"
Yeah.
"They're fellow PAC 10'ers—PAC 12'ers. They stuck together. They're like buddies."