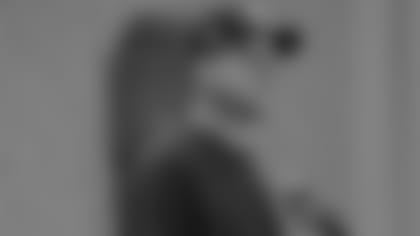 Coach Jim Harbaugh addressed the media on Thursday as his team prepares for Super Bowl XLVII**
(on Chris Culliver's statements) "We reject what he said. That's not something that reflects the way the organization feels, the way most of the players feel."
(on if Chris Culliver's statements will impact his playing time in the Super Bowl) "I think it's going to impact him going forward. I think it's something that he will learn about himself. You saw his statement; he pledged to grow from it. It will affect him. Hope and pray that it affects him in a positive way going forward."
(on Frank Gore's evolution within the pistol offense) "Nobody does it better than Frank Gore. Nobody. Have the greatest respect for Frank because he has the greatest respect for the game. It's evidenced by how he plays, every single game, every single day. Nobody does it better than Frank Gore. I really believe in his talent, but the greatest share is his love for the game; his love and respect for the game of football."
(on what motivation approach he'll use before the game) "I don't have anything in mind to really answer that question. Very excited for today. I would really love to have a photocopy of yesterday. That's what I would most like to have to get out of today. The energy we had at practice, the execution we had at practice, if we could go to the machine and get a photocopy of exactly what we had yesterday and come back and get that today would be outstanding. If I could just elaborate a little bit, we had a lot of things go good for us yesterday as I said, execution, the energy. Outstanding by our scout team players. I'd just like to talk about that for just a little bit because it was so striking. Our young players, our future starters on future championship teams have progressed and it's been wonderful, wonderful that we've gotten five extra days of practice than 20 other teams have gotten. There's been some guys, Ricardo Lockette was outstanding. He was flying around the field. Ricardo Lockette, Tony Jerod-Eddie, Cam Johnson and Al Netter are four guys that are on our squad had a chance to go to other teams during the season, they got offers to be brought up to other teams' 53 (man roster) but chose to stay with the San Francisco 49ers. I believe it speaks volumes for the way they enjoy being on this team and being with their teammates. Guys like Michael Thomas. Michael Thomas has been just a stud this entire year. He plays safety, he plays corner, he plays receiver. He just keeps getting better and better. Trenton Robinson is our scout team player of the week in some form or fashion, whether it's on offense or special teams, or defense, pretty much consistently every single week. Kenny Wiggins is doing an outstanding job. Scott Tolzien just busts his butt every single day. I notice in some of the clips that he was talking about writing an essay about the quarterback room and the example that Alex Smith has shown this year. We're going to make that be a real essay, too. We're not going to let that be just an empty suggestion by Scott Tolzien, we'll look very much forward to getting that essay. Michael Wilhoite is a guy that was that kind of player for us last year and the first part of this year and now he's out there playing, and playing in the Super Bowl this week. I just can't tell you how exciting and how wonderful it is to see these players grow. I can't wait to see them come back out today. A guy like Ian Williams has been fantastic, not to mention Pierre Garçon. We couldn't block him yesterday; we could not block him. So there were quite a few positives going and like I said, we'll see if we can't get a photocopy of that today."
(on if he's developing his young players like a college bowl game) "Yes, it does feel that way. It just reinforces what you believe as a former player and as a coach, that you get better at football by playing football, by practicing football. There are other ways, the conditioning, the weight lifting, the hours and hours that the men do that, but the playing of football and the practicing of football. These guys have a great attitude and work extremely hard, you just know it's going to work out for guys like that. To see it working out, it's just a tremendous feeling for us and no question, the bowl week preparation, that's always three extra weeks but we're getting five. I believe this is week five with the bye we had going into the first round, then the first round game, then the second round game, and then a bye and then this week. Week five, maybe six. It's just fantastic, wonderful, wonderful. See if we can't get a photocopy of that today."
(on what he has seen from David Akers) "He did have the offseason surgery. It was a struggle for him in the offseason, not that I knew that. I wasn't aware of that, but teammates and talking to David, it's something that he worked very hard at, rehabilitating in the offseason. Came into training camp ready to go and got off to a wicked hot start at the beginning of the season. Then had some missed field goals in the middle, but was just grinding. The true competitor that he is kept working and kept grinding at it. Not over-kicking, but grinding with the process. He's been hitting the ball really well. He's had some really good hits on the ball that haven't gone through and we'll live with that. We know what he's capable of doing. He's going through his process practicing, working at it, and we'll get the results. We're very confident he's going to have a big day in the Super Bowl."
(on whether there was a moment he decided to stick with David Akers) "That's a multiple choice question, but I think several factors. What he's done, what he's capable of, the way he's worked at is rehabilitation, and the way he's hitting the ball. We even threw in some competition there three or four weeks back and he prevailed in that environment. There are several factors."
(on if he believed that Colin Kaepernick was the best player in the 2011 Draft) "I've said this a couple times, but we'll address those draft stories and different decisions that took place a couple years ago at a different time. All those questions and answers lead to shameless self-promotion. This is Colin's time. He's worked extremely hard and he's done a tremendous job. This is time for the players that are playing in the game. Rather than veer off onto that path, I would rather avoid that at this time."
(on whether he spoke with Chris Culliver personally) "We had a conversation, yes."
(on if running the wishbone at Michigan helped open his eyes to running the option in the NFL) "Yes, I'm sure. Bo Schembechler talked about it before, Lou Holtz has said it, maybe in the best way that I've ever heard it, said was that by running option football, it allows you to play 11-on-11. Football without an attack is basically playing with 10. A quarterback that doesn't block anybody, isn't an ineligible pass receiver basically leaves the defense with one more than you have. But when you have a quarterback that can run in the option attack, or give, or pitch, you get the numbers back to even, 11-on-11. Long had an appreciation for that type of football."
(on Bill Walsh being involved in the Stanford job) "Coach Walsh did call me and left a message on my phone to see if I would be interested in the Stanford coaching job. I was intending to leave that message on my phone for the rest of my life, but I lost that phone or dropped it in the toilet or something. I can't remember which it was, I lost it or dropped it in the can, but I don't have that message anymore. Truly one of the most memorable things was getting that message."
(on what he learned from Bill Walsh) "So many different things. When we first got to Stanford, Coach Walsh was working at Stanford. He would come in and one of our favorite things to do was to sit down and watch recruiting tape with our offensive staff. There was one day in particular that we had all of the quarterbacks lined up, there were seven or eight quarterbacks. There were a lot of names that you'd all know that are playing big-time college football and professional football. Coach Walsh was with us and we ranked them. My memory is that Andrew Luck was his, and our, favorite."
(on what was said in the conversation between he and Chris Culliver) "I wouldn't walk you through. I treat those conversations as private conversations. But, I do believe that there wasn't malice in his heart; he's not that kind of person. He's not an ugly person; he's not a discriminating person. He may have heard talk like that and may have thought that that was what his opinions were that he learned, but he regrets that. That's not who he is, that's not what he really believes in. I think it took this incident to hear those words being said by home and to see them written down on paper, for him to realize that they were hurtful and ugly. I know that he takes that to heart and I really think this is something he'll learn and grow from."
(on Chris Culliver's play) "He's been a very valued member. He's been a trusted agent and known friend to our team."
(on how he would feel if he beat his brother in the Super Bowl) "If we are to win this game, it's going to be earned. That would be the adjective I would use. This is a tremendous Baltimore Ravens team offensively, defensively and special teams. Strong, tough, big men who play in the lines. The quarterback is playing outstanding football. Joe Flacco has done it his whole career. When you're watching him in playoff games, last year in the AFC Championship game, he made the big throw at the end of the game. It didn't go their way, but he's done that again this year in the high-pressure situations. That's an offense that has the ability to attack with multiple weapons, the receiver position, the tight end position and the running back position. Our defense is in for a very formidable challenge. Defensively, the same thing. This is a team that is extremely talented on defense. They're healthy, they're a veteran group. They're very well-coached. You see them adjust from team to team, whether it's the Broncos, the Redskins, week-in and week-out this team has the ability to play at a high level from multiple looks. Special teams, they are consistently a top-5 in the National Football League. I'm repeating this, and maybe I'm a little biased, but an extremely well-coached team. The two things that worry us the most is it's a talented team that plays with a lot of heart. If we were to win this game, it would be very well-earned and that would be the great thrill of winning. The wonderful, wonderful feeling of winning."