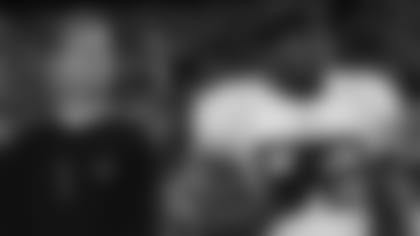 Coach Jim Harbaugh addressed the media on Friday at 49ers headquarters as his team prepares for Sunday's home contest against the St. Louis Rams.When you're game planning for a team, how much of the defensive thought process is contingent of who the quarterback is of the opposition?**
"It's a factor. Whether they play [QB] Sam [Bradford] or whether they play (A.J. Feeley)? Is that what you're asking?"
Yeah, exactly.
"We've seen them both on tape. We're expecting Sam."
You're expecting to see Sam?
"Sam Bradford."
Is that an easier adjustment to make?
"It's an educated guess. There's nothing easy about it, either way. You game plan and do the best you can."
Why bring a poker player in this week to talk with the team? Is there a nice sort of connection between what he does and what the team needs to do these last five weeks?
"I wouldn't read too much into it."
You had a nice poker analogy on Monday about 'ahead on the chip count,' was that, did you know at that point that Phil Hellmuth was going to be coming to the building?
"Did not."
How do you know Phil?
"From Palo Alto, Stanford. Met him at a Stanford basketball game."
His analogy of having a big stack of chips, but not quite being at the final table, I mean it's pretty pertinent to you guys.
"Yeah it paints a picture to where we are at."
In term of injuries, the Rams have been hit pretty hard by them all season long. Your defense has really had, most of the whole team you've avoided injuries. How has that contributed to the success, I guess consistency-wise, week in and week out?
"It's been a factor. You get better at football while playing football and staying healthy is a part of it. It's something you can't control and injuries do happen. Our guys have done a good job continuing to stay strong and take care of themselves and be available. That's part of being a consummate team player. When you can be available and contribute, that's another factor."
With RB Frank Gore being so close to breaking the franchise rushing record, what does that say about him and his career he's had here?
"Speaks volumes about what kind of player he is and what kind of career he's had here in San Francisco."
Is WR Braylon Edwards here receiving treatment?
"Yes."
He had mentioned this week about how his mindset and focus is to get ready for the playoffs. Have you taken that approach in shutting him down this week?
"No, no haven't taken that approach."
Do you need him 100% healthy?
"My conversations with Braylon are with Braylon. It's not something we discuss with anybody outside of the team including the media."
So in other words, this was something that needed to be addressed now rather than your looking a month down the road. You wanted to get him, this needed to get taken care of, whatever he's going through?
"He's preparing, he's getting treatment, he is in meetings, he is questionable for this week in my mind. I don't know, the trainer might of put something else, but that's how I feel about it."
Can you talk about the wide receiver position as a whole? Are you pleased with the way they're performing in the passing game specifically?
"Yes."
One more question about Frank. In some circles this record is a bit controversial because it doesn't include the All-America Football Conference yards that Joe Perry had. Do you have any stance on that? I know that you like football history, you're a historian. Do you think that those yards should be included in Perry's total?
"I didn't know about it until you just said that. I don't think it has any relevance to what we're trying to get accomplished this week. Pretty darn sure that's the way Frank feels about it. Focusing the mindset on playing well this week, playing the best we possibly can and hopefully we're going to win."
One more question, the Rams, 2-9, they had high hopes, you guys are 9-2. I mean they can probably in a lot of ways make their season with a win here. Is that something you guys are cognizant of, that you're going to get the best effort they can put out there on Sunday?
"No, we don't think that … we know that and you expect that. We talked about it earlier in the week, that these men on both teams, 49ers and Rams, put a lot into this. (inaudible)"
When it comes to possibly clinching, how do you foresee the celebration? Would you want it to be toned down or is this something that everybody goes crazy even though there is four weeks left? I know we are getting ahead of ourselves.
"Yes, exactly. Thanks a lot."