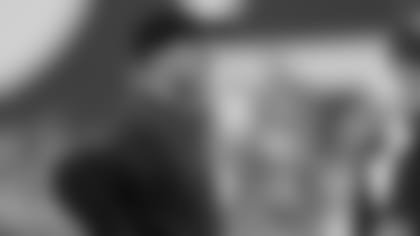 After the game on Sunday you said you'd be interested to see how your players react to adversity. They haven't seen a lot because they haven't been through a lot. On the practice field their reaction? Or is the reaction, you're not going to know until Monday?**
"I don't follow you."
What did you want to see out of your players when you said, "We'll see how they react to adversity?"
"Just be who they are. Do the things that have got them here. Not changing, improving. Looking each other in the eye. Nobody hanging their heads. Attack problems."
Did you see that?
"Yes, I did. Good week of practice. Feel good about where we are in our preparations right now."
Has T Joe Staley been cleared to participate?
"He was cleared to participate today without contact."
Does that mean that he won't play in Monday's game?
"No, that doesn't mean that."
So Joe will have another chance to be cleared?
"He's on a progression. Progressing well."
What is his status for the game?
"Questionable."
Everybody's questionable?
"No. There's a lot of people that are not questionable. Everybody questionable? No. Not at all. Four people that are questionable. There are 49 that are not."
Who are the four that are questionable?
"Did you not get the report?"
Not as of yet.
"You'll get that. That will be released publicly today."
Is LB Joe Staley among the questionables?
"Yes."
Are you going forward as if you really don't know when Patrick will come back because of the hamstring strain? It could be Monday, it could be two weeks, it could be the playoffs?
"You don't know. We'll see. I don't want to give you any information that's not true and then come back and say that I misled you somehow. You just don't know. You don't know, really, until you see how they react from today's practice, in some of those cases. See how they feel on game day. You don't know until you fill out that paper."
I kind of asked Defensive Coordinator Vic Fangio this same thing yesterday and he said when he's ready; he's going back on the field. It's not as if you guys are going to hold him out until the playoffs, right?
"Yeah. We'll see when he's ready."
You had a big prime time game in Baltimore, didn't win it. Is there some sense that you're getting on another national stage and you don't want to go 0 for 2 on those big stages?
"We want to win the next game. That's what this is all about. This is what we prepare for. This is what we do. That's what we have to do. That's all we have to do. That's easier said than done, but that's the challenge. That's where the pressure comes from. That's what you embrace. Look forward to going out there and putting it on the line. That's what these guys do: they go put it on the line. Just like you guys do. Just like we all do. You write a column today, you've got to put it out there. You've got to put it on the line. That's what these guys do. That's the pressure. That's the excitement of it."
The next game at Seattle, I'm looking a little ahead, that's on a short week. Quick turnaround on the road. Sort of similar to what you went through with Baltimore. Does that make this game on Monday even more of a circled game because you're not going through that short stuff? This one, at least you're going to have full preparation?
"There's so much... I don't know how much you take it up to mean more. It's the next game. That's the most important game. That's the all important game is the next one."
Do you think it's fair that you're going to have to have a short week and go play Seattle?
"Not really thinking about it, to be honest with you. Not concerned about it. Concerned about this one."
Are you expecting to have to deal with noise when you're on offense, given how well the Steelers fans travel? That there could be noise, atypical noise on Monday?
"Could be. I anticipate the way our fans have been, the excitement level, the turnout, I think it will be to our advantage, in our favor."
You pumped crowd noise in today during practice. Is that unusual?
"You've asked that many times and it's been answered many times."
I'm not sure if I specifically did, but OK.
"We addressed this before. When opposing offense is on the field, our crowd will be making noise. There's communication that has to be made by the defense. So, we practice with that."
If I may take another crack at another question. You had indicated RB Frank Gore was not at 100% on Monday. He's not on the injury report. Is he just dealing with the typical, as he said, nicks and bruises that come to a running back in the NFL?
"Usually when the guys go through the game, they're not going to be 100% on Monday. You can pretty much take that to the bank. I never know what the percentage is. We've debated that in the past. You don't know. I knew it wasn't 100% on that Monday after a physical NFL football game. That's the case with most of these guys that are playing this game."
Who gets the dot on defense when Patrick's not in?
"[LB] Larry [Grant].
After the defense gave up three touchdown passes in Arizona, did you have to go approach some of the defensive backs to boost the morale or confidence or chew them out? Anything like that?
"No. Like what was said, we're not changing. No need to be any different than who we are and that's the same in the secondary. Those were tight plays. Could have been six inches stretched out. Twelve more inches, we would have knocked those down, we would have intercepted."