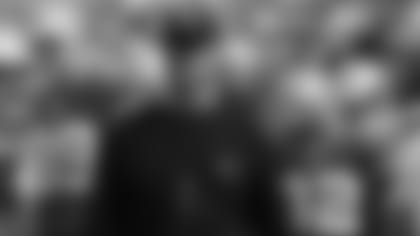 Coach Jim Harbaugh addressed the media on Thursday at 49ers headquarters.With guys like WR Michael Crabtree and CB Shawntae Spencer who you haven't coached, you haven't seen in the offseason, you haven't seen on the practice field, how do you work what you're going to do with them, how do you do that with these guys?**
"Well, you go off of previous tape, both of those players have played in the league and played a high level. You can go off of that. The other thing you go off of is what they're absorbing, what they're retaining out on the field and in meetings. There's a level that you can evaluate there. Poor, medium, outstanding, so that you can predict how they will fit in once they're healthy.
Generally, do those guys go in as assumed starters?
"No, I wouldn't say that. Football players get better by practicing football. We've seen that, we've seen that out here. That's what we go by. Who's practicing better, who's playing better in the games, who's playing well."
What has Crabtree done during this time to get himself prepared for the regular season?
"What are you asking, what exactly?"
What's he doing behind the scenes?
"He's rehabbing."
And as far as the mental aspect of it, do you speak to him on that, on learning the playbook, and where is he along those lines?
"He's been outstanding. His participation in the meetings and his understanding, his knowledge of what we're trying to do is very good."
He's had a couple of injuries to the same area. Will he have to have a different type of shoe or something to kind of protect that foot?
"Well, I really won't go into what he's going to do to protect it. That's really in the doctor's hands right now, in the trainer's hands, just exactly what his rehab program is and his timeline for coming back and how to play going forward."
How interchangeable are your receiver slots? Can you move WR Braylon Edwards to either side or do you like a guy to be a set X, a set Y, whatever?
"Well, Y is the tight end position. But you'd like to have as much versatility as possible in terms of a guy being able to play X or Z and the slot."
Speaking of the Y position, what's TE Vernon Davis shown you in these two games as well as through training camp?
"I'm really pleased with Vernon. I like watching Vernon practice. I like watching him play. He's tremendously explosive. He's a blue collar guy when it comes to work on the practice field, in the weight room, in the meetings. He's a pro, a true pro all the way."
Can you explain a little bit about how you came to your use of the tight end? I talked to C Chase Beeler in the offseason and he said it's something that he saw develop at Stanford, but I don't know if you recruited those type of players or they were just the kind of players that came there and then you started using the 2 and 3 wide, tight end set. How did it develop in your mind, the use of tight ends?
"In terms of using a position, a player, putting them in a position to have success, we were fortunate and blessed to have three, four really tight ends that wanted to go to Stanford at that time. And then we found a way to get them all in the ball game and help our offense. We had that same kind of scenario here really in Davis, and [TE] Delanie Walker: two outstanding tight ends there for you. So you put them in positions of success and build your offense around that position somewhat."
So just to be clear, did you go look for those tight ends or just they obviously, because it's Stanford, they're coming?
"A combination of the two. To be completely clear, we looked for them, they wanted to come, it was a combination of the two things."
What's the purpose behind the arrangement of the players' lockers? Is there a goal there?
"A goal? Yes. To have a locker room. They have a spot where they can get dressed."
Well, they're offense-defense. Some of the players were reading into that like 'oh it's to get me to get to know a guy I normally wouldn't interact with'.
"True. It's not super complicated there. Traditionally you have position by position around the locker room, you've seen a lot of locker rooms I'm sure, just to avoid cliques in that way, kind of a bunker mentality. Also to get to know a teammate better from another position. That's not real complicated."
Were you the one that picked roommates during training camp as well? Was that also sort of the mentality to kind of get them to get out of their clique and to interact?
"Yeah, in some cases, and in some cases where they could try to learn better at the same position or a quarterback and a tight end in [QB] Alex [Smith] and Vernon's case. There was nothing in picking the roommates. I wouldn't really build a big story around it. It's really the idea of can we find .1% chance of getting better in an area, then we'll chase after that .1%, possible improvement."
Why do you think it's important for maybe a linebacker in Joe Staley to be next to an offensive lineman? Why is it important for those guys to get to know each other a little bit better than they might otherwise?
"It's about the team, the team, the team at all times. It's as simple as when you come into a cafeteria, you walk in with a guy, you get your food in the same line, and then you go sit down together. Turn off the cell phone, take the earphones off and try to get to know a guy."
Is Alex Smith starting on Saturday?
"He is."
And play like half, maybe start another series in the second half, that type of thing?
"No, I don't think that's the way it's going to go. I think [QB] Colin [Kaepernick] will get in fairly early, and I'd like to see Colin play with some of the ones after two series. We'll see how it goes. Sometimes you have to see how long was the first series, how long was the second series? But fairly early into the game. The idea of playing some of our twos and threes more in this game is also the way that we're leaning going into this ball game, not so much the traditional way of playing the starters for three quarters like has been historically done in the third preseason game. And the reason for that is there are guys that are fighting for their life, their football life, and we want them to have the ability to play in the game, but also to see them against other starters, see them against the Texans starters. So we'll make some evaluations based on that in this ball game, and then we've done that in practice this week, more of an emphasis to get our key backups in a roll where they can compete."
You've kind of gotten into this thing a little bit now, what's it like for you and your brother, and your relationship? What's it been like now that you're back in football?
"It's been like it always is when we're in football mode. He's very busy with his football team, we're very busy here. But we talk about once a week, or once every other week."
Is football off limits?
"No. It's mostly what we talk about."
Jim, you alluded to T/G Chilo Rachal's commitment last week and in talking to him he was very open about in some ways he rededicated himself. He lost about 30 pounds in the offseason, went through a lot. Did he ever verbalize that to you? Did you ever sit down in the offseason and talk to him about kind of where he was and what he wanted to accomplish?
"I'm just starting to get to know all of these guys, really over the last month, and a lot of it is a conversation at a time. Chilo's a, he's a private guy, you know, and he likes to let his actions speak for what he does, and we haven't had that specific talk, but I'm glad to hear that he told you that. It's something I've seen just by his actions. So probably that's the best thing to go off of and that's what made an impression on me and that's why I said that the other day."
You had a couple of receivers return to practice this week in WR Dominique Zeigler and WR Chris Hogan. Do you expect either of them to play on Saturday?
"Yes, now's the time. Fate's kind of in their hands and you want to put them in a position where they can have it in their hands. So, that's what I anticipate from those two guys and I think they are ready to do it. I got to see some more out of Zeigler, but he's running around, he's catching routes, he's surprised me in what he can do so quickly after reengaging on the practice field."
You're giving Colin Kaepernick the shot with the ones, this may be the kind of the last competitive moment between Alex Smith and Kaepernick for that starting job:
"I wouldn't say that. I wouldn't say that at all, just that's just one example. There will be others that I want to see guys be able to compete against the other teams' starters, and that type of competitive environment. And just looking forward, what's going to happen during the season. I'd rather have Colin ready and experienced football with the starters, against the starters in National League setting before we have to get to that point. So that's the idea, and that'd be the idea with some other players as well. Get them ready before they need to be ready."
Will Alex return to the game after he exits?
"That's possible, that's possible. Like I said earlier in the week, you really want to get your starters in as many situational type of situations in the game as possible, and he may return for two minute drill or another series, you know, could be. Just got to see how it plays out and make a battlefield decision out there, but I'd like to get some backed up. I'd like to get some two minute with Alex."
How about QB Josh McCown, can you get him in this one?
"I really think we can. I'd like to see, I'd really like to see all of our quarterbacks play in this game."
Do you need to see certain veterans as much? Will RB Frank Gore, Vernon Davis play as long or any different with that?
"That's possible that we wouldn't see them as much in this game."
Will you have the same philosophy for the last game as well?
"I think so, I went into this week with two plans really. Two plans that I wanted to practice. We were prepared to practice going into this week and I wanted to get to this point before making the decision. I went with the plan that I probably anticipated going with and that was that we would prepare the key backups and backups along with the starters, but more emphasis than was in the other plan with the twos and threes. I think it's looking back on a lot of games, or a lot of seasons that I've been involved with in pro football, the third preseason game is the important one, but it's really important to for evaluating your football team. Who's going to make the team? Who's going to be on the practice squad? Along with getting the starters those opportunities. So there's a bit of a balance there that we are going into with this week. But, and you might have seen it in practice, there were more reps given to some of the younger players, some of the key backups, and guys trying to make the team."
Is that sort of contingent on these guys, particularly starters, knowing the offense and knowing the defense pretty well so you can have the opportunity to get the twos and threes in there?
"Definitely factors, that definitely was a primary factor, where our starters were. Not just knowing the systems, but where there conditioning level was, where their callus was at this point. But we didn't do less with the starters than we would have, we just did really more with the backups and the twos and threes."
This might be an obvious question, but are you committed to keeping three quarterbacks on the roster?
"We'll see, I mean, not committed. No I wouldn't use that word."
When are you going to announce cuts, after this week, after next week?
"Next Tuesday and next Saturday."
Just to clarify, if Alex does check back into the game, would he be with the ones or would he have twos around him?
"It'll be a, if he's back in the game, it's going to be ones or a combination of ones and twos."
Concerning Colts QB Peyton Manning, he may not be in the first game this year. Last time that happened was in '97 with you, do you have anything to say about the streak that he had, being the leading quarterback for the Colts?
"I don't really know, I'm not going to speculate that Peyton Manning is not going to be in for the first ballgame. Watch Peyton Manning, the pro, the competitor and I'm not going to take your word for it that he's not going to be in there for the first ballgame. So the streak may indeed just rage on."