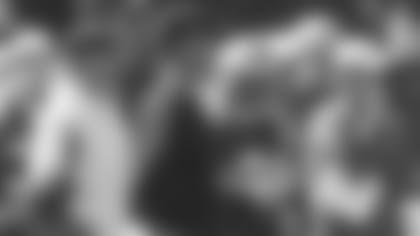 Coach Harbaugh spoke to the media following Tuesday's training camp practice at team headquarters in Santa Clara.On how RB Frank Gore looked during practice:**"Good. He looked good/ There is quite a difference in communication when he's in the huddle. [RB] Frank [Gore] does a great job communicating at the line, in the huddle, giving reminders as we're breaking the huddle. Very impressed. Hitting the hole, extremely. He's really quick and fast, so I think it raises the competition, gives some of our young [running] backs a good example of what a top notch pro looks like."
On whether it was evident RB Frank Gore has been studying the playbook all summer:"Yes it is. We didn't slow down at all and [RB] Frank [Gore], when he did have a question, it was the right questions. It's the tough questions and he's definitely been studying and looked good."
On whether today was run-heavy practice because RB Frank Gore was present:"Yeah, especially in the first two practices without the pads on it was a little more pass-heavy. Today, we had a period with 20 straight runs. Taking advantage of us having our armor on and thudding it up a bit, and you can hear it when it's good, you don't even really need to see the play, you can hear it."
On what the biggest challenge is so far as head coach:"Biggest, I can't really give an example or give you a story or anything like that. We're sprinting toward where it needs to be, in terms of tempo, in terms of what it's supposed to look like, in terms of the level of competition, the level of speed, sprinting to make it game-like and we're coming along. It's adding up and it's added up. I was pleased with today's practice because it was better than yesterday's and we'll have the same expectation tomorrow for tomorrow to be better than today."
On the reason he couldn't convince NT Aubrayo Franklin to remain with 49ers:"We had a discussion - not so much trying to convince people. The train has pulled into the station, it stopped. There wasn't a whole lot of momentum to it with the way the offseason was, but it pulled in, loaded up a bunch of guys, 80 something guys here when we first started, and it's moving out of the station now and steam is coming out of the sides and we are moving down the tracks. There are some guys that are sprinting to get on it, and our hands are out and ready to accept them, but that train is moving, can't wait for everybody."
On RB Frank Gore's new agreement:"I think there'll be a resolution at some point. Some time sooner rather than later, it'll be diligent negotiations on both sides. [RB] Frank's [Gore] a 49er and we want [RB] Frank [Gore] here. We want [RB] Frank [Gore] happy too, and at some point that'll get resolved when it gets resolved."
On RB Frank Gore's communication in the huddle and out on the field:"Mainly tips and reminders coming out of the huddle. He's giving tips to the back, the quarterback, to receivers. He gets involved in pointing out and identifying the defense and giving protection reminders or sometimes he's giving dummy reminders. It's pretty neat, pretty cool, good communication. He exaggerates and I like that."
On whether he had the chance to talk to RB Frank Gore prior to the lockout and did he have any conversations that were far removed from football:"Nothing that was far removed from football. We didn't have any conversations that were really far removed from football. [RB] Frank's [Gore] a football guy, so our conversations were just man-to-man and there's merit in what [RB] Frank [Gore] is saying and there's merit in how we're trying to do things here as a team, and with one priority and one priority only, and that's doing what's best for the team. Those will converge and they'll resolve. [RB] Frank's [Gore] a team guy as evidenced by him being here and evidenced by him being a 49er."
On whether he saw RB Frank Gore not wanting to come off the field:"He definitely wants to practice, there's no doubt about that. I wouldn't agree with your statement that he doesn't want to come off the field under any circumstances. We had a rotation and he was willingly doing it."
On DT Isaac Sopoaga replacing NT Aubrayo Franklin and how he sees that fit:"The plan was already in place. We had moved to where we moved and that was with* *[DT] Isaac [Sopoaga] and [DT] Ricky Jean [Francois]. We feel really good with our front seven and feel good with the dynamic in that room."
On his goals for the team this season:"Just great expectations for tomorrows practice. The only goal is to win and treat people in a first-class manner. As far as expectations, what we're thinking about and what we're focusing on now, it's what's important right now. That's having great meetings tonight, making those the best of the training camp, coming out tomorrow and see if we can't make each drill the best drill of training camp. Make tomorrows practice the best of the training camp, best of the year. That's the expectations."
On changing the culture of a team who has suffered through a few losing seasons:"People like the word 'culture,' that seems to be the big buzz word from everybody, but to me it's more attitude. Our attitude is to do as many things right as we possibly can. I think when you can do that then people feel that they are prepared and gives them the best chance to not be unsuccessful. That's our attitude that we're taking."
On whether RB Frank Gore skipped one-one-one drill' due to his hip injury or his veteran status:"You know, he's down on that drill and I don't know why he wasn't in that drill."
On whether QB Colin Kaepernick forcing throws is part of the learning process:"Yeah, we had two interceptions today and they occurred when he was outside of the pocket and that's where you don't have to force the ball, when he's out of the pocket. So yeah, that's part of the learning curve."
On evaluation of QB Colin Kaepernick so far:"Well, great guy, smart guy who's got a hose. He's going to be just fine."
On whether he feels that as a new coaching staff they need to "clean house" with players from the previous regime:"No, heck no. I don't think that's even accurate or fair to say. We've said it right from the beginning, we've got experienced guys here, we've got good guys, we've got guys that have been there before. I came here excited to coach those guys. That's the way we're building the team is around those guys. I don't think that's a real accurate way you posed that question. Surely you can't say we've cleaned house in any way."
On how much his NFL career benefited him as a head coach:"I think it helped some. I think all coaches, when they do teach, they kind of think back and put themselves in their playing career, what it felt like to make a certain movement, and you rely on that.  You also rely on your own training as a coach and other people you mentored under. I think all those factors play a role. I don't know how much."