It is hard to argue with Tom Rathman when he says he had a successful NFL career.
After all, the fullback won two Super Bowl titles, rushed for two touchdowns in Super Bowl XXIV and led the way for a Pro Bowl rusher five times in his nine-year career.
But as good as Rathman was on the field, he thinks he is even better on the sidelines.
"I'm probably a better coach than I was a player," the 49ers running backs coach said. "I love to teach these guys. At the same time though, I think there is a certain way to do things, and I'm going to make sure the guys are living up to my standards. My standards are pretty high. They were as a player and they are as a coach."
Rathman's high standards on the football field started way before he made it to the NFL.
Growing up in Grand Island, Neb., Rathman was surrounded by football from a young age. He started playing in fifth grade, and like most kids in Nebraska, all he wanted to do was play college football for the Cornhuskers.
And that is exactly what he did.
Rathman played for Nebraska from 1983 to 1986 and was a three-year letterman. From the moment he arrived in Lincoln, Rathman made a statement. As a true freshman, he wasn't scared to go against the team's vaunted linebacking corps in practice, and he even earned some playing time in his first season.
Every Saturday, running onto the field with the red "N" on the side of his helmet "was a dream come true." He loved playing in front of packed houses at Memorial Stadium and it was an experience he will never forget.
"Some people say that stadium is the third largest city in Nebraska on Saturdays," Rathman said. "The whole place is red. It really is an amazing experience."
When Rathman graduated from Nebraska, he was a third round selection of the 49ers in the 1986 NFL Draft. In his first four years in the league, Rathman blocked for Roger Craig, who was a senior at Nebraska during Rathman's freshman year. Rathman loved his playing days in San Francisco and spent eight of his nine NFL years as a member of the 49ers.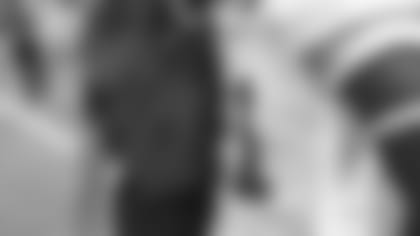 Even while playing, Rathman viewed himself as a coach. He knew every player's responsibilities on the field, and he spent countless hours mentoring his teammates.
"I looked at the big-picture stuff instead of just my job," he said. "I really think I understood everything that was happening on the football field."
Once Rathman retired from the NFL, it was a natural transition into the coaching realm. But while most NFL coaches spend years at the high school or college level before making it to the League, Rathman was an unpaid consultant for the 49ers just two years after his playing days ended.
The following year, in 1997, Rathman was named the team's running backs coach. In his first stint with the 49ers, San Francisco's rushing attack finished in the top 10 in the NFL five of his six seasons. The 49ers even led the league in 1998 with 159 rushing yards per game.
Rathman coached under Steve Mariucci in San Francisco, and when Mariucci left for Detroit in 2003, he brought Rathman with him. Rathman spent three years with the Lions before coaching the running backs for the Oakland Raiders from 2006 to 2008.
But before the 2009 season, Rathman had a chance to return to San Francisco and he knew he couldn't pass it up.
"I have so much foundation in this organization," he said. "To be able to get back into the organization I had put my heart and soul into was a great opportunity for me, so I elected to take it."
At every stop in his coaching career, Rathman has led a successful ground game. That's because he knows what he is looking for in a running back. The attributes are listed on the wall in his office: instincts, inside runner, outside runner, elusive runner, power runner, short-yardage runner, run block, pass block, hands, ball security, play speed, special teams and productivity.
But above all those characteristics, the trait written at the top of Rathman's list is toughness.
"If you have toughness, I know you're not going to let us down," he said. "I learned the importance of toughness in Nebraska, and I've spent my whole career, coaching and playing, striving for it."