Daniel Kilgore still remembers his dream when woke up on Day 3 of the 2011 NFL Draft.
His subconscious prophecy had the Green Bay Packers selecting him in the fifth round.
"Stop it. Get back to work," Mike Kent said when Kilgore attempted to recall the dream to Appalachian State's strength coach during their morning lift. "Don't even think about it. Worry about this workout."
But the memory lingered throughout the day as the draft continued. Anxious moments passed. Kilgore was at a friend's house near campus in Boone, N.C. – an hour-and-45 minute drive from his hometown of Kingsport, Tenn. Kilgore's parents made the trip to join the modest get together.
Kilgore played left tackle for the Mountaineers but knew he didn't have the size or length to remain at the position as a pro. A move inside to guard or center was going to be the 6-foot-3 lineman's meal ticket to the NFL. Luckily for Kilgore, he played center in high school and quickly reestablished his mechanics during the pre-draft process. Standout performances at the NFLPA All-Star Game and NFL Scouting Combine had Kilgore feeling confident that he'd be a Day 3 selection.
The Packers came on the clock in the fifth round at pick No. 163. It couldn't be.
"This is what I dreamed," Kilgore thought to himself. "Hopefully this is it."
On cue, his mom's phone rang. Kilgore initially dismissed it as a fervent relative, eager for a status update. Then the phone got passed to him. It was a member of the San Francisco 49ers front office.
"We're going to trade up and draft you, Daniel," they told him. "Welcome to the Bay Area."
"It shocked me. It shocked everyone that was there," Kilgore said. "It was very exciting for sure."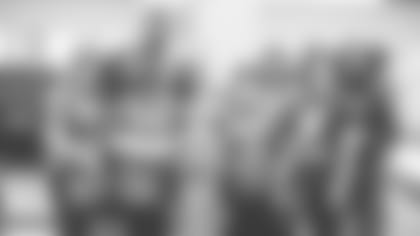 Hardin Park Elementary buzzed with excitement the following Monday for their favorite PE teacher. "Coach Kilgore" or "Coach K.," as he was known at the school, was serving as a student teacher during his final semester at App State.
Congratulatory posters lined the gymnasium's walls as faculty and students alike took turns lauding Kilgore's accomplishment.
"It was awesome," the lineman said. "I got a lot of support from that community."
Kilgore studied physical education and discovered a fondness for working with special needs kids, specifically. His first interactions with such students came during his freshman year at local schools near campus.
"That was exciting for me, fulfillment wise," Kilgore said of his initial experiences in the special needs community. "It was rewarding."
His passion led to an emphasis towards special education classes during his time as a student teacher. Kilgore began at Hardin Park in mid-January when students returned from winter break. Because he was drafted during the lockout, Kilgore remained at the school through the remainder of the year in May.
The lineman's alarm would go off at 5:00 a.m. for his morning lift at App State. Kilgore would then drive the mile to Hardin Park and teach from 7:15 a.m. to 3:00 p.m. At 3:30 p.m., it was back to campus for an afternoon cardio workout.
Being drafted didn't change Kilgore's dedication to his students. Where else could you find a 300-pound NFL lineman teaching the chicken dance to a group of third-graders on a Wednesday afternoon?
The first half of the day was the time that Kilgore relished the most. That's when he worked with the special needs kids. Every day was a labor of love – trivial movements served as substantial benchmarks for his students. Walking backwards, holding onto a railing while walking up a ramp and stepping onto a short box were all activities Kilgore implemented in order to improve the kids' motor skills.
Any progress, no matter how small, was significant.
"We take stuff for granted," Kilgore said. "For them to feel that accomplishment, that's pretty special.
"It was a series of memories, just to see the growth the students would have day in and day out."
One boy in particular left a lasting impression. The young student was non-verbal and could communicate merely through hand signals. He was also timid, to put it mildly.
San Francisco's starting center remembers sitting with the boy each day, patiently giving him the confidence to participate.
"He would be hard to get motivated to do something," Kilgore recalled. "But when he was ready, we'd get him out on the floor or get him into the pool. That was a daily battle with him. But I'll never forget helping him feel comfortable that he could do it and that I was there with him."
Kilgore has maintained a bond with the special needs community now into his sixth season with the 49ers. A conversation in 2013 with high school friend and teammate Jimmy Burleson led to Kilgore's next philanthropic pursuit.
Burleson attended East Tennessee State and got his teaching certificate in special education. Following graduation, he returned home to Kingsport and began teaching at their alma mater, Dobyns-Bennett High School. Over dinner, Burleson introduced Kilgore to his grand idea – The Tribe Games.
The concept was akin to the Special Olympics, but created with the intention of galvanizing the local community through competition and awareness. There would be three events per year: Bowling in the fall, swimming in the winter and track and field in the springtime. More than 150 athletes registered with an age range of kindergarten to high school.
Kilgore, who has great pride in his Kingsport roots and (clearly) a calling for helping kids with disabilities, was sold immediately.
"You let me know what you need, and you'll have it," Kilgore assured Burleson.
But even Burleson couldn't have expected the degree in which Kilgore championed his brainchild. The Tribe Games are now in their fourth year. The lineman's financial support has included jerseys, t-shirts and trophies for the athletes. He also helps secure venues for each event.
However, it's Kilgore's time that blows Burleson away. The football season causes Kilgore to miss the bowling event each year (his parents volunteer in his absence). But the lineman is a staple at the other two competitions of the games.
"It shows a lot about his character and the type of person he is," Burleson said. "If you see him at one of these events, you have to pull him away from the kids to talk to him. He is all about the kids that are there, ensuring that they're supported and making sure they know that he cares about them.
"It's a priority for him, and it's genuine. It's not a show."
Burleson's favorite moment of Kilgore at the Tribe Games came during track and field one year. Kilgore is known for standing at the finish line so he can high five each athlete as they complete the race.
But on one occasion, the lineman saw a small group of kids fighting exhaustion near the end of the event. Kilgore hustled over to provide encouragement and proceeded cross the finish line alongside the empowered athletes. 
"I'm not sure he is aware how much that means to kids," Burleson said. "That was a pretty cool scene."
Megan remembers her first glimpse of her husband in such a setting. That came in Jan. 2014, shortly after the 49ers played in Super Bowl XLVII. Kilgore took Megan to Hardin Park to visit his former students.
Much like the fanfare following Kilgore's draft day in 2011, posters, balloons and familiar faces greeted the school's favorite NFL player. His special needs students, now six years older, were beside themselves in elation.
One little girl was moved to tears by the sight of her idol.
"She was head over heels for Daniel," said Megan, who couldn't help but laugh as she retold the story. "She cried out of excitement when she saw him. That was a cool moment – seeing how much he means to those kids and how much of an impact he's made on those kids, it's just crazy to think about.
"They look at him like he's a super hero. They think that he's the best thing ever."
Megan and Daniel have known each other practically their entire lives. They met while growing up in Kingsport and attended rival high schools. The two reconnected in college when Daniel's roommate started dating Megan's sorority sister.
Megan has her own ties to those with special needs. Her aunt, who lived a "great, long life" with disabilities, passed away a few years back. That's whom she thinks about when she's volunteering. Making a difference for those who have disabilities is a pillar in Megan and Daniel's relationship.
"I have a special place in my heart for those with special needs," Megan said. "This is kind of the way that we celebrate her life."
So what's next for "Coach K?" (Random aside: Megan said Kilgore loves the moniker so much that his heart "flutters" every time he hears it.)
Surely he'll continue to make an impact at the Tribe Games. But hopefully that's a question that won't have to be answered fully until Kilgore's successful NFL career reaches it's end. A return to Kingsport is likely, but everything else is up in the air.
Burleson suggested that it wouldn't take long for Kilgore to find himself helping kids in a full-time capacity. The lineman didn't dismiss the notion.
"I don't know whether it will be teaching or coaching, but I definitely want to be involved with the special needs community," Kilgore said. "If it's taking the Tribe Games to another level or if it's just going and spending time in the classroom with the kids."
Because how could he distance himself from a community and group of kids that have had such a tremendous impact on his life?
"They've had a bigger impact on my life than I've had on theirs," Kilgore said. "They've taught me how to approach every day. They're always happy. That's the mentality that I think everybody should have."
The details, though unknown, will no doubt work themselves out. And maybe that's just because "Coach Kilgore" hasn't dreamt it yet.