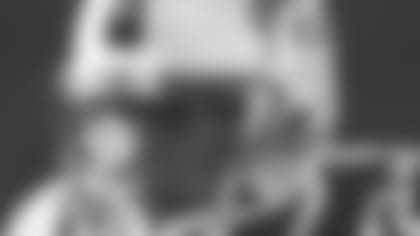 In his latest Clements' Coverage, cornerback Nate Clements scouts this weekend's opponent, the Carolina Panthers.**
As we head to Carolina this weekend, we are looking to continue that sweet taste of victory we enjoyed last week against the Cardinals.
Every week, it starts for us with looking at the other team's quarterback or in this case potential quarterbacks.
Vinny Testaverde is a veteran who has been around and has probably seen every coverage you could possibly throw at him. We just have to continue to disguise what we do, be disciplined and fundamentally sound, and play our techniques.
Like our quarterback Trent Dilfer, there isn't much these guys haven't seen in terms of coverages, but even though they might know what you are in, if you run it, it doesn't matter. If you play tight coverage and put pressure on them, there's nothing they can do to defeat your coverage.
We could also see some of David Carr who is a different style of quarterback. He's more mobile, and he has a strong arm. The one thing we have to do is realize if he's in there that he's better on the run and in open space, so we've got to keep him contained, rattle him and get after him.
At receiver, Steve Smith is explosive, strong, quick, fast and basically, he's a playmaker for them. Any time he gets the rock in his hands, he's capable of going the distance with it. We've got to eliminate any explosive plays from him and keep him contained as much as possible.
Keary Colbert is a quick receiver that is more of a physical, stout type of receiver - He is a strong receiver. He's shown that he can be explosive with the ball as well. Drew Carter is a strider, he can run. He's a tall receiver and he can run and go get the ball. We've got to eliminate those deep balls and we have to make sure we are playing good coverage and not allowing him to get open deep on us.
Dwayne Jarrett is a rookie who has seen some playing time for them, and he's got a lot of potential, that's why they drafted him where they did. He's got good hands and he's shown that he can go up and get the ball.
Their tight end Jeremy King also has good hands. He's a good football player. He's not the fastest or the strongest guy, but he gets the job done so we have to key on him, especially on third down. He's getting the job done for them so you definitely have to focus in on him because he's had a lot of production.
Their run game has the potential to be explosive. DeShaun Foster with his size, he's able to use his experience to his advantage. He'll run in between the tackles, outside and he's what you want in a running back. DeAngleo Williams, he's a home run hitter. He is more of a bounce to the outside and get up that sidelines guy, so we can't allow him to get up the sidelines and get going north and south.
They have a solid, good offensive line. They'll definitely be a challenge for us, but I know our defensive line will be up to that challenge. It'll be interesting because we know it's going to start down in the trenches with their offensive line and our defensive line.
We allowed Arizona more yards than we would have liked last week but stats are stats. The bottom line is that we got the W and that's the most important thing. They threw for a lot of yards but they lost.
It was good for everyone to see us get turnovers on defense and then to see our offense put it in afterwards, as well as punching it in crucial situations when we really needed a score. We were all working together and we need to continue with that.
Walt Harris had two picks for us, Ron Fields got that other fumble, and I was able to pop the ball out from Anquan Boldin. For me, I think I can get it out at any time. It's something I work on and I do it in games, and if it's there, it'll come out, and if it's not, they are going to know they have to be aware to hold the ball tighter when I'm around.
This week, we just have to continue to put pressure, continue to cover with tight coverage, get sacks, get turnovers, and continue to do those things that have helped us this past week. We have to continue to build on that, and we can't take a step back, we've got to move forward during these remaining games and it starts Sunday in Carolina.