From high school ball in Sarasota, Florida to suiting up in the Michigan Wolverine yellow and blue for his college days to a pro career that took him to the west coast-based San Francisco 49ers, offensive lineman David Baas has traveled some serious miles to play the game of football. That's still nothing compared to the ups and downs and the ground he's covered in his first three seasons in the NFL.
After finishing out the 2007 season with eight starts following a shoulder injury that shelved Justin Smiley for the rest of the year, Baas finally has a firm hold on a starting spot on the offensive line as he prepares to enter his fourth season. It's been a long time coming for the 49ers 2005 second-round pick.
"It's been up and down for me since coming here," said Baas. "I feel like things are finally on the upside now and I'm looking forward to a chance to start. It's great motivation because there's still always competition and I'm looking to have a good off-season and do the things necessary to lock down the position and be a mainstay on the offensive line."
As a rookie on a team that had won only two games the year before, Baas had hoped to come in and make an immediate impact, but a hamstring injury slowed his progress as he missed the entire training camp. He contributed primarily on special teams that year before eventually enjoying five starts at guard late in the year due to injuries on the line.
In his second season, Baas shuffled between guard and center during the off-season, and saw his playing time actually decrease as he was relegated mostly to special teams, with his most significant action on offense coming in the final game of the 2006 season.
Like most competitors, Baas would have preferred to have been thrown into the fire so that he could accelerate his learning curve, but other needed lessons were mastered during his time on the sidelines.
"My rookie year I was really terrible about having a bad play or a bad practice and not being able to let things go, but I think I've grown up," said Baas. "It should hurt when you don't do things right, but the thing I've learned is not to let it frustrate you to the point where it affects you. You want to make sure you are out there doing a good job and not letting anyone down, but sometimes you have to let it slide off your back, go on to the next play and correct it later."
Baas also came to understand quickly that when his opportunity did finally come along, he best be prepared. He had already been rotating into the mix at right guard last year when Smiley went down in the Atlanta game with a dislocated shoulder, making it a seamless transition when he entered the lineup.
"You've got to be ready and I was definitely ready," said Baas. "It was unfortunate that he suffered the injury, but I was ready to step in and do my job. I think you grow a tremendous amount when you actually get that chance to really gain some experience. Finishing out the year where I was constantly in there was really valuable for me."
Even in his former backup role, Baas provided the 49ers with a valuable asset given his ability to play both center and guard. He likewise appreciated the versatility he gained from taking reps at both spots, but much more prefers his situation this off-season where he should have a chance to really settle in and focus his full attention to playing right guard.
"Playing center helped me out a whole heck of a lot because it opened up my vision and taught me how to read the defenses much better, but I prefer the nasty style of play at guard and being able to concentrate on killing the one guy in front of me," said Baas. "It's very nice now to know I'll get to work on just playing guard this off-season."
That work officially began a few weeks ago with the kickoff of the 49ers off-season conditioning program, in which Baas hopes to improve his strength, shed a few pounds and start anew.
"The start of the off-season program is something you look forward to because although last season is gone, the bitter taste really stays in your mouth until you can actually do something about it," said Baas. "Right now, we all have the chance to come in and work even harder towards improving ourselves individually so that we can help the team get right next season."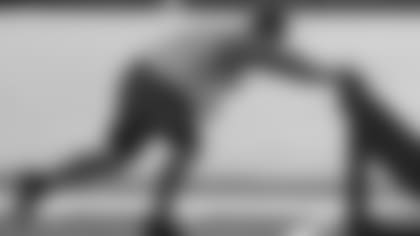 Baas and the offensive line work out together every day in the 7AM group, but their time together during the off-season extends way beyond the team's facility. From group lunches to potluck dinners to taking in concerts, this unit puts forth a concerted effort in building the kind of camaraderie that pays dividends on game days.
"It's wonderful how well we all get along, but the biggest thing is that we all respect each other and know that we are good players," said Baas. "I think it'll be really exciting this year and we're all anticipating being out there together. We trust each other and we all have the mindset that we won't let each other down."
Baas doesn't plan to let the 49ers down either. The organization showed a vote of confidence in Baas when they allowed Smiley to chase and command big dollars in this year's recent free agency period, signifying a literal changing of the guard in San Francisco.  Although Baas is ecstatic about his much awaited role, he's certainly not viewing it as grasping the brass ring either, and he doesn't intend to rest on his laurels.
"I don't view it as an achievement because I haven't really done anything in my mind yet," said Baas. "I've got bigger and better goals than what I've done. I view it as a constant challenge and I know I'm in a good position now, but there's still competition. Nothing is set in stone, and that's why we are out busting our butts during the off-season so that we can lock down the position. Then, when we roll into the season, hopefully I've earned the right to say I am the starting guard."