After eight seasons in the National Football League, two Pro Bowl appearances and one Super Bowl Championship, former 49ers outside linebacker Lee Woodall is enjoying his life after football, though it did take him some time to put the game behind him.
Once he retired following the 2001 season - in which he was a member of the Denver Broncos - Woodall had a couple of business ventures that occupied his time. Although he stepped away from the game, Woodall always kept himself in great physical shape and in 2006, he attempted to make a return to professional football with the Toronto Argonauts of the Canadian Football League.
After realizing that he could no longer play the game at the level to which he was accustomed to, Woodall decided to focus on other things that were important to him, including spending more time with his family.
"My wife Rachel and I are inseparable," said Woodall. "We are best friends. To me, that's a joy. It's not only a joy to enjoy life, but to enjoy it with someone you love. Having her in my corner will always be my motivation."
Woodall also serves as a motivator to others, speaking in front of groups, ranging from businesses to young athletes. His message is simple, but powerful.
"It's about life and that you only have one chance to take advantages of opportunities, because you don't know when they are coming. While you're here you have to take advantage of every opportunity that you have, because when it's over – it's over. What are you saving it for?"
During his football career, Woodall practiced what he preaches.
Coming from a small school in Pennsylvania in 1994, to a prestigious professional franchise in the Bay Area was the first whirlwind transition in his professional career of Woodall's. On top of the change in scenery, the instant success of the 49ers in his rookie season changed his outlook on what football was truly like in the NFL.
Woodall still is amazed how a sixth-round draft pick from West Chester University that played safety in college, could become a starter for the fifth Super Bowl Championship team in 49ers history as a linebacker.
"As a rookie, I thought this is what's supposed to happen to us and it's going to be like that every year. When we didn't go back [to the Super Bowl] the second year, we finally realized it takes a lot of work. It's tough to get there."
Although he made a difficult position change, Woodall credited his veteran teammates for being patient with him while he learned the pro game.
"With those guys around me, it made me better. The way that it did was that they took me to the side and said, 'This is how you do this.' Having the veterans around me I think that helped plateau my career," Woodall said. "It was pressure, but I took everything in stride and I knew my ability. I knew I was in the room with a bunch of Hall of Fame guys so knowing that, I didn't get caught up in the awe of it. I used what they had to benefit me."
Not only did the veterans help aid his career initially, but the lessons Woodall learned eventually allowed him to become one of the best in the game at the outside linebacker position. In 1995 and 1997, Woodall represented the 49ers in the Pro Bowl.
"To reach that plateau in my career, it was amazing," Woodall said. "I knew that my peers recognized my ability."
It was hard not to appreciate what Woodall was doing on a weekly basis. On December 5, 1995, Woodall returned a fumble 96 yards for a touchdown against the Buffalo Bills on national television.
He still remembers every detail of the play.
"I was on the outside looking in on what was going on, my job was to keep outside containment. Suddenly Gary [Plummer] goes over the top of the pile to hit the running back, the ball drops, I saw it and reacted," Woodall remembered. "Jim Kelly tried to bring me down, but that didn't work. I took off and started running. That play never gets lost in my mind."
Woodall enjoyed a number of achievements in the NFL, and loved every minute of it, making it difficult to come to grips with a life without football.
"Every player they will go through the struggle of getting back into normal life," Woodall said. "When football becomes your life for eight years, it's hard to remove yourself from it because it's all that you know."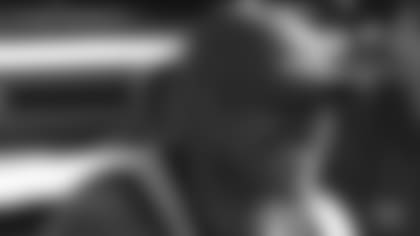 Recently, Woodall returned to 49ers headquarters this week, revisiting the place where he spent six seasons of his NFL career. As he sat in the bleachers and watched the 49ers practice, he could not help but picture himself as a participant in practice. But in the end, Woodall experienced contentment at being just a bystander.
"Watching the 49ers practice you get that feeling like you want to be back out there," he said. "Of course you understand your age and think, 'Do I really want to go through those sore days again?' But being able to watch practice as an outsider, I think is a good thing. I can just remember my days and be grateful for them."
Those football memories remain firmly embedded in his mind, but his life these days isn't completely void of the sport as he looks to ease other NFL players into life after football in his new line of work with Met Life, and his role at the Roni Deutch Tax Center.
"I feel good about where my life is starting to go. For every player that retires from the game, they are going to go through the same transition, "explained Woodall. "We want to help players make good decisions so that they are prepared when football is no longer an option for them," he said. "I'm looking to be a part of the NFL and help share some of the things that I've learned."