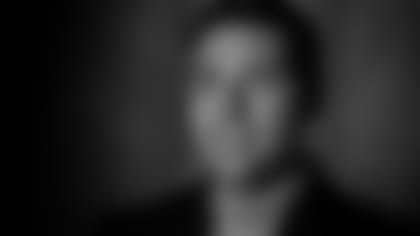 After returning from recent owners meetings in Chicago, 49ers President and CEO Jed York spoke on a number of team-related topics with 49ers.com on Wednesday. Enjoy the Q&A transcript from the exclusive conversation.**
Q: Beginning this year, 49ers fans are allowed to vote on a group of finalists for the Edward J. DeBartolo Sr. San Francisco 49ers Hall of Fame, can you explain the decision to have fans vote and why it was important to have them involved in the process?
A: The 49ers have such a great tradition and I think the fans need to be a part of that. So when you look at the structure of having a Hall of Fame committee of well respected journalists and historians of the team figuring out who are some of the people that are deserving of being in the Hall of Fame and then allowing the fans the final choice, I think that really makes this not just the team's Hall of Fame, but the fans' Hall of Fame.
Q: This year's fan vote finalists are Roger Craig, George Seifert and Gordy Soltau, what is it about each one of them that makes them a worthy candidate for the Hall of Fame?
A: When you look at what they did both on the field and off the field, they contributed to winning, they contributed to championships, and they contributed to making the 49ers one of the best organizations in the history of sports. All of those guys are so deserving and absolutely should be in the Hall of Fame.
Q: Have you received any feedback from any of those three about their selection?
A: You know, some folks are pretty excited about it. And I think when you look at some of the media and some of the folks as they've read some of the press releases, I think this is a unique approach for how teams are going to handle a Hall of Fame. Hopefully our fans will really get engaged.
Q: As a fan of the team as well, how difficult would it be to make that selection amongst the three nominees?
A: I don't think we're limiting voting, so I might have to cast a couple of votes for each of them.
Q: You also have a hand in the ownership selection, can you tell us about that process and why is it important to have an ownership selection each year too?
A: I think a lot of people go unrecognized. Those people might not get voted in by the fans, because some of the fans might not realize how much work, how much effort they put into making the 49ers the franchise that they are. So I think you want to make sure if there is an oversight, you want to make sure that you can put the people in the Hall of Fame that really deserve to be there.
Q: With the 49ers having a physical representation of the team's Hall of Fame at Candlestick Park, what's the process behind setting something up similar in the 49ers new stadium?
A: That's something that is very important to us. We've got our team right now – Keena Turner is out there and our marketing department is out there – looking at some of the other Hall of Fames whether it's in Green Bay or Kansas City and trying to figure out what teams have done and how can we incorporate something into the new stadium. We're really excited to be able to show not just the 49ers of today, but the 49ers from the beginning of time and show what the 49ers history means. The Hall of Fame will capture that in the new stadium. Q: There are so many pieces of memorabilia that must be going in there, have you seen some of the things they might add to it?
A: We've had a lot of folks donate materials to us and obviously we have a lot of materials here. You see some of the great history, the original program from the first game that we played in 1946. When you look at some of the trophies, some of the pictures, you see some of the letters guys sent back and forth, when you look at some of Bill Walsh's coaching tapes, all of that combined gives you chills to see how much greatness was a part of the San Francisco 49ers. We're going to share that with everybody in the new stadium and in the 49ers Hall of Fame.
Q: The team will also be honoring John Henry Johnson and Joe Perry with helmet decals this season, can you talk about the decision to honor them?
A: I don't think there was much of a decision. Those guys have meant so much to the San Francisco 49ers. It's a great loss not having them with us. Getting to know those guys and getting to know their families, it's great that some of our guys can be reconnected to some of the legends of the 49ers in the past.
Q: What would it be like to have "The Million Dollar Backfield" playing today? They might even be worth a little more right now.
A: I'm sure they'd be worth a lot more right now. But having guys like that, guys that gave everything for the game and just loved the game with all their heart, that's what you want your guys to aspire to be, guys like John Henry Johnson and Joe Perry.
Q: You also just got back from owners meetings in Chicago for discussions about the collective bargaining agreement, what can you tell us about those meetings?
A: I think there's a lot of work that needs to be done, and the only way you're going to get things done is to sit down in a room and negotiate. I think that's what we're trying to do. Commissioner (Roger) Goodell has done a great job of trying to sit down and view the process from our side. I think what's very important is to respect the fact that the mediator has asked there to be a gag order. I think that is going to help getting a deal done more so than hurt it. I realize there is some frustration from everybody's part not knowing exactly what's going to happen. But the ultimate goal, I think from both the players and the owners is to make sure we do have football this season. The harder we work and the more that we focus on actually getting a deal done as opposed to getting out press releases and reports, I think that's the best chance we have to make sure that we have a full season.
Q: And with that, we understand there's probably not a whole lot you can tell us about the negotiations, but are you optimistic at this point about training camp and the season starting on time?
A: I think that's what we're preparing. I think most teams are preparing that we're going to be playing. When you see the work that's going into it, the two sides sitting down behind closed doors, not letting information out, making sure that they're working to get a deal done that's right for everybody – the fans, the players, for the teams themselves – that's what I'm optimistic about. The more we can do that and focus on that as opposed to rhetoric, the more optimistic I am that we can get a deal done and have football as we all want.