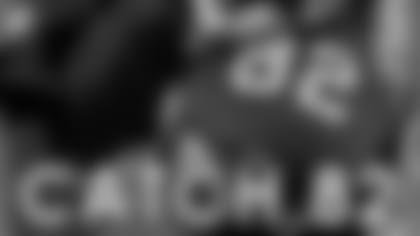 Throughout the '08 season, you can catch #82 – wide receiver Bryant Johnson on 49ers.com with his very own Catch 82 column. Johnson will trade off with cornerback Nate Clements with his scouting report on the upcoming opponent. It's Johnson's turn this week, so here he is with his thoughts on playing the Detroit Lions. **
Although Detroit traded away the face of their defense, in Pro Bowl defensive tackle Shaun Rogers to the Cleveland Browns this offseason, I know for a fact that they still have a tough defense. Just watching their film and how they played last week against Green Bay, I was impressed.
The score of the game, 48-25, didn't really indicate how close the game was, and we know we have a tough game coming up this Sunday against them.
With their head coach Rod Marinelli being a defensive minded head coach, the Lions really do a good job on defense. Their linebackers especially have really caught my attention.
Ernie Sims, one of their backers, is a really good player. You can see on film that he makes a lot of plays all over the field. Defensively, they look tough. We're going to have our work cut out for us.
In the offseason, they made some changes to their secondary, but I've still faced the guys they've brought in. On the corners they have Leigh Bodden and Brian Kelly, who they signed from Cleveland and Tampa Bay. They also have Dwight Smith at safety (from Minnesota) and they have a really competitive group of guys in the secondary. Cornerback Travis Fisher also does a good job when he comes in the game in their nickel coverages. Fisher is a good corner himself, so as a receiving corps, we have to be good at what we do and be precise in what we do in order to have success this Sunday.
Last week our offense played really good. Despite having to overcome some adversity in the early stages of the game being down by two touchdowns, I think once we settled down and got into a rhythm, we were able to move to the ball up and down the field effectively.
It was nice to make big plays in the passing game. All of that success on the field comes from practicing hard to get the timing right with JT O'Sullivan. At practice, we work on our assignments, and the quarterback has to trust that we are going to be running the right route, with the right depth at the right time. We have to trust that he's going to get the ball to us. It's just a timing offense and it's all about trust. I think JT, he trusts the receivers we have out there and we trust that he's going to make the plays for us.
I think we have a ton of playmakers on this offense. It's going to be hard for Detroit or any other team to key in on one guy. I think each and every week someone different on our team will be able to step up and have a breakout game.
Detroit has some playmakers of their own on offense, but I expect our defense to battle hard against them. We will be without Shawntae Spencer this week, but we definitely have confidence in our younger backups. We go against them in practice every day and they're some good matchups in practice. I know those type of things carry over to the games, so we definitely feel comfortable with who we're going to put out on the field this Sunday.
It's good to be back home this week playing a very important game. We can't really focus on what has happened already this season with the two previous games. All we can really do is focus on Detroit. It's kind of like driving a car, you can't look at your rearview mirror the whole time, you have to focus on the road. So we can't really look past Detroit, or dwell on what we've done in the past. All we can do is come in to work and focus on the opponent we have each week.