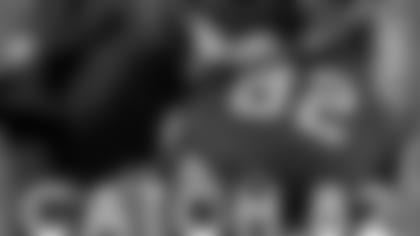 In this week's Catch 82 column, wide receiver Bryant Johnson gives an overview of Sunday's road contest against the St. Louis Rams.**
In the first game against the Rams, we had great field position throughout the game because of the turnovers our defense forced and we were able to score touchdowns. Unfortunately, last week we didn't do a good job of punching it in and instead settled for field goals.
Still, it was good offensively to be able to put those ten-plus play drives together, while not getting good field position. We were able to put together long drives and get some production offensively, but for us to be truly successful, we have to find ways to get the ball in the end zone.
So, this is a new week for us to focus on and try to get better as we go up to St. Louis.
On the Rams defensive line, I think Chris Long has stepped up as far as doing a better job as the year has progressed. He's done a great job as of late and is coming along as a rookie.
At linebacker they have Chris Draft back and he does a solid job. We have to be able to get our linemen and our backs on him and try to create running lanes.
Linebacker Will Witherspoon is a guy they used to create pressure a lot. We've seen on film that he's been coming down in the box to get pressure.
Their secondary is a bit different this time around.
Safety Todd Johnson has come in for Corey Chavous and has done an ok job. He's come in and took over Chavous' responsibilities and he's a guy we have to beat. We have to beam him when we get one-on-one matchups. We just have to win.
With Johnson in, he's swapped safety spots with Osiomogho Atogwe. He is a guy who we can expect to be blitzing a lot from the secondary. He's going to come down in the box and create some pressure and try to disrupt our offense.
The starting corners are still the same, although Ron Bartell did get injured in the first half when we played them. He's a guy with speed and he's a solid cornerback.
Fahkir Brown is a guy who we're familiar with being that we've already faced him once. He's a good physical player with some speed and we just have to be technically sound on the things we do to try and get him turned around.
The same rules apply for all of their corners. We have to be precise with our route-running and our route depth. We have to try to get each guy turned around and make some big plays in the passing game.
Finishing is definitely a big factor for this team. Coach Singletary has been preaching it, since he became the head coach. And we just have to do a better job of regardless of what happens. In the first meeting we scored 28 points in the second quarter, but I don't think we thought we finished the ball game the way we wanted to that day.
I know Frank Gore exited the game after the got a 100-yards rushing, and we don't know yet if he'll go this week or not. It definitely hurts our offense when we lose a guy like Frank, but we also feel like we have a lot of confidence in DeShaun Foster, who is a proven guy. He's been in the league for a while and he did a tremendous job for us against the Dolphins.
As a receiver, I think it's big to get Isaac Bruce up to the no. 2 all-time receiving yards list, especially back in St. Louis. I've watched Isaac play throughout my career, even before I got to the pros. He's been a consistent player throughout his career and has been exciting to watch. I think it would be great to see him move up the charts.
The keys to this game are protecting the ball, scoring points and our defense stopping their offense.
Steven Jackson definitely brings a different element to their team now that he's back. He's an explosive back, who creates a lot of opportunities to make explosive plays. I think our defense will be up for the challenge of neutralizing him and taking him out of the ball game.
Anytime you go to someone else's place, it's tough to play, especially because St. Louis fans get into it. They used to be a place that watched "The Greatest Show on Turf" so they still have that kind of aura around. I think we have to know that we're going into town for business and that's to come out with a win.